The Brexit Advert in the Papers Today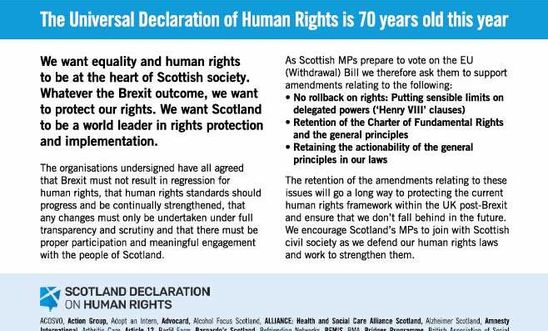 Advert in The Times and Herald from 150+ Scottish civil society organisations
Today an advert was printed in the Herald and The Times – Scottish edition, calling on Scottish MPs to vote for human rights protections in the EU Withdrawal Bill to be debated and voted on in Westminster this week. This call was signed by over 150 organisations from across Scottish civil society.
Unsurprisingly, Amnesty International and Human Rights Consortium Scotland were among the signatories – ensuring human rights protections is our bread and butter. But so were a range of other organisations working on a variety of rights; women's organisations, disability rights organisations, children's charities, trade unions, and medical charities. More surprisingly were the "unusual suspects"; the Royal Colleges of Physicians of Edinburgh and Physicians and Surgeons of Glasgow, the Church of Scotland, and the Scottish Football Association among many many others.
The breadth and depth of organisations represented is testament to how profoundly important human rights laws are to so much of our society and to each and every one of us as individuals.
Whether its employment rights, rights of the family, the right to privacy, or to be protected from degrading treatment, human rights are enshrined in law to protect every aspect of our lives. Generally, we take these protections for granted – the right to a home, education and healthcare – and only become aware of their significance when something goes wrong and they're taken away from us.
Is Brexit a threat?
The principle of the present EU Withdrawal Bill (the 'Brexit Bill' for short) is ostensibly to copy and paste EU laws to the UK statute books, to be considered at a future date by parliament. So far so… fine. But there is a glitch. Squeezed between decisions on the Customs Union and the shape of a 'meaningful vote' on the final deal, MPs will also vote on whether to leave behind the human rights laws which have so far protected us, even whilst bringing across everything else. Significantly, the Bill originally left out the Charter of Fundamental Freedoms; the basis on which EU law makes sense.
To collectively adopt a body of law, whilst cutting out its most vital organ, is to create problems for the future and potentially increasing divergence in law across the UK. The current Withdrawal from the EU (Legal Continuity) (Scotland) Bill (known as the Continuity Bill) which was passed at its first stage by the Scottish Parliament does include the Charter of Fundamental Rights and other important human rights protections.
Now, the Continuity Bill is currently subject to court action by the UK Government in the Supreme Court, so whether or not it will or can become law is yet to be decided. But the potential confusion is clear; what if the Charter does become domesticated in Scots Law to be used in Scotland for devolved issues but not reserved ones? How would the Supreme Court act in these cases? These are all unchartered waters.
To make matters worse, a system of 'Delegated Powers' (the so called 'Henry VIII' laws) could place unaccountable levels of power in the hands of UK ministers to make changes to the wording of legislation without consulting with parliament. It has been said that these powers will be given to Scottish Ministers in areas of devolved responsibility, but whether these areas will stay the same post-Brexit is the subject of debate. Regardless of whether it is Scottish or UK Ministers, there is an undeniable risk that human rights could be weakened without public scrutiny.
 
Preserving rights post-Brexit
But this possible loss is by no means a forgone conclusion. The House of Lords has voted to return the Bill to the Commons, to reconsider the implications of their suggestions.  So MPs have a choice this week. They can, as our advert in the Times and Herald suggest, vote:
To retain in law the EU Charter of Fundamental Rights
To retain in law the ability to take Action Under the General Principles
To not allow ministers 'delegated powers' ('Henry VIII powers') to amend laws
Scottish MPs can listen to frontline workers, those who deal with the human rights cases of ordinary people every day in Scotland. They are not the cases that make the headlines, but the ones that affect far more people. And many of the organisations that deliver services, that advocate for the most vulnerable or represent the highest professional standards we expect from our public servants are saying loud and clear; we want to retain what we have, we want to unsure there is no regression in terms of standards and we want to go further in progressing and strengthening our human rights laws and protections.
It's now over to the politicians.
About Amnesty UK Blogs
Our blogs are written by Amnesty International staff, volunteers and other interested individuals, to encourage debate around human rights issues. They do not necessarily represent the views of Amnesty International.
View latest posts