Taking Pride in Our Unions - Part 3 - Champions of Equality Gives Us A Wealth Of Treasures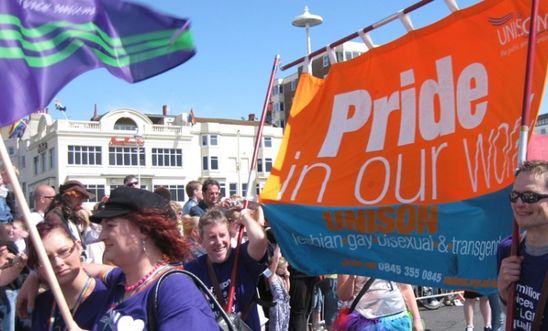 Taking Pride in Our Unions is an LGBT History Month blog series celebrating trade union and LGBT solidarity. This blog has been written by Carola Towle, UNISON's LGBT Officer.
Peter Purton's book Champions of Equality gives us a wealth of treasures. I am fortunate to have worked for National and Local Government Officers' Association (NALGO) and then UNISON on LGBT equality since 1990. Our group's history goes back to the early 1970s. It's only fairly recently that we've started to document it. We have been able to turn to some of the people involved at the start and to the rather random files in our archives to piece the story together. What Peter has given us in his book is a much more detailed and contextualised picture. He has also turned up some real gems. One is the first NALGO lesbian and gay newsletter, published in October 1974. So what led to that?
In the early 1970s, there were no positive equality rights for LGB or trans workers or service users. You could be sacked or refused services, perfectly lawfully. Male homosexuality had been partially decriminalised in England and Wales since 1967 but was still completely criminalised in Scotland, Northern Ireland and Isle of Man. 
In 1974, Howard Hyman, a member of NALGO Nottingham Health branch, attended the first conference by the Campaign for Homosexual Equality on workplace rights for lesbians and gay men. Afterwards, he wrote to the NALGO's magazine, Public Service, suggesting a NALGO gay group, saying 'I can't believe I am the only one...'. 
For next couple of issues, Public Service's letters page became a pitched battle between those who clearly saw lesbian and gay rights as workers rights and those who saw homosexuality as a sin, a crime, a disease ... or all three. This publicity built a firm base of members across the country, who started meeting and organising. 
Howard remained an important part of the group in its early years and he published that first Nalgay newsletter in October 1974. It started: 'Hello! The NALGO Gay Group is for all homosexuals, bisexuals, transvestites, transsexuals or any other sexuals who do not fit into this society's accepted standards of sexuality (it is not for child molesters or rapists etc) and who belong to NALGO.' 
It's interesting that there was bi and trans inclusion at the very start, albeit not using current language. Interesting how acutely aware the group was that lesbians and gay men could be seen as inherently dangerous to children. Interesting the virtually no-tech production values! 
There are echoes down the years, particularly in the current controversy in some places over trans equality reforms. Our technology may have improved, but we still battle with the insidious suggestion that our rights present a threat or a risk. Society may have begun to accept that we should not be locked up in prison or psychiatric institutions because of our identities and nor should it be OK to throw stones at us as we walk down the street. But this doesn't mean we are 'normal' or deserve to be accepted as full members of society, equal to the next person. The implicit message was say gay, think - may be paedophile. 
This 1974 newsletter went on to say: '[The NALGO Gay Group] exists to show the union just how many homosexuals there actually are in the union and works to try to change attitudes within the work situation. It will support those who may be victimised in any way due to their sexual orientation and bring pressure to bear within NALGO.' 
It wasn't just theory. In 1975, NALGO member and senior social worker Ian Davies was sacked by Tower Hamlets council because he was gay, or in the words of his employer represented a 'jeopardy to the community'. An industrial tribunal found he had been unfairly dismissed, based on the procedures followed, but the council ignored this. His immediate colleagues walked straight out on strike. The branch recommended it become an official dispute and the NALGO exec backed the recommendation – the first official strike over the sacking of a gay worker. 
Lesbians and gay men were beginning to organise in sister union NUPE and were alongside NALGO in this fight. Individual cases were quickly translated into national policy. Action from members of the lesbian and gay group led to a successful motion at the 1976 NALGO Annual Conference: "This conference instructs all NALGO negotiators to add 'sexual orientation' to the non-discrimination clause in all collective agreements. In addition it calls upon the National Executive Council to propose the appropriate addition to the TUC model clause [on equal opportunities in employment]." 
NALGO's other sister union COHSE was also an early adopter of lesbian and gay rights. All three unions defended members facing discrimination and campaigned on lesbian and gay equality issues, including the many campaigns for legal reform that followed over the next decades. This proud history was carried into UNISON after the three unions merged in June 1993. We look forward to marking our 25th anniversary this summer and making more history together as we show #PrideInOurUnions.
Carola Towle will be joining Peter Purton and a distinguished panel for the launch of Champions of Equality at Amnesty International UK on 8 February. Register here.
To find out more about UNISON's LGBT work and how to get involved, visit their LGBT members page.  
To find out more about Amnesty's Trade Union Network and our LGBTI Network, and to join for free, visit our Networks Page. To find out more about unions or to join a trade union visit the TUC website.
About Amnesty UK Blogs
Our blogs are written by Amnesty International staff, volunteers and other interested individuals, to encourage debate around human rights issues. They do not necessarily represent the views of Amnesty International.
View latest posts