Taking Pride in Our Unions - Part 2 - Hidden from History: How Trade Unions Championed LGBT+ Equality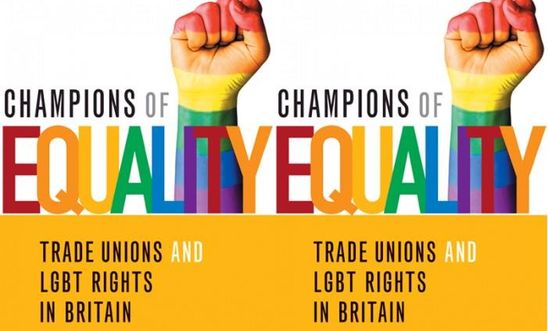 Taking Pride in Our Unions is an LGBT History Month blog series celebrating trade union and LGBT solidarity. This blog was written by Peter Purton, the former LGBT+ Officer for the Trades Union Congress TUC
Hardly anyone knows that in 1976, members of the National and Local Government Officers' Association (NALGO) – one of the predecessor unions of today's UNISON – took strike action to defend one of their gay members who'd been victimised by the employer. And they won. 
Very little of the story of how LGBT+ people won the right not to be discriminated against in Britain is taught in our educational institutions. Very few LGBT+ people themselves know how this transformation was achieved in just a few decades up to today. The part played by unions in these victories remains hidden from history.
That's why I decided to write Champions of Equality: Trade unions and LGBT rights in Britain. 
When the (then) lesbian and gay movement in Britain got off the ground in the 1970s to fight back against overwhelming popular prejudice combined with being totally illegal, trade unionists were already organising to win their own unions to support this struggle. By the middle of the decade, major unions voted to support their gay members, including NALGO and the teachers' unions NUT (now part of NEU) and NATFHE (now part of UCU).  
By the 1980s, massive progress was made across scores of unions, leading to recognition at both TUC Congress and the Labour Party annual conference in 1985 – assisted by the impact of Lesbians and Gays Support the Miners (brilliantly recreated in 2014 by the film Pride).
By the 1990s, the whole movement was committed to equality and unions went on to work through the TUC to drive the Labour governments of 1997-2010 to establish almost full legal equality.
The book is based on the memories (and records) of those who made this all happen. It's easy now to forget how hard this was. Not until the 1990s did popular opinion shift towards seeing LGBT+ people as deserving of equal treatment.
Throughout the 1970s and 1980s anyone working for equal rights confronted challenges everywhere. In addition to having no rights, much of the press (in an age where its influence was massive) was violently hostile to us 'perverts', culminating in prejudiced hysteria over AIDS ('gay plague' according to the Sun), and the incorporation into law (via 'Section 28' of the 1988 Local Government Act) of the idea that our relationships were 'pretended'
Against this tide of prejudice trade unions stood firm, and were well ahead of popular opinion.
But while the book recovers for history the role of so many modest pioneers, it is also necessary to remind LGBT+ people that unions stood against injustice even when it was unpopular. They continue to do so today, when the widespread view after the legalisation of gay marriage that the battle is over is being exposed as an illusion by the rise of reactionary populism, with a new freedom to speak prejudices coinciding with a spike in hate crime
The battle against prejudice has never gone away and is now as pressing as ever, and trade unions are central to the resistance.
The book launch is at Amnesty International UK on 8 February, and includes a panel discussion and "village fete" reception. Register here.
About Amnesty UK Blogs
Our blogs are written by Amnesty International staff, volunteers and other interested individuals, to encourage debate around human rights issues. They do not necessarily represent the views of Amnesty International.
View latest posts