Happy international day of trans visibility to all of the trans community. Love and solidarity forever.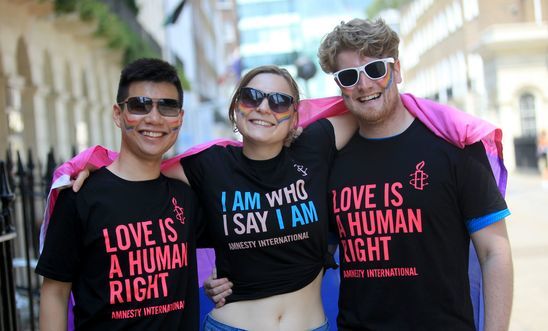 Blog by Jennie Joy, Rainbow Network Committee Member
The 31st of March is International Transgender Day of Visibility. It's a day for celebrating our trans siblings and recognizing and raising awareness of the discrimination that they face all over the world.
Trans, non-binary and gender non-conforming people face all kinds of challenges in different regions, from legal discrimination to physical violence. While the situation in the UK may be better than in some other countries, the recent efforts to stop education on LGBT+ issues in schools and the proliferation of transphobic rhetoric – particularly online – show that the UK is far from innocent of transphobia and discrimination.
There is no debate. Trans rights are human rights.
But while the fight for trans rights continues, on this day particularly we'd like to focus on recent progress. We want to highlight positive events and celebrate the trans community. In the time since March 31st last year, the UK government opened a public consultation to reform the Gender Recognition Act, which will hopefully make it faster and easier for transgender and non-binary people to obtain legal gender recognition. The results also became available for the consultation around the Scottish version of this act, with 60% of respondents supporting a self-declaratory system of gender recognition.
Looking more globally, as of June 2018, transgender identity is no longer classified as a 'mental disorder' in the International Statistical Classification of Diseases and Related Health Problems (ICD), which should make it easier for trans people to access healthcare.  In January 2019, hate speech based on transgender identity became illegal in Sweden, a legal third gender option became available in Germany and in New York City, and NYC also enacted legal gender changes without medical or psychological requirements. These are all basic rights, and things that activists shouldn't have to be fighting for. But today, ITDOV, is a day to recognize these milestones and those who have helped make them happen. 
ITDOV is not just for big changes in the law or in healthcare. It's also about the little things. Today, trans people all over the world will continue to live their lives as normal, and they deserve to be visible as they do so. Visibility means different things to different people, and if you're not part of the transgender community yourself, the best thing you can do is listen to those who are. Our committee member J has created a TDOV ally guide which you can find below, and which links to further resources.
Happy international day of trans visibility to all of the trans community. Love and solidarity forever.
Resource: TDOV ally guide
About Amnesty UK Blogs
Our blogs are written by Amnesty International staff, volunteers and other interested individuals, to encourage debate around human rights issues. They do not necessarily represent the views of Amnesty International.
View latest posts