Peru hike for human rights
Next year you could take on a fundraising challenge with a difference in one of South America's most beautiful regions. After a spectacular hike to the lost city of Machu Picchu you will visit an Amnesty project for a unique insight into how local people are standing up against mining companies. Carolina Vega Rivas of Amnesty Peru explains. 
Every year over a million tourists from around the world visit Machu Picchu for the experience of a lifetime. But for rural communities in the surrounding Cuzco region, life has become increasingly difficult as mining corporations have expanded their presence.
The mines have a serious impact on local people, most of whom are from indigenous communities. They affect water supplies and cause pollution. Communities are forcibly evicted from their traditional lands, farmers lose their livelihoods and people are impoverished.
Human trafficking of women and girls is another major issue: mines bring in large new male populations, which results in the opening up of sex shops and brothels. People who stand up for their rights or refuse to leave their lands face violence and death threats.
What you'll experience
When supporters from Amnesty UK and Ireland visit us next year they will see how Amnesty Peru is supporting these vulnerable communities.
They will experience life in the rural Andes and see first-hand the impact of mining corporations.
One way we help these communities is through our Empowerment, Education and Justice (EEJ) project.
In 2015 we worked with over 40 community leaders, teachers and young people from Chumbivilcas province, teaching them about human rights and how to stand up for them.
To give an example, one of those who participated was journalist Paulina Mota. Now she discusses human rights issues on her radio show, which goes out to the whole province. She has also gone on to play a very active role in her community, becoming the first female president of its neighbourhood council.
See the work of Amnesty Peru first hand
We plan to expand the EEJ project this year, but this is just one of the issues Amnesty Peru works on.
The biggest achievement for our staff of 14 and our 966 members was in 2015, when we campaigned for justice and reparations for the over 2,000 women who suffered enforced sterilisations during the 1990s.
As a result, the Peruvian government passed a decree law establishing a register for victims of this huge violation of sexual and reproductive rights. This was a huge step forward in the fight for justice.
We are still working to make sure the register is properly implemented, but after two decades of struggle, many women - mainly from indigenous communities – were recognised by the government as victims for the first time. 
Find out more about our work in Peru
Sign up for a unique Amnesty experience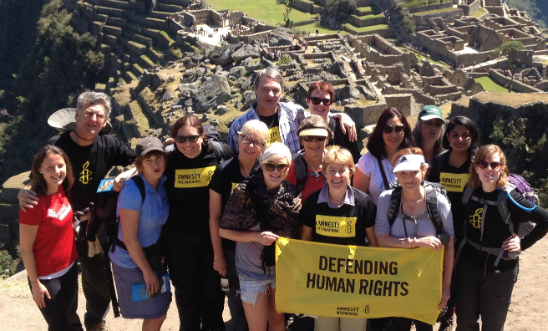 Join Team Amnesty for this trip of a lifetime – and raise money for our human rights work at the same time.
'We are hoping for a team of 20 for this trip,' says Ben Gerrish, Amnesty UK's community fundraising coordinator. 'It offers supporters the opportunity to not only visit one of the most stunning locations in the world, but also see for themselves how their support helps real people. It's a unique Amnesty experience.'
One of the most famous treks in the world, the Inca Trail stretches 43km (almost 27 miles) through the Andes. The trek lasts four days and is at altitude: the highest point is 4200m above sea level. Hikers require a good level of fitness, but our fundraising team can provide training advice to make sure you are ready for the challenge. 
Trip dates: 18-28 May 2017
Minimum fundraising target: £3980 – this includes all food, accommodation and travel
About Amnesty UK Blogs
Our blogs are written by Amnesty International staff, volunteers and other interested individuals, to encourage debate around human rights issues. They do not necessarily represent the views of Amnesty International.
View latest posts