What to watch on Netflix right now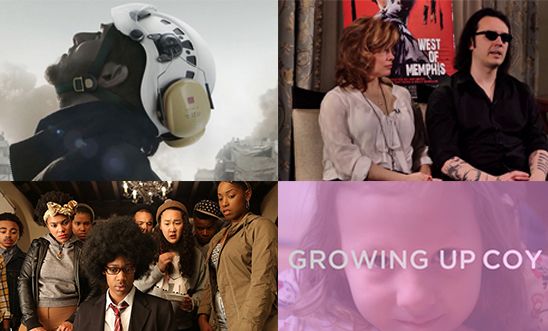 Check out these eight unmissable films about human rights and the people who fight for them - all out on Netflix this Spring. 
1. The White Helmets
When bombs rain down from the sky, the volunteers of the Syrian Civil Defence come to the rescue. Also known as the White Helmets, these unarmed men and women risk their lives to save others, no matter what side of the conflict they're on. In a previous life, when public emergency services still existed, they were ordinary citizens – teachers, engineers, carpenters, students. Now their bravery provides hope in a place where there is little else.
From driving fire engines and providing medical care to searching for life in the rubble, they are first line of support for people hit by barrel bombs sniper fire, or anything else that might be thrown at them by pro-Assad forces and other armed groups.
This Oscar-winning documentary is an unprecedented look at their courageous work in one of the world's most dangerous places.
2. Killswitch: The battle to control the internet
Killswitch explores the threat internet censorship poses to our democratic freedoms and why this is one of the most important human rights issues of our time. 
Through high-profile academics (Peter Ludlow, Professor of Philosophy at Northwestern University; Lawrence Lessig, Harvard University's Professor of Law; and Tim Wu, Professor of Law at Columbia) the filmmaker tells the stories of Aaron Swartz and Edward Snowden, two of the most important individuals in the digital age.
In doing so, Killswitch exposes the dark, corporate forces working to control the internet for their own gain on the grounds of 'national security', and the heavy price for those who dare to oppose them. 
3. Growing up Coy
How far would you go for your children's rights? This award-winning documentary follows the landmark transgender rights case of Coy Mathis - a 6-year-old transgender girl who was banned from the girls' bathroom at her school in Colorado. Rather than comply, Coy's parents pull all their children out of the school and embark on an epic battle to secure their daughter's rights.
In the process, the Mathis family is thrust into the media spotlight with their story appearing in press, TV and radio around the world. Despite the media frenzy, Coy's dedicated and courageous parents knew the value of sharing positive images of transgender people would help make the world a better place. 
Coy's case not only sparked a global debate on trans issues, it was a milestone in the battle for transgender rights. This intimate examination of what it takes to be a civil rights pioneer in the 21st century is a must-watch.
4. Dear White People
Racial tensions spiral out of control at an Ivy league US college when a white fraternity throw a 'black-face' party to protest a controversial radio show that calls out campus racism.
This satirical comedy drama – based on the 2014 indie film of the same name – endured a huge backlash even before the first episode was aired, making it one of the most contentious shows on Netflix right now.
Winchester University becomes a microcosm for wider American society, examining the delicate relationships between and within subcultures: most interestingly, the identity crisis faced by people of mixed heritage. 
This is explored through the relationship between Sam and her (ex) best friend, Coco. Sam, being mixed race, identifies more with black culture and campaigns fiercely for black rights. Conversely, Coco (real name: Colandrea) prefers to play down her African heritage in order to succeed in the predominantly white halls of Ivy league Winchester.
5. The Farm: Angola, USA
Focusing on six detainees at America's largest maximum security prison, Louisiana State Penitentiary, 'The Farm: Angola, USA' met rave reviews on its release in 1998 and co-won the Documentary Grand Jury award at the Sundance Film Festival the same year.
Filmmakers Jonathan Stack and Liz Garbus spent a year documenting life inside the prison, but particular stories highlight ongoing human rights abuses. Of note is the portrait of long-term death row inmate John Brown, who was executed a year before the film's release. 
6. The E-Team
Judging from Syria's ongoing human rights atrocities and a resurgence of terror in Libya, 'The E-Team' is perhaps the most timely of Netflix's offerings. The film follows four members of the Human Rights Watch Emergency Team – including Dr Anna Neistat, who is now Amnesty's senior research director – as they investigate human rights abuses in both countries following the 2011 uprisings.
As well as documenting the aftermath of Assad's cluster bombs and showing the mass graves and charred bodies of Libya's dead, the film tells very human stories of ordinary people living in constant terror.
Entertainment magazine Variety praised 'The E-Team' for its "sharp storytelling, death-defying videography and engrossing protagonists."
7. West of Memphis
This 2012 documentary follows the nailbiting case of the West Memphis Three, in which three teenage boys were convicted of murdering three 8-year-old children and imprisoned for 18 years.
The case – also portrayed in Joe Berlinger and Bruce Sinofsky's three Paradise Lost films – isn't new to the screen, but 'West of Memphis' specifically focuses on Terry Hobbs, the stepfather of one of the victims, physical evidence linking him to the murders, and, in particular, how the police failed to interview him at the time of the murders.
Observer critic Philip French said: "The movie is both a shocking indictment of the American criminal justice system and a tribute to the dedication of selfless civil rights lawyers and their supporters from all over the world."
8. The Thin Blue Line
Errol Morris' 1988 masterpiece focuses on the story of Randall Adams, serving a life sentence (for three years it had been execution, but this was commuted to life) in Texas for the murder of a policeman in 1976.
Adams has already spent more than a decade in prison by the time Morris interviews him. The film is a forensic look at the crime that put Adams - who claims his innocence throughout - behind bars, as Morris meticulously pieces together the crime scene with unblinking interviews and reconstructed footage, presenting events through the viewpoints of numerous players.
Morris' investigation and the film's subsequent exposure of police failings, untrustworthy witnesses and a flawed justice system resulted in Adams being retried, where he was found innocent.
This film is a trailblazer in both style and content, and so many well-known documentaries owe a lot to it. The Thin Blue Line often appears at the top of 'films you must watch'/'best documentaries of all time' lists - with good reason.
And for a bonus on Channel4.com…
Now we might be a little biased as our research did assist in the making of this one, but Syria's Disappeared tales of President Assad's victims is a must-watch documentary. 
Mansour al-Omari smuggled the names of his fellow prisoners out of a Syrian jail written in blood – now Channel 4 have documented this grisly testimony and attempt to trace others who have died in custody. Filmmakers Sara Afshar and Nicola Cutcher spent two years interviewing survivors of Syrian detention centers and the families of detainees and defectors from the regime.
It's vital their stories are told to the world, and as Mansour says, "We have the evidence, and there is an urgent need to save those who are still alive. It is our duty to act."
About Amnesty UK Blogs
Our blogs are written by Amnesty International staff, volunteers and other interested individuals, to encourage debate around human rights issues. They do not necessarily represent the views of Amnesty International.
View latest posts