Thierry Noir on art, fashion and human rights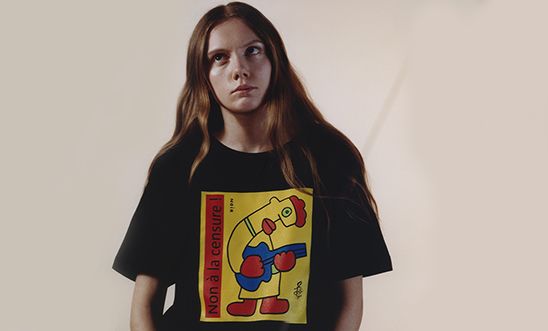 Thierry Noir's T-shirt design for the 50/50 collaboration with Amnesty and Everpress.
As part of our collaboration with Everpress to launch a range of 50 limited edition T-shirt designs to raise awareness of the evils of censorship, we caught up with artist and activist Thierry Noir on how creativity can foster human rights change.
If you feel inspired, the 50/50 T-shirts are available to purchase online until 28 June, with 50% of the profits going to the artist and 50% to support our human rights work.
Using creativity to make a statement is something you are well known for, particularly when you painted the Berlin Wall. What first inspired you to use art as a channel for social change and why was it important for you to do this?
TN: Freedom is the main theme in my work. I am happy to work without anyone who tells me what to do. This is why I became an artist. The Berlin Wall was the trigger that pushed me to paint. It's presence was so depressing that it forced me to react. It was particularly impudent to paint the wall, but since it fell, this gesture has become even more important.
After the wall fell, I tried to keep the same painting technique, two ideas, three colours, we mix everything and voila - the picture is finished. This kind of fast painting has a lot of energy.
What inspired you to paint the Berlin Wall?
TN: I never painted before I came to Berlin. I started my career in front of the Wall. I never thought for one minute to make an exhibition of my paintings when I was in France. I remember at school the art teacher said to me I had no talent. At the very beginning, I pretended to be a multi-talented artist, so I could sing, play guitar and paint. After a while, I discovered that I could live off my paintings.
I chose to paint the Wall because it was a non-violent action. During all those years before 1990, I never tried to insult the wall-guards or smash any empty colours pots over the wall. Why throw rocks onto a 6-inch wall made of concrete? I just followed the path of Gandhi. I think I was right because those colours have eaten away the concrete segments like acid.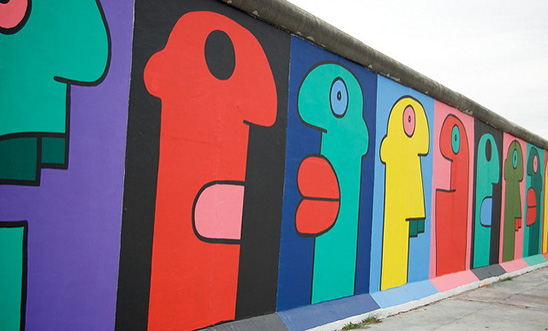 It was as if I fell into a big box of creativity, which was West Berlin at that time. Indeed, at that time, to protect yourself from the artificial life of West Berlin, surrounded by a wall, it was necessary to be creative. With the help of this creativity, you could feel alive and not fall into a sort of soft melancholy. I arrived in Berlin in January 1982 but I started to paint the wall at the end of April 1984. People believed that I was paid by the city of Berlin to decorate the neighbourhood.
I never try to give any "message to the world". I let everybody interpret themselves what they see on my paintings. It is funny when some people recognise an uncle or a cousin when they see my paintings. I never say to them that they are wrong.
The commercial fashion world has really adopted social justice activism recently – do you think it helps or hinders the cause?
TN: It means that it is possible to do something to overcome it. It is important that we do not give up. I am thinking here of Rainer Maria Rilke's beautiful sentence: "Perhaps all dragons in our lives are just princesses waiting to see us beautiful and courageous."
Street Art is everywhere. Advertising companies use Street Art more and more in their ads. This Street Art movement is too big to stop. What was graffiti in the 80s is now Street Art: one global movement.
Even in China, there are Street Artists now. Liu Xiaobo, Nobel Peace Prize Winner 2010, wore a T-shirt that I made in 2001 with the Checkpoint Charlie Museum: Le Dialogue. Unfortunately Liu Xiaobo died in prison in July 2017.
What challenges have you come up against when using your art as a form of resistance?
Since the Berlin Wall came down in November 1989, new walls all around the world appeared everywhere. Sometimes they call them: Separation Border, Green Line or Peace border. Every wall maker says "please do not compare our wall with the Berlin Wall. Our wall is a good wall, but the Berlin Wall was something bad."
Painting on the wall was automatically political, and it was necessary to explain why when painting. Some people were aggressive, and it was often necessary to repeat that I was not hired by Berlin City Hall to make the city of West-Berlin more beautiful. It was not a question of embellishing the wall, but of demystifying it. These paintings became an expression of the regained freedom after the reunification of Germany and the end of the Cold War.
The 50/50 project is about raising awareness of censorship and the need to speak out against injustice. What do you think is the most pressing human rights issue of our time?
TN: The most pressing human rights issue of our time is fear. Don't be afraid to stand up and say no.
The Berlin Wall was built in 1961 to prevent people from leaving, and then dismantled in 1989 to prevent people from leaving. That is the paradox of the Wall. That is what John Fitzgerald Kennedy said in front of Berlin-Schöneberg City Hall on 26 June 1963. "All free men wherever they may live are citizens of Berlin". It is astonishing that a Frenchman took such risks for a foreign wall!
About Amnesty UK Blogs
Our blogs are written by Amnesty International staff, volunteers and other interested individuals, to encourage debate around human rights issues. They do not necessarily represent the views of Amnesty International.
View latest posts