The most powerful tool against repression: educating people about their rights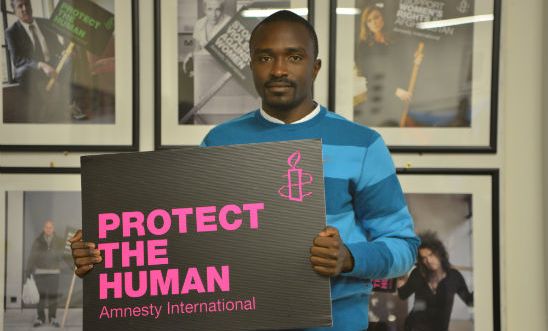 Written by Krisztina Saroy, an advocate for human rights in West & Central Africa and Amnesty volunteer
I could not have dreamt of anything more exciting than meeting former Amnesty prisoner of conscience Fred Bauma. Together with thousands of activists, I had been campaigning for him and his colleague Yves Makwambala for the past few years. So, I was floating on air when I heard about Fred and Yves' release on bail in August 2016. I felt extremely honoured to be able to organise an event where Fred could meet the Amnesty UK activists who had been standing in solidarity with him.
Struggle for change in the Congo
On 11 March, just a few days before the anniversary of his detention in 2015, Amnesty UK hosted a speaker event with Fred Bauma. During the evening, the young Congolese activist talked about his experiences and the human rights situation in the Democratic Republic of the Congo (DRC). 
Fred explained to us that his activism is rooted in supporting refugees of a camp near his family's house. Later, during his studies, he became active in several civil society organisations. But after recognising that the social injustice, corruption and lack of respect for human rights will not go away, until the people themselves do something about these issues, he founded a movement with his fellow students. That's when the pro-democracy youth movement called Struggle for Change (Lutte pour le Changement - LUCHA) was born. The aim of that organisation is to empower Congolese people and encourage them to become active citizens.
"Repression and imprisonment only make us stronger"
The movement has been non-violent in nature and mostly campaigns for basic rights for all, such as access to essential public services in rural Congo. Despite the above, it has become a target of the government crackdown on those speaking out against the authorities. Fred and Yves had also fallen victim to this repression. In March 2015, they were arrested while attending a meeting on good governance and civic education with other youth groups and journalists. They had been  subsequently kept in prison and faced the possibility of the death penalty for their peaceful activism.
Thanks to international awareness and support Fred walks free now
During the event, Fred explained to us that he thinks he walks free and can travel outside the country now because of the international support and appeals of activists from around the world, which put pressure on the Congolese government to release him and Yves - though, the charges against them haven't been dropped yet. But the two pro-democracy activists aren't the only LUCHA-members arrested and imprisoned in the past few years. Security forces systematically target the movement's events and detain participants for "disturbing public order".
The most powerful tool against repression: educating people about their rights
Fred explains that the repression and arrests made LUCHA even stronger and its members more committed. More and more young people join the movement to make the DRC a free, peaceful and prosperous nation that the country has the resources and potential to be.
This can be achieved by a radical change in people's mentality. Fred explained that as President Kabila's constitutionally allowed second mandate ended in last December, he needs to leave the office. However, a change in leadership is not enough. Whether a better or a worse president comes to power next, the most important thing to achieve is that Congolese people are aware of their rights and obligations as active citizens. The country can only change and be a better place for all Congolese if people are directly involved in shaping its future and take actions.
Take action for a better Congo
Fred sent us off with a message that touched me. He stressed that the international awareness and the support of activists around the world do count. It can be writing an appeal letter, attending an event about the DRC or speaking out against human rights abuses in the country on social media. Every action we take is an important step towards creating a strong country, where human rights and the rule of law are respected.
Therefore, please join us in urging the Congolese authorities to drop all charges against Fred Bauma and his colleague Yves Makwambala, and to protect the rights of Congolese people by joining our Twitter action:
@RDCJosephKabila, drop all charges against #FredBauma and #YvesMakwambala, and protect the rights of Congolese people. #DRC 
About Amnesty UK Blogs
Our blogs are written by Amnesty International staff, volunteers and other interested individuals, to encourage debate around human rights issues. They do not necessarily represent the views of Amnesty International.
View latest posts