Love is a right, not a gift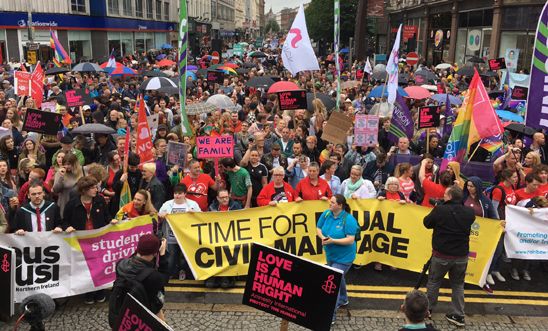 March for Equal Marriage in Belfast, Northern Ireland 2 Jul, 2017 © Amnesty International
By Simon Ware, Chair at Amnesty UK LGBTI Network
This year's theme for Pride in London is "Love Happens Here".
It does. It happens everywhere, and it takes all forms imaginable, but here in the UK, and in London in particular, it is much easier for people to be open about their sexuality, compared to other places around the world.
This is, no doubt, something worth celebrating.  But we should also be celebrating and showing our appreciation to the people who have led the fight, so successfully, for the liberation of LGBTI+ individuals in the UK. Without their bravery and fortitude, we wouldn't have achieved what we have so far.
Take a look at our timeline below to see just how much progress has been made.
But even in the face of such success, let's not be complacent.
LGBTI+ rights are 'rights', not gifts. Absolute equality of opportunity and acceptance, absolute freedom from discrimination, is our entitlement as well as the goal. LGBTI+ individuals should never have had to ask, demand, and fight for these things. 
We must be careful not to treat the UK's recent (and as yet incomplete) move towards a basic equality for LGBTI+ people as something benevolent and generous. It is the beginnings of righting historical wrongs, and nothing more. 
We should also remember that the fight isn't over. We have much further to go to extinguish homophobia and transphobia in the UK, to strengthen protections around gender identity, to improve representation across the board from TV shows to parliament, to raise awareness to help people get past the discomfort they might feel when met with relationships different to theirs, or non-binary gender identities. 
We have got to do more as a country to use our massive influence around the world to demand human rights are extended to all people and through them, individuals across all nations are able to define their lives, to celebrate their love, and do so in safety and in peace. 
Amnesty International will continue with this work, along with other organisations, activists and passionate human rights defenders around the world. You can support us and get involved by joining the Amnesty UK LGBTI Network that lead on LGBTI+ campaigning within Amnesty UK.
Pride is a celebration, and Amnesty International UK will be taking part fully and absolutely in the joyousness of the day. But, at the same time, we remember that Prides are also protests. They are a demand to be recognised, a demand for more action and a demand for further progress – demands which we must not forget or ignore. 
So please, celebrate with us, and with our friends across the country and across the world who are proud of the progress that has been made in the UK in the past 50 years. But think too about the people around the world who are being rounded up and killed for their sexuality or gender identity. Remember that discrimination remains rife and horrifying in the UK and that we are not there to say thank you – but to demand more...
… and that is Pride.
Share this image on your social media channels to celebrate Pride2017 with us.
Are you on Twitter? Here are some suggestions for tweets to accompany this image:
#Lovehappenshere but the right to love is still denied to far too many. Demand more this #Pride2017 @AmnestyUK https://www.amnesty.org.uk/actions/stop-abducting-and-killing-gay-men-c…
Plenty to take #Pride2017 in but plenty more to fight for. #LoveHappensHere @AmnestyUK https://www.amnesty.org.uk/actions/stop-abducting-and-killing-gay-men-c…
Celebrating #Pride2017 4 LGBTI rights achieved + 4 those still denied #LoveHappensHere@AmnestyUK #LoveIsAHumanRight https://www.amnesty.org.uk/actions/stop-abducting-and-killing-gay-men-c…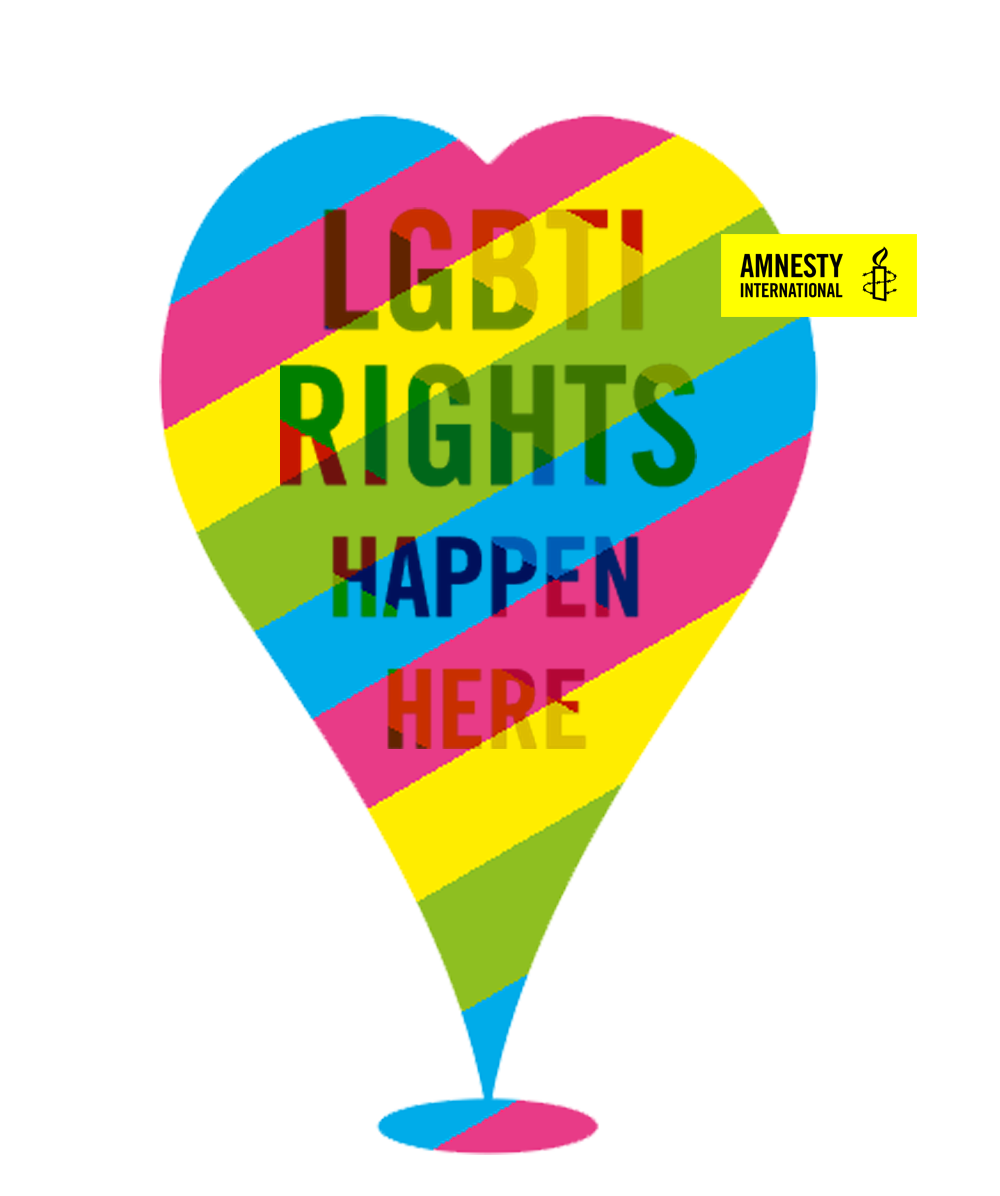 About Amnesty UK Blogs
Our blogs are written by Amnesty International staff, volunteers and other interested individuals, to encourage debate around human rights issues. They do not necessarily represent the views of Amnesty International.
View latest posts