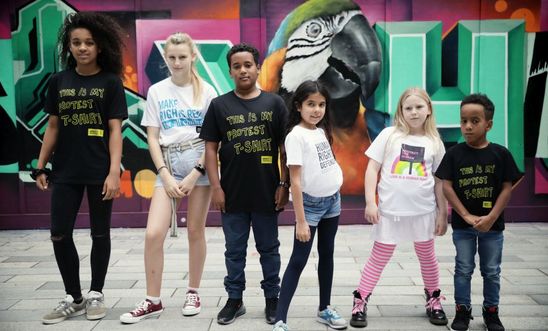 limited edition t-shirts available now. © Marie-Anne Ventoura
Amnesty International and Everpress have teamed up to launch 'Leaders of Today', a special range of 5 limited-edition children's T-shirts to celebrate the 30th Anniversary of the Convention of the Rights of the Child. The convention is a landmark document which sets out the civil, political, economic, social and cultural rights that all children everywhere are entitled to.
In 2019, children around the world are speaking up for what they believe in and care about – from the school strikes for climate to the student protests to end gun violence, they are fighting for their rights - and it's time for the world to listen and act. We want to celebrate these young activists and all the work they are doing to make this world a better and fairer place.
Included in the collection is a special design, by Ailis Barnes and Lois, from Altrincham Grammar School for Girls, who were joint winners of Amnesty's "What's your slogan" competition. Children from all over the UK sent in their best slogan idea's, which were judged by a panel of Amnesty experts. Lois and Ailis, are members of their schools Amnesty International society. Ailis said "I wanted a slogan that would invite people to ask me why I was wearing it. The words on the shirt can be used to spark many conversations and to invite discussion about topics that are important" about their winning entry "This is my protest t-shirt".
Alongside this are Amnesty classics "Love is a human right", "Fighting Bad Guys" and "This is what a human rights defender looks like" never sold before in children's sizes. Available for a limited time only, the campaign aims to raise awareness about the rights of children. The 'Leaders of Today' campaign is also part of Amnesty's Write for Rights campaign, which this year focusses on children and young people who are standing up for their rights. In 2018, more than 182,000 people throughout the UK took part in Write for Rights. This year's campaign focuses on some remarkable young people around the world: some facing human rights violations, some standing up for their own rights, others defending the rights of a wider community.
The T-shirts are available to purchase online from 5th of November for a limited time only.  The t-shirts are ethically made from organic and fairwear cotton. And only the number of t-shirts ordered will be produced, meaning there is no wastage. Once they are gone, they are gone!
The 'Leaders of today' T-shirts are available  now until 29th November at: https://everpress.com/amnesty-international-leaders-of-today
About Amnesty UK Blogs
Our blogs are written by Amnesty International staff, volunteers and other interested individuals, to encourage debate around human rights issues. They do not necessarily represent the views of Amnesty International.
View latest posts