One year on from Berta Cáceres' murder, justice is overdue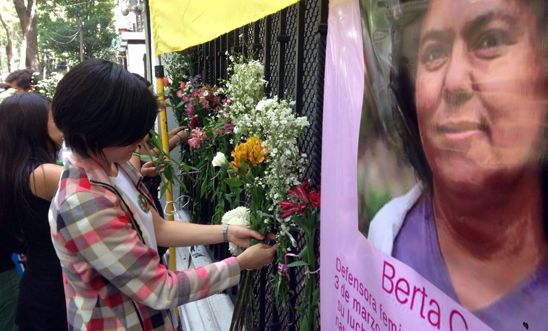 Activists calling for justice for Berta at the Honduran Embassy in Mexico City, June 2016 © Amnesty International
By Rajwinder Sahota, Amnesty UK Country Coordinator for El Salvador, Honduras and Nicaragua
This Friday marks the first anniversary of the murder of Honduran indigenous and environmental rights campaigner Berta Cáceres.
Call for justice for Berta on Twitter
Berta was shot dead in her home in La Esperanza, western Honduras, after spending years campaigning on environmental issues, including opposing the construction of a hydroelectric dam in the Agua Zarca region. We believe Berta was murdered for her activism. But inquiries into her death have so far failed to deliver any kind of justice.
Bertha led the National Council of Popular and Indigenous Organisations of Honduras (COPINH), which she co-founded. She argued that the damn construction in Agua Zarca risked displacing the indigenous Lenca community from their ancestral land by the sacred waters of the Gualcarque River.
Berta's work attracted international recognition: she was awarded the prestigious Goldman Environmental Prize in 2015 for her environmental work.
But it also meant unwanted attention from those who wanted to silence her, and she endured a sustained campaign of harassment in return for speaking out. In 2009, Berta was given protection measures by the Inter-American Human Rights Commission, but she continued to receive death threats. A few months before her murder, Berta was driving in north-west Honduras when three shots were fired at her.
To date, nine men stand accused of being involved in Berta's murder. Two of the suspects, Sergio Rodriguez and Douglas Geovanny Bustillo, were staff members at Desarrollos Energéticos SA (DESA), the company behind the Agua Zarca dam construction project.
Shortly before her death, Berta told environmental rights organisation Global Witness that DESA's president Roberto David Castillo Mejia tried to bribe her to silence her opposition to the dam – as detailed in their report Honduras: the deadliest place to defend the planet.
A deadly country for activists
Sadly, Berta's death is not a unique incident in the Central American country of Honduras. Global Witness describes Honduras as the most dangerous country for land and environmental activists in the world; they documented 123 killings of these campaigners since 2010.
Land, territorial and environmental activists in Honduras pay a high price for their activism, and all too often that price is their lives, as documented in our report 'We are defending the land with our blood'. Campaigners in Honduras work in extremely hostile and dangerous conditions where they face threats, physical attacks and killings. The attackers generally get away with it as authorities fail to investigate such crimes quickly, thoroughly or calling on impartial evidence.
Erika Guevara-Rosas, Americas Director at Amnesty, described Honduras as spiraling 'into a 'no-go zone' for anyone daring to campaign for the protection of the environment'. These sentiments were echoed by UN Special Rapporteur on Human Rights Defenders Michel Forst who visited Honduras last summer and declared it to be one of the most hostile and dangerous countries for activists in the world.
Berta's colleagues are at risk
Berta's murder is charted on Amnesty's new interactive map Speak Out for Defenders, which documenting attacks against human rights defenders in the Americas. The online platform also documents harassment faced by other members of COPINH – including having stones thrown at them at a peaceful protest, and unidentified men monitoring COPINH's women's refuge in La Esperanza.
After Berta's murder, no activist is safe.
Call for justice for Berta
Tweet the Honduran authorities and call on them to properly investigate Berta's murder and bring the perpetrators to justice.
Copy and paste any of the tweets below, or write your own to President Juan Orlando Hernández - @JuanOrlandoH and @Presidencia_HN.
. @Presidencia_HN, we demand #JusticiaParaBerta defender criminalized for years and killed in March 2016 in Honduras  #DefendersUnderAttack Please urgently investigate  all suspects involved with Berta Caceres' murder, @MP_Honduras @ofchb

Hi @JuanOrlandoH @Presidencia_HN, please recognise ththat that work of @COPINHONDURAS &  #MILPAH is legitimate #DefendersUnderAttack

Justice for Berta Cáceres, Honduran environmental activist killed one year ago – her colleagues still live in fear, @JuanOrlandoH @Presidencia_HN
Follow and retweet Amnesty's Human Rights Defenders @AIDefensorxs
Amnesty UK's Central America volunteers are on Twitter at @AIUKCenAmerica
About Amnesty UK Blogs
Our blogs are written by Amnesty International staff, volunteers and other interested individuals, to encourage debate around human rights issues. They do not necessarily represent the views of Amnesty International.
View latest posts