Freedom/Solidarity/Resistance為自由/共命運/同抗爭: Tiananmen Massacre 32 Years On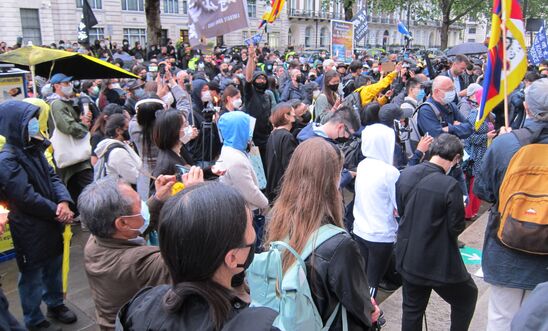 In the evening of 4 June 2021, hundreds of activists gathered in front of the Chinese Embassy in London to mark the 32nd anniversary of the 1989 pro-democracy movement and the Tiananmen massacre.
At the rally, we read out the statement of our coalition and the statement from Tiananmen Mothers group. We also read out in three languages (Mandarin, Cantonese and English) the letter of Wu Lihong, a member of the Tiananmen Mothers  to show our solidarity with the Tiananmen Mothers and with people in Hong Kong, to whom the letter was addressed.
Our speakers included:
Nathan Law: the youngest elected Legislator in Hong Kong, now a political refugee in UK.
Wang Chaohua: one of the student organizers in the 1989 pro-democracy movement, who was put on the Chinese government's list of 21 'most wanted' student leaders after the massacre.
Peter Tatchell: veteran LGBT+ activist and campaigner for all human rights, who was arrested during protests against the Beijing Olympics in 2008.
Jabez Lam: community activist and campaigner, founding member of Chinese Solidarity Campaign
Rahima Mahmut, a Human Rights activist. She is the UK Project Director of the World Uyghur Congress, Chair of Stop Uyghur Genocide and advisor to the Inter-Parliamentary Alliance on China.
Ma Jian: a dissident writer, whose novel Beijing Coma is described by the Financial Times as 'an epic yet intimate work that deserves to be recognised and to endure as the great Tiananmen novel'.
Stephen Ng: Founding member of Chinese Solidarity Campaign.
Tsering Passang: a Tibetan writer, activist and human rights advocate; Former Chairman of Tibetan Community in Britain; Founder of the Global Alliance for Tibet & Persecuted Minorities (GATPM)
Pete Radcliff: founding member of Labour Movement Solidarity with Hong Kong (UK)
David Ball: a socialist activist in the Labour Party, UNISON and the National Education Union, and an organiser of the Uyghur Solidarity Campaign UK. 
Sacha Ismail, a Myanmar activist.
John Moloney: Assistant General Secretary of the PCS union - a strong supporter of the HKCTU:
Ana Oppenheim: Polish socialist and migrant rights campaigner for Another Europe Is Possible, also a member of Momentum National Coordinating Group (in personal capacity).
Vicky Blake: President of the lecturers' union the UCU.
Clive Lewis (audio): Labour MP for Norwich South.
Shao Jiang: a witness and survivor of the Tiananmen massacre who was jailed for his involvement in organizing the pro-democracy movement.
The rally was co-organised by Remember June Fourth, Chinese Solidarity Campaign, Democracy for Hong Kong, The World Uyghur Congress, Global Alliance for Tibet & Persecuted Minorities, Labour Movement Solidarity for Hong Kong, Uyghur Solidarity Campaign UK, Tibetan Community in Britain
More:
Tweet: https://twitter.com/shaojiang/status/1401136845237460992
https://www.facebook.com/watch/live/?v=186754176573482&ref=watch_permalink
https://economictimes.indiatimes.com/news/international/world-news/london-tokyo-milan-dhaka-witness-protests-on-tiananmen-massacre-anniversary/articleshow/83264533.cms
https://www.justearthnews.com/rights-details/HR/3648/remembering-tianan…
https://www.indiablooms.com/world-details/F/29679/tiananmen-massacre-anniversary-activists-hold-vigil-outside-chinese-embassy-in-london.html
https://aninews.in/videos/world/london-massive-protests-outside-chinese-embassy-mark-tiananmen-massacre-anniversary/
為甚麼參加倫敦 #六四 集會?流亡後代、工會和緬甸人重新解讀 #八九六四 https://hkfeature.com/%E7%82%BA%E7%94%9A%E9%BA%BC%E5%8F%83%E5%8A%A0%E5%…
倫敦六四集會數百人出席 悼念的心從沒熄滅 https://www.hkcnews.com/article/42105/%E5%85%AD%E5%9B%9B32%E5%91%A8%E5%…
「但有一個夢,不會死,記著吧!無論雨怎麼打,自由仍是會開花」-Peristiwa Tiananmen: Mimpi Rakyat China 32 Tahun Lalu yang Kian Jauh? https://www.matamatapolitik.com/peristiwa-tiananmen-mimpi-rakyat-china-…
About Amnesty UK Blogs
Our blogs are written by Amnesty International staff, volunteers and other interested individuals, to encourage debate around human rights issues. They do not necessarily represent the views of Amnesty International.
View latest posts