For Freedom / Stand Together: June 4th Massacre 32 Years On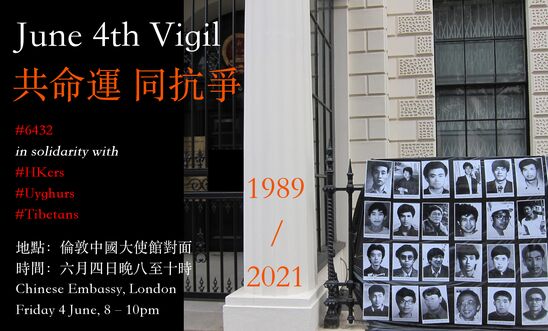 This year marks the 32nd anniversary of the 1989 pro-democracy movement and the Tiananmen massacre. As always, we stand firmly with Tiananmen mothers, supporting their demands for truth, accountability, and justice for victims. We will be holding a candlelit vigil in front of the Chinese Embassy in London on Friday 4 June, 8–10 pm.
Organised by London Remembers June 4, Chinese Solidarity Campaign, Democracy for Hong Kong, The World Uyghur Congress, Global Alliance for Tibet & Persecuted Minorities, Labour Movement Solidarity with Hong Kong, Uyghur Solidarity Campaign UK, Tibetan Community in Britain
Please consider wearing face masks and respect social distancing for our collective wellbeing.
Hashtags: #6432Justice #TiananmenMothers #TAM32 #TiananmenMassacre #june4th #64truth #八九六四 #北京大屠杀 #天安門大屠殺 #天安门母亲 #六四32 #香港 Solidarity with #HongKongers #Tibetans #Uyghurs
About Amnesty UK Blogs
Our blogs are written by Amnesty International staff, volunteers and other interested individuals, to encourage debate around human rights issues. They do not necessarily represent the views of Amnesty International.
View latest posts