Discovering a New Planet - Bite Size Activity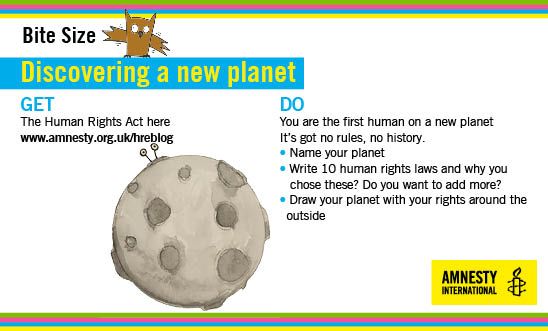 Write human rights laws for a new planet
Human rights belong to all of us.
Write human rights laws for a new planet.
You'll need​
A copy of the Human Rights Act​ - page 11, paper, pens and pencils
​What to do: ​
A new planet has been discovered. No humans have ever been to or lived on this planet. There are no laws, no rules and no history.​
You are the first settler. Complete the following activities to design your planet: ​
Name your planet​
Write a list of 10 human rights for the planet that should be protected by law and explain why you have chosen those rights? ​
Look at the Human Rights Act on page 11 of the resource. How does your list compare to the rights listed in the Act? Would you like to add any new rights to your list now?​
Draw your planet and include your chosen final list of Human Rights around the outside of it. 
Share your planet with us by emailing a picture to hre@amnesty.org.uk or using the hashtag #bitesizeHRE.
Amnesty's education work is supported by players of People's Postcode Lottery.
About Amnesty UK Blogs
Our blogs are written by Amnesty International staff, volunteers and other interested individuals, to encourage debate around human rights issues. They do not necessarily represent the views of Amnesty International.
View latest posts