No more torture on your doorstep
Thumb screws, electric shock batons, leg irons and neck shackles.
These instruments of torture aren't just confined to the history books – they're being used every day in torture chambers, police stations, military barracks and at public demonstrations all over the world.
And for many years, they've been legally advertised at arms fairs across Europe.
For too long companies have been able to profit from human suffering. They were still able to advertise and broker deals for such sinister equipment as the 'sting stick' spiked batons, thumb screws and lethal injection drugs.
Today, after more than ten years of campaigning, the EU has finally voted to tighten these loopholes.
You spoke out – and they listened. European companies will now be barred from advertising such equipment at trade fairs or online.
The ban will also block the transit of torture equipment through EU countries and includes items such as portable electric shock devices, shackles and handcuffs modified to inflict pain. It also extends restrictions on chemicals used in executions and ban training in torture techniques.
The EU's prohibition on the death penalty has already limited US prison authorities' access to some chemicals used to kill death row prisoners by lethal injection. Now this new regulation brings us a major step closer to eradicating the trade of torture equipment.
Good news, 11 years in the making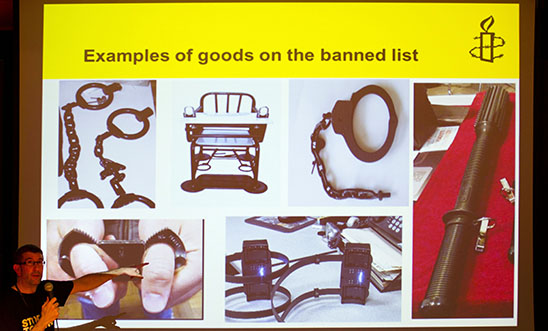 The European Union (EU) is currently the only world region to have specific laws regulating the trade in equipment for which the primary purpose is to torture and abuse.
We campaigned hard for those laws to be introduced and in 2005 they came into action. But we didn't stop there.
We knew that loopholes in those laws meant a global market in gruesome torture equipment like leg chains and spike batons could still flourish, right here on our doorsteps.
Together, we've been fighting for these laws to be tightened since 2005 – lobbying politicians and governments, writing letters, sending emails, raising the profile of the issus and exposing banned equipment at arms fairs. We even launched… 
The ad campaign the UK government never wanted you to see
For many years, the London Arms Fair (DSEI) has been showcasing arms to all kinds of governments, including known human rights abusers. And that's not all.
Alongside guns, tanks and killer drones, we discovered illegal torture equipment being advertised in 2005, 2007, 2011 and 2013. At some we found cluster bombs, at others it's been leg irons, electric shock batons and stun guns – tools used to torture people.
So we thought people should know what's happening on their doorstep, so we gave the government the-really-big-and-far-reaching-ad-campaign-they-never-really-wanted-you-to-see.
We created an advert for them.
We advertised it on really big billboards.
Our London Arms Fair ad campaign is growing! Do your bit at http://t.co/4XaMXFDTlJ pic.twitter.com/M4MxE7eHZP

— Amnesty UK (@AmnestyUK) September 14, 2015
Took out full page press ads.
Dunno who took this ad out in the Metro but I like it.. pic.twitter.com/JIZJJxmtye

— Jacques (@JackVsJose) September 15, 2015
And took to the streets to make sure everyone knows what's really going on.
Look out for our unofficial Arms Fair helpers at King's Cross & Bank today - come and say hi! http://t.co/X2T1aGdwnN pic.twitter.com/lP5ASqVUBa

— Amnesty UK (@AmnestyUK) September 15, 2015
On top of all that 23,000 of you emailed the government's Business department, calling on them to stop torture equipment being illegally advertised in the UK and to make sure anyone found responsible is held to account.
It was a huge step forward and showed the government that the British public won't stand for torture equipment being traded on their doorstep. You were listened to by the UK government.
And just over a year on, the EU vote sends the message that it will not tolerate torture.
Your actions have made a real difference and take us one step closer to stopping the trade in torture equipment for good – thank you.
About Amnesty UK Blogs
Our blogs are written by Amnesty International staff, volunteers and other interested individuals, to encourage debate around human rights issues. They do not necessarily represent the views of Amnesty International.
View latest posts