Brexit: The day politicians left our human rights protections behind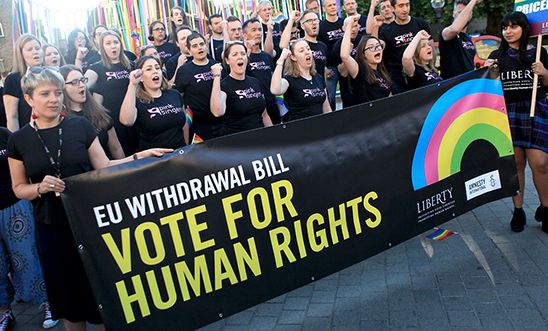 LGBT+ Super Choir urge MPs to vote for human rights ahead of EU Withdrawal Bill vote. © Marie-Anne Ventoura
Written by Lui Asquith, Vice Chair & Campaigns Lead on the Amnesty LGBTI Network Committee, and Tim Gee, Human Rights in the UK Campaign Manager.
After centuries of extreme discrimination, recent years have seen an increase in recognition of the human rights of people in the LGBTQI community. We are still a long way from enjoying full equality. But at least there are human rights laws in place to fall back on when people need them most.
However, those laws look likely to be weakened, following the recent votes in the House of Commons on the EU Withdrawal Bill.
In a series of steps backwards for equalities protection, it now seems almost certain that:
The EU's Charter of Fundamental Rights - which amongst other protections prohibits discrimination based on sexual orientation - will not be transferred into domestic law following Brexit;
There will be no guaranteed right of challenge to a domestic law if it fails to comply with the general principles of EU law, beginning 3 years after 'Exit Day'
Ministers will have sweeping powers to alter legislation transferred in to UK law without appropriate parliamentary scrutiny, with so called 'Henry VIII' powers.
There are still protections of course – including the treasured Equality Act and the European Convention on Human Rights (which is quite separate from the EU). But the only explicit and overriding prohibition on discriminating against someone because of their sexuality in our human rights protections was the EU Charter, and the most prominent UK case of winning equality for same-sex couples was achieved using the right to bring court action based on the EU General Principles.
On Tuesday night, MPs voted to leave behind both.
These events should be a wake-up call to everyone in the UK. Our human rights laws have played a role in protecting us for years. Now the laws themselves are in need of protecting.
So, what now?
The recent vote was the culmination of months of us and other organisations talking to politicians from across the political spectrum, which led to all opposition parties, a majority of the House of Lords and some Conservative MPs supporting the amendments backed by human rights campaigners.
On the day before the vote, we organised an LGBT+ Superchoir amassed outside parliament to tunefully call upon waverers to do the right thing – broadcast on the evening news. But in the end a narrow majority of MPs still voted the wrong way.
The result is a body blow for rights. But it isn't too late to protect our protections. MPs could, if they wanted to, reintroduce those rights in the months and years ahead. The House of Lords can propose that equality legislation is at least is ringfenced from Ministerial law-making powers in this Bill, and the Commons still has the option to accept that.
But they won't do any of that without you – us – demanding that they do so as we move forwards.
Our human rights protect all of us, and all of us need to protect them.
About Amnesty UK Blogs
Our blogs are written by Amnesty International staff, volunteers and other interested individuals, to encourage debate around human rights issues. They do not necessarily represent the views of Amnesty International.
View latest posts