Your voice has power this winter: Write for Rights 2020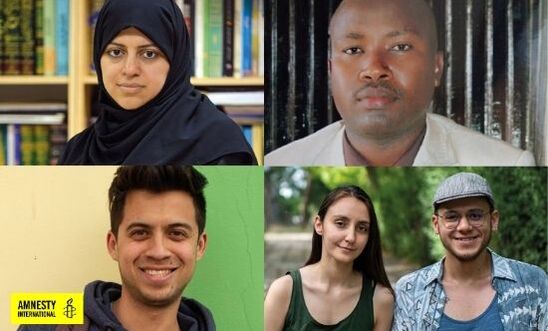 Our news cycle can feel overwhelming. With police brutality threatening human rights and divisive politics pulling communities apart, it's easy to feel powerless.
But we're not - and our movement is proof. 
Together we've helped over 170 unfairly imprisoned people walk free since 2018. We've campaigned tirelessly for justice for individuals all over the world, and won. 
None of this is possible without people like you.
That is why, every year, we ask people all over the world to take part in Write for Rights, the world's biggest human rights event. 
What is Write for Rights?
We call on people like you to take action to support individuals who find themselves under threat, or who are attacked for standing up for human rights.
Your actions can put pressure on authorities and people in power to stop human rights violations. By appealing to presidents, governors, justice ministers and other decision-makers you are sending a clear message that the world is watching. 
Last year, hundreds of thousands of people around the world took part in Write for Rights 2019, sending more than 6.5 million messages of support and appeals to authorities. 
How Write for Rights can change a life...
Magai was 15 when he was sentenced to death in South Sudan.
Supporters sent more than 765,000 messages to President Salva Kiir urging him to commute the sentence and expressing their solidarity with Magai. On 14 July 2020, Magai's death sentence was commuted in the Court of Appeal and on 29 July he was removed from death row. 
What can you do?
This year, some incredible people need your help. From protesting inequality in Chile, to standing up for the right to host an annual Pride march in Turkey, your messages to decision-makers could make a big difference to these individuals' lives. 
Your voice has power. Take action for these individuals here. 
About Amnesty UK Blogs
Our blogs are written by Amnesty International staff, volunteers and other interested individuals, to encourage debate around human rights issues. They do not necessarily represent the views of Amnesty International.
View latest posts