Writing for rights in 2017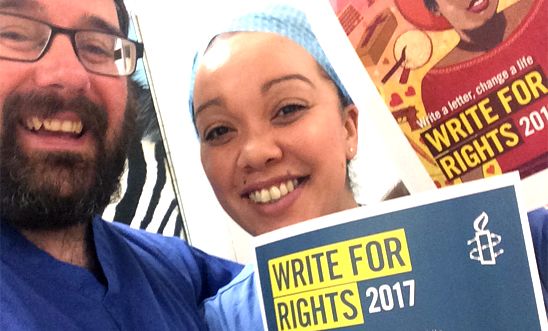 "Don't ever underestimate the power of kindness in your words" Jo Cobley – Young Roots
In 2017, over 40,000 of you have performed the kind act of sending a message of hope, of solidarity or just letting someone know they're not alone. Thank you.
All the individuals we asked you to write to this year are human rights defenders themselves. Despite facing charges, persecution and even threats to personal safety they have dedicated their lives to human rights causes.
We've had the good fortune of having some of these brave individuals visit us to let us, and you, know how much your words matter. Palestinian activist, Issa Amro who faces charges for his peaceful activism in Palestine spoke at Parliament; Shackelia Jackson seeking justice for her brother's unlawful killing at the hands of Jamaican police, met with officials at the Jamaican embassy; Sakris Kupila, a Finnish, trans rights activist was keynote speaker at this year's Amnesty Student Conference.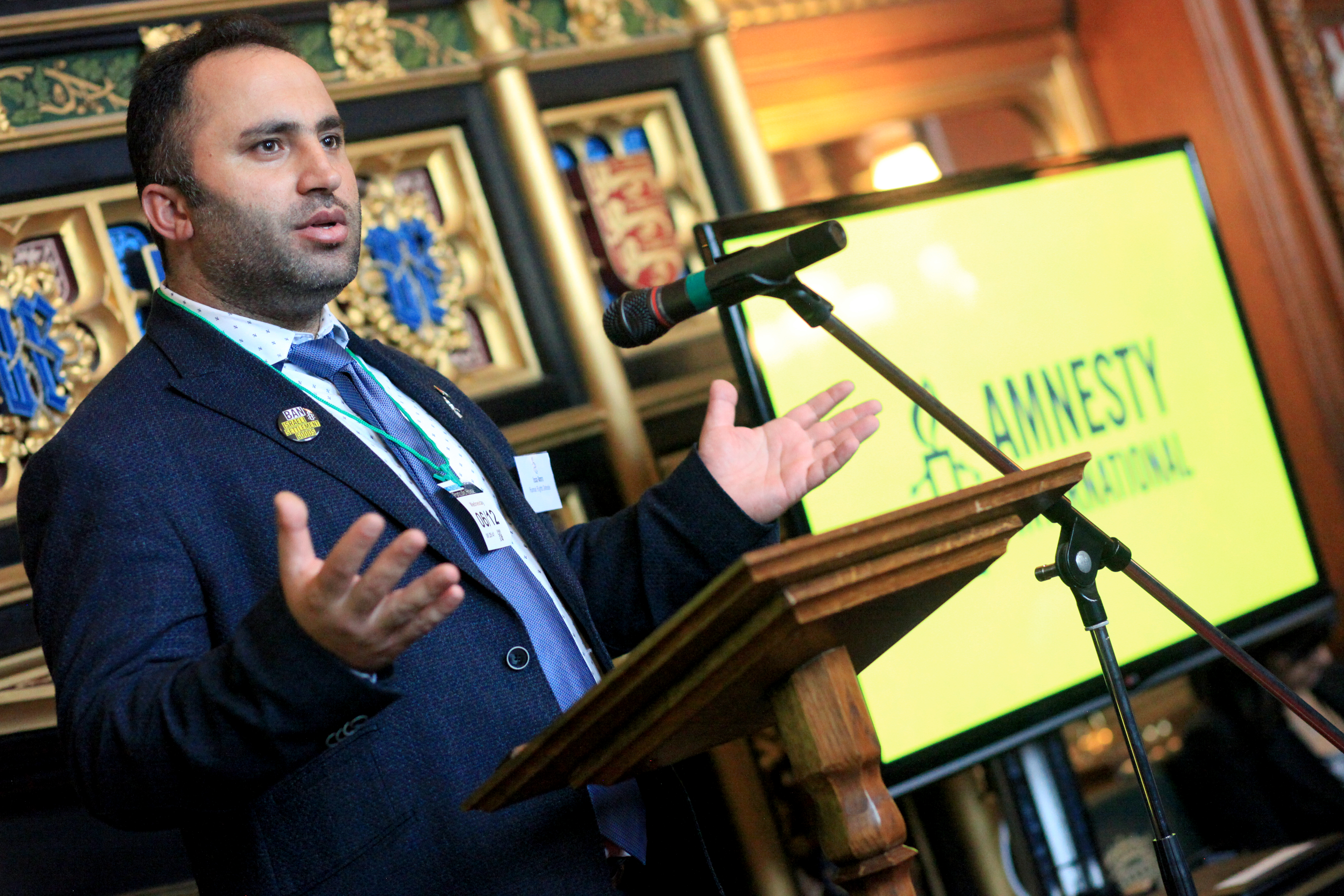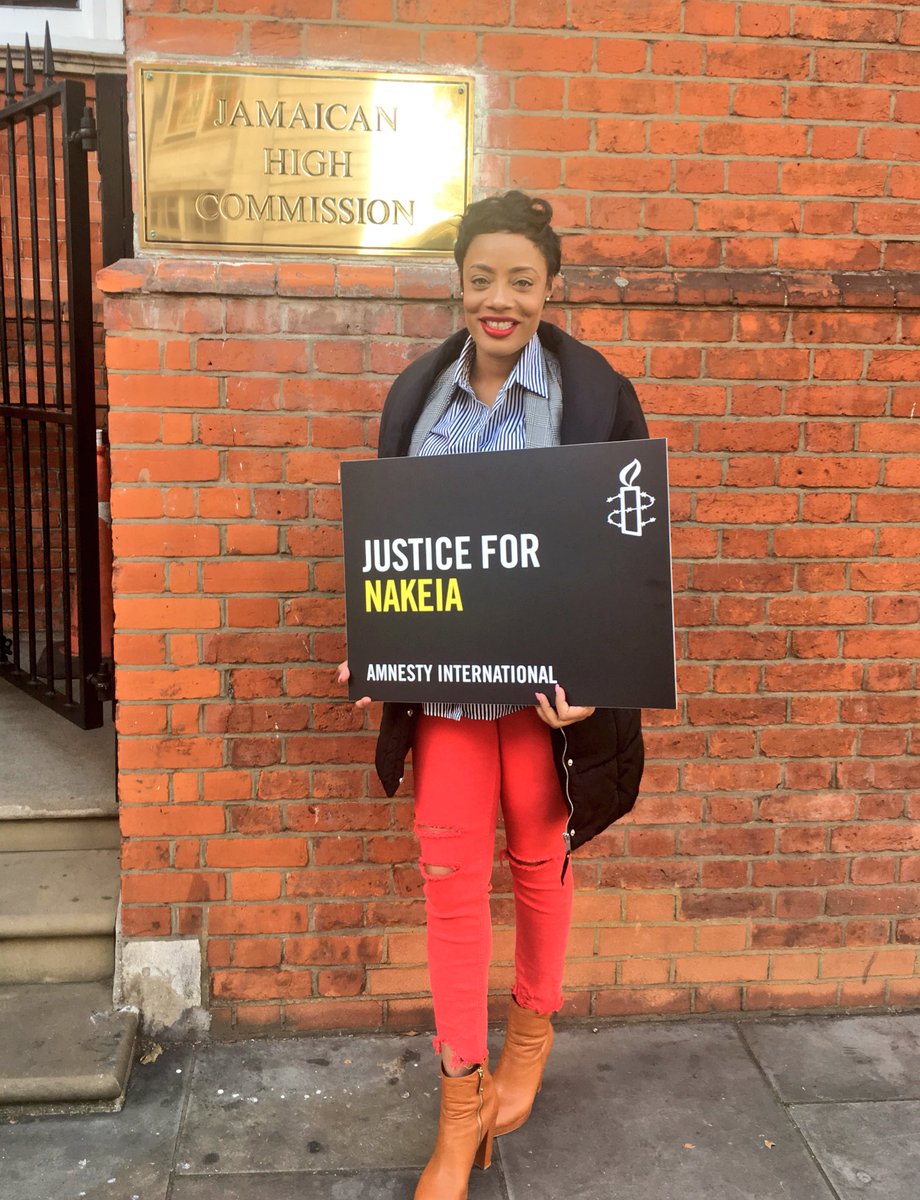 We thank them for their inspirational work. It's easy to forget when you see them travelling around the world spreading their message that, in reality, they face imprisonment, harassment and even death threats back home. Even though they are so brave and driven they still need support and words of encouragement.
Whether you held a big Write for Rights event or whether it was a hastily typed online message of support on your way home from work, it has an impact. And we will make sure each and every message reaches its intended recipient in the new year.
If you took part in Write for Rights, you were in good company. Participants this year included Jeremy Paxman (who also featured in a very hilarious video for us), Vivienne Westwood, Stephen Fry, Shon Fey, Emma Thompson, Leomie Anderson, Kaiser Chiefs, Vanessa Redgrave, Anish Kapoor, Grace Victory, Crack Magazine and Canon Mark.
Read Vivienne's message to Azza Soliman – a woman who risks her own safety & freedom to fight for #womensrights in Egypt. You can #WriteForRights too – send your message for Azza with @AmnestyUK: https://t.co/G8ZqcAaIVy https://t.co/d15jpT2qJQ

— Vivienne Westwood (@FollowWestwood) December 19, 2017
My message for the 1000s of people trapped in UK immigration detention centres: You are not forgotten and you are not alone. Please join me, #WriteForRights and send your words of hope with @AmnestyUK: https://t.co/N8jsJyzwK6 pic.twitter.com/54elmfzVqA

— KaiserVJ (@vjthedrummer) December 14, 2017 
Issa Amro & Farid al-Atrash have dedicated their lives to peaceful campaigning for justice. Now they both face trial in an Israeli military court on dubious charges. Join Jeremy Paxman and send them a message of support: https://t.co/SRUo3vjfnF #WriteForRights pic.twitter.com/YmbRr3OHOz

— Amnesty UK (@AmnestyUK) December 10, 2017
Your words are powerful. As Shackelia Jackson has said: "I am here today because of the power of the pen".
About Amnesty UK Blogs
Our blogs are written by Amnesty International staff, volunteers and other interested individuals, to encourage debate around human rights issues. They do not necessarily represent the views of Amnesty International.
View latest posts