Syria's seven years of suffering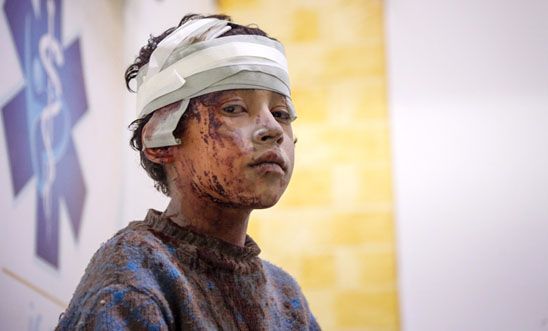 © Anadolu Agency
An agreement has finally been reached to allow a small number of wounded civilians to be evacuated from Syria's besieged eastern Ghouta region.
But this man-made humanitarian crisis is far from being resolved. Nearly 400,000 civilians are still trapped in horrendous conditions, deprived of food, medicine and basic aid. They're being bombed on a daily basis by Assad's forces with the full backing of Russia.
Ongoing attempts to implement a credible ceasefire in the absence of an enforcement mechanism are doomed to fail. The present ceasefire arrangement is largely reliant on the "good will" of those actually engaged in war crimes. It's a desperate situation.
A glimmer of hope
A glimmer of hope did arrive earlier this week (Tuesday 13 March). Thirty-five injured and ill people in Douma, eastern Ghouta were medically evacuated with their families – in total 170 people left and travelled to Damascus. More patients have since followed them out. 
However, that still leaves more than 1,000 injured and ill people needing medical evacuation from eastern Ghouta.
The situation in eastern Ghouta is by no means a recent crisis. The men, women and children here have needed urgent humanitarian aid for years, as well as an end to the indiscriminate bombardments and for a lifting of the medieval siege imposed by the regimes forces.
There's currently no sign of substantial progress on either of these fronts.
Horrors endured for years
In many ways, eastern Ghouta is emblematic of the horrors endured by Syrians for years.
Today, 15 March, marks the seventh anniversary of the Syrian uprising against the corruption and brutality of Bashar al-Assad rule.
Since then a staggering 400,000 people have died – some due to bombs, some due to torture, and some due to deliberate starvation and the denial of medicine and medical equipment. In addition, more than 75,000 remain forcibly disappeared at the hands of the Syrian authorities, and in excess of 8,000 have been abducted by a variety of armed opposition groups and ISIS. 
7 years.
400,000+ dead.
5.6 million refugees.

We will not sit silently & watch this tragedy continue for the eighth year in #Syria → https://t.co/TY6XrBlFiQ pic.twitter.com/f8UqcDvKJi

— AmnestyInternational (@amnesty) March 15, 2018
On top of all this, at least 5.6 million Syrian refugees are now scattered around the world, having fled the conflict or the threat of arrest and torture. They've become part of the biggest refugee crisis since the Second World War, with the majority currently living deeply uncertain lives in neighbouring countries like Lebanon and Turkey.
How should we react?
How should we react to suffering on this colossal scale? In some ways it's understandable that people might feel an urge to turn away from Syria's never-ending horrors. 
But on the other hand, it's heartening to know that over the past few weeks more than 30,000 of you in the UK have shown solidarity with Syrian civilians in trying to apply pressure on the Syrian authorities over eastern Ghouta. 
#WHO together with Syrian Red crescent @SYRedCrescent & other @UN agencies visited Dweir IDP shelter in Rural #Damascus that is receiving evacuated families from #Eastern_Ghouta. Our team assessed the health conditions and availability of medical services and clean water. #Syria pic.twitter.com/55J8rrNhLE

— WHO Syria (@WHOSyria) March 13, 2018
Much more pressure is still needed to ensure hundreds of men, women and children who need medical treatment outside the enclave are allowed out in safety to receive it.  
We must not give up
Sad to say, we expect the situation in eastern Ghouta will only deteriorate as Assad's forces continue – undeterred and unpunished – with their "cleansing" strategy. It's a cynical "surrender or starve" approach previously applied in Aleppo and numerous other besieged locations in Syria.
It's important we don't give up on these imperilled people. We'll continue to push for the humanitarian crisis to be alleviated and we'll continue to document the human rights violations to help ensure that one day there'll be genuine justice for Syrians. Please sign and share our petition now to ensure the medical evacuations continue.
About Amnesty UK Blogs
Our blogs are written by Amnesty International staff, volunteers and other interested individuals, to encourage debate around human rights issues. They do not necessarily represent the views of Amnesty International.
View latest posts