Syria: Evacuate patients urgently needing care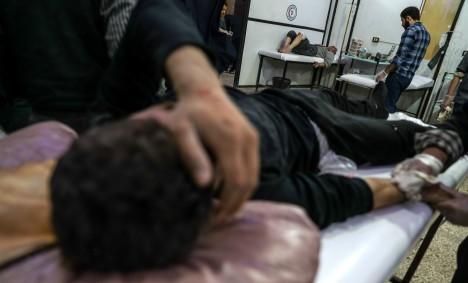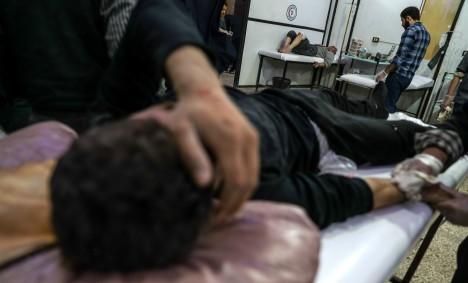 The Syrian government, backed by Russia, is bombing its own people. Right now, over 700 patients needing urgent medical care are trapped in Eastern Ghouta, an area of Syria currently under siege.
More people are being deliberately killed and maimed every day. Some have recently been medically evacuated – but it's not good enough. Urge the government to take further action now.
Syria: Evacuate patients urgently needing care
Hundreds trapped
The Syrian government and its ally Russia have escalated a bombing campaign in Eastern Ghouta, an area home to 400,000 civilians. The attacks have left scores dead and hundreds injured this past month. This comes after six years of a cruel siege where Syrians have been trapped in a daily barrage of attacks to deliberately kill and maim them.  
As of February 2018, the situation has become so bad that some are describing it as a 'massacre'.
Hundreds of women, children and men who need treatment for serious injuries or medical conditions are currently trapped in Eastern Ghouta. They need treatment for heart disease, kidney failure, cancer and more. 
Doctors and medical workers in the area are unable to provide adequate care to those that need it due to a lack of surgical supplies, equipment and medicine. Therefore, patients must be sent to nearby Damascus immediately, where they can get the treatment they desperately need. 
Sick people are not bargaining chips
According to the UN, over 700 patients need to be sent to Damascus as soon as possible. As of 13 March, an agreement had been reached to allow a small number of wounded civilians to be evacuated, but hundreds more remain imprisoned in a terrifying war zone. This is not good enough – they must be allowed to leave.
We're worried the Syrian government is trying to use people who are unwell as bargaining chips. This kind of inhumane treatment goes against international humanitarian law. These people must receive the medical treatment they need immediately – no exceptions.
We know your action works 
In August 2016, ten-year-old Ghina Ahmad Wadi (pictured below) was on her way to buy medicine for her mum in the besieged town of Madaya, Syria, when she was hit by a sniper at a government checkpoint.
The shot shattered her leg, leaving her in excruciating pain. Trapped in Madaya by Syrian government forces, Ghina was unable to get the complex surgery she desperately needed.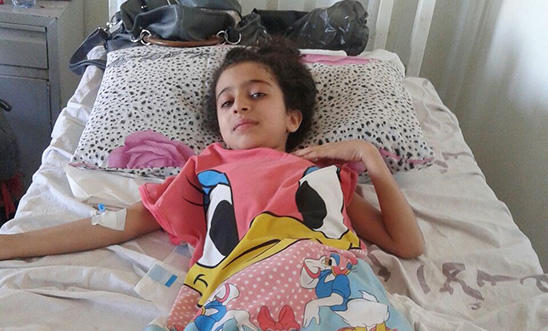 We launched an appeal for Ghina to be immediately evacuated to a hospital in Damascus or Lebanon. Within 48 hours, 34,000 of you had called for her to get the specialist treatment she needed. 
As a result, Ghina was finally evacuated by the Syrian Arab Red Crescent that same month, along with her eight-year-old sister and their mother. Ghina was given painkillers to make her more comfortable and she got the operation on her leg that she desperately needed. 
You've done it before, so help us do it again. Demand that the Syrian government allows the evacuation of patients who urgently need medical care by sending a message to Bashar Ja'afari, Syria's Permanent Representative to the UN.
Photo credit: © Mohammed Badra/EPA-EFE/REX/Shutterstock
Background
Early in 2017, the Syrian government captured areas bordering the Harasta neighbourhood of Eastern Ghouta. They closed all smuggling tunnels that for years had guaranteed a minimum flow of food, water, and medical supplies. 
Then, in October 2017 the Syrian government further tightened the siege by closing the last remaining entry point to nearby Douma, impeding access to medical and humanitarian aid and barring civilian movement. 
February 2018 has seen the escalation of bombing in the region by the Syrian government and allied Russian forces, as war crimes continue to be committed there on an epic scale.
Humanitarian needs
Only two aid convoys have been allowed in since, but both were significantly understocked to address the humanitarian needs of the population. All medical supplies were also removed by the government. 
Since October, the humanitarian situation in Eastern Ghouta has significantly deteriorated with the price of medicine and basic food supplies, like milk and bread, skyrocketing.