Policing Bill targets people experiencing homelessness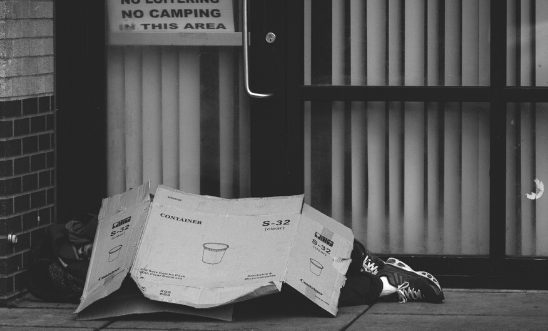 Serious concerns have already been raised about the government's 'Policing Bill', particularly about powers to clamp down on peaceful protests and the risk of further entrenching racism, especially against Black people. But the sweeping new powers of the bill also target other marginalised people – Gypsy Roma and Traveller (GRT) communities and others experiencing homelessness.
The Bill creates a new offence of "residing on land without consent, in or with a vehicle". The GRT community already faces a severe shortage of authorised residential and transit sites, leading to frequent and multiple evictions. The new offence would also lead to criminalisation – a fine of up to £2500 or three months in jail.
Several organisations have raised alarm that the new offence could also be used against other people experiencing homelessness. As Amnesty's research in England for a forthcoming report  shows, many people when faced with homelessness often end up sleeping in cars. They too could now face criminal sanctions if they do not move on.  
In our ongoing research, we have documented the lack of viable options, stigma, and violence that people experiencing homelessness face. Many have spoken of the fear and shame that they were made to feel because they lack a safe place to live. Women have told us how all this has pushed them further into the shadows and away from accessing support, in turn increasing the risk of abuse and sexual violence. In such situations, those who can, may prefer to sleep in a car than on the street.  
Instead of seeking to address the root causes of why people end up sleeping in a vehicle or living on unauthorised sites, the government has chosen to use strong-arm tactics and criminalise them.
This fails to recognise that criminalising some of the most discriminated people in our society will only push them further away from essential services and support that they need. Homelessness, in addition to being a violation of the right to housing, also impacts a range of other human rights. As a result, people with experience of homelessness and members of the GRT community have significantly lower life expectancy and often poorer health and educational outcomes.
Ironically, the Policing Bill is being introduced at the same time when the outdated and draconian Vagrancy Act of 1824 is under review. Human rights and homelessness organisations have called for the act to be scrapped completely as it has been commonly used to criminalise people sleeping rough.
"States should prohibit and address discrimination on the ground of homelessness or other housing status and repeal all laws and measures that criminalise or penalise homeless people or behaviour associated with being homeless, such as sleeping or eating in public spaces." – UN Guidelines
The Policing Bill is in direct conflict with UN guidelines and UK's international human rights obligations. It will further entrench inequality by discriminating against the most marginalised, including GRT communities and those sleeping rough. If it is truly committed to "levelling up" the government needs to think again.
Our Human Rights Act should protect us against the most extreme implementation of the Bill. We must work together to stop the rights raid. Join our week of action now.
About Amnesty UK Blogs
Our blogs are written by Amnesty International staff, volunteers and other interested individuals, to encourage debate around human rights issues. They do not necessarily represent the views of Amnesty International.
View latest posts