Can YOU ask your MP to vote to support all refugees?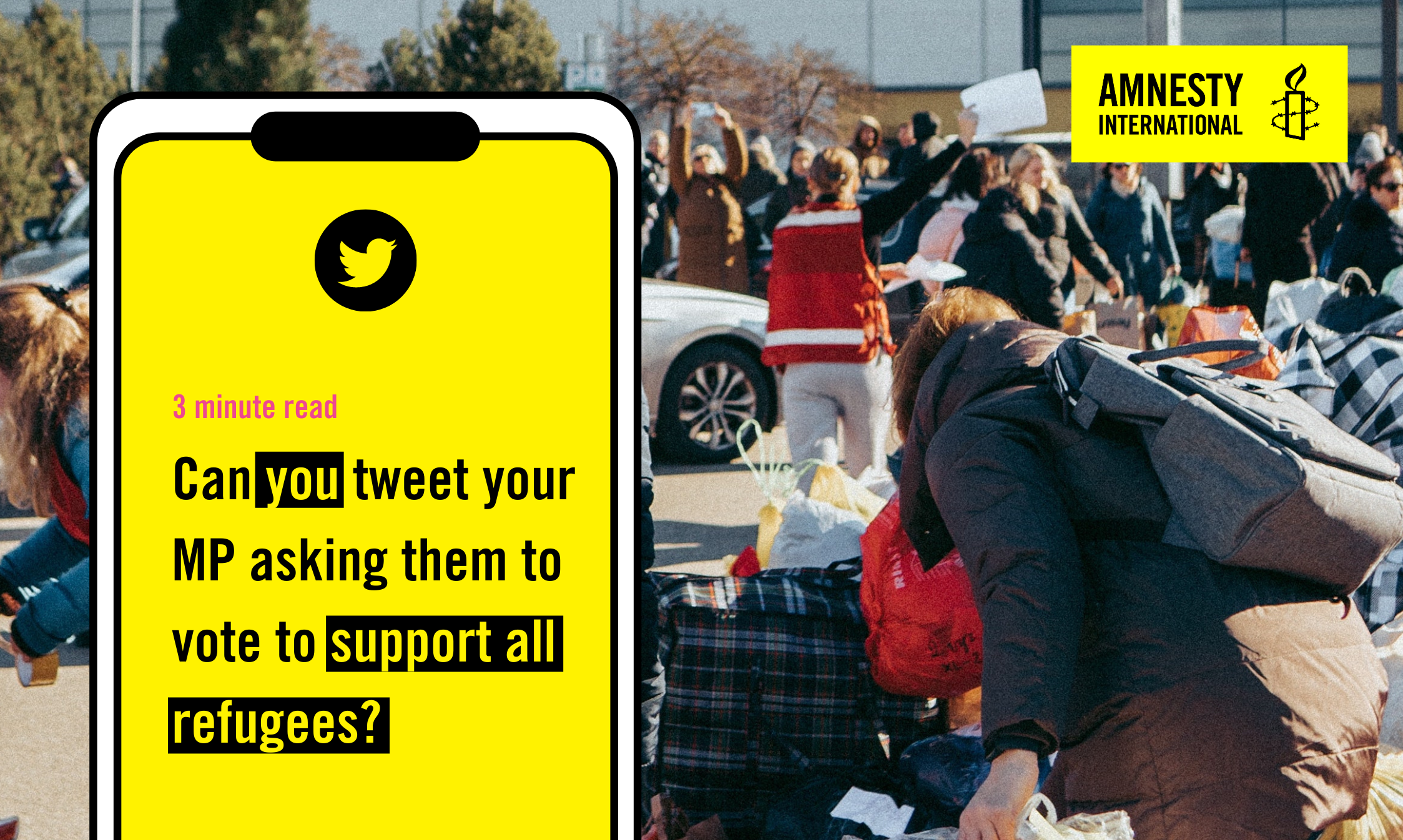 Over 3 million people have fled Ukraine in just over three weeks, seeking safety and refuge in neighbouring countries and beyond. The conflict and its destructive consequences have opened many people's eyes to what it means to be a refugee; to suddenly – and without warning - flee your home, leaving behind loved ones, possessions and everything you took for granted. It is heartening to see people across the UK believe the government should be doing more to welcome Ukrainian refugees.  
However, the UK government's response to those fleeing has been slow, chaotic and does not go nearly far enough. This crisis, alongside those in countries such as Afghanistan and Syria, shows the deeply flawed approach of the government's Nationality and Borders Bill that is being voted on in parliament, on Tuesday. This Bill, if passed as the government intends, will fundamentally undermine the UK's asylum system and damage refugee rights globally. It penalises refugees entitled to asylum in the UK for having reached here by the only means available to them and undermines the Refugee Convention.  
Whilst Ministers continue to claim this Bill will break the business model of people smugglers. It will in fact do the exact opposite. It will allow smugglers to thrive. It will only increase the reliance of people, already vulnerable to exploitation, upon the gangs that people are forced to turn to, to reach a place of safety. 
At a time when people across the UK desperately want to show their support to refugees from Ukraine, it is unconscionable for the government to push through a Bill that seeks to criminalise and punish refugees who reach our shores.  
In the past few weeks, the government has suffered multiple important defeats in the House of Lords when peers voted against various measures in the bill. That Peers sent the Bill packing back to the House of Commons with extensive cross-party opposition shows the Government have got it completely wrong. 
Crucial amendments were voted through the House of Lords, including to uphold the Refugee Convention and: 
Reject the discriminatory plan to provide refugees with different rights and entitlements depending on how they arrived in the country – something that goes against longstanding, international agreements on protecting refugees 
Scrap the notion of sending, already traumatised people, to far flung countries to have their asylum claims assessed 
Stop the Home Office having the power to break International Maritime law by senselessly pushing boats back at sea 
But Peers did not stop there. They made 19 changes to the Bill in total, including to right historical wrongs on citizenship, create a resettlement target of 10,000 places a year, permit people seeking asylum to work and better protect victims of modern slavery. 
Peers have been far from alone in their criticism of this harmful Bill – from the UN's Refugee Agency and High Commissioner for Human Rights, to a holocaust survivor - this Bill has been rightly condemned across the board.  
Thousands of Amnesty supporters have taken a stand against the most harmful aspects of this Bill, from rejecting the proposed changes in the Home Office's consultation, to raising concerns with MPs and signing petitions to the Prime Minister.  
On Tuesday, the bill returns to the Commons and will start "ping pong" where MPs will vote whether to accept the Lords' amendments. MPs must take a stand – as Peers did, by supporting the new amendments and rejecting measures which will do serious damage to the UK's asylum system.  
Please tweet your MP now to support these vital changes and help protect refugees.  
1. Find your MP & their Twitter info here: https://members.parliament.uk/FindYourMP 
2. Reply to this tweet saying "@[Insert username] As my MP, will you vote to support rights for all refugees – by retaining the Lords' amendments? #BordersBill"
About Amnesty UK Blogs
Our blogs are written by Amnesty International staff, volunteers and other interested individuals, to encourage debate around human rights issues. They do not necessarily represent the views of Amnesty International.
View latest posts