Between a rock and a hard place: refugee women from Syria seeking a safe place
By Liz McKean, Amnesty International UK's Programme Director for Women's Human Rights
'Sometimes we feel like we are not living. I feel like I am not living'. - Rouba*, a Palestinian refugee from Syria, now living in Lebanon
Reading through the testimonies of women impacted by the conflict in Syria brings new meaning to the phrase 'between a rock and a hard place'.
It is easy to be overwhelmed and lost in the politics and media reports on how governments should respond to a refugee crisis on a scale not seen on our shores since the 1940s. But at the centre of this are the personal stories of many, including women and children, who are making life or death choices, and who now make up over 55% of those making the perilous journey to find refuge in Europe. 
'I never got the chance to sleep'
This includes Girls like Arwa who at just 15 years old, was abducted in a village south of Mount Sinjar. She was held in IS captivity in Syria and Iraq, where she was raped, before escaping.
Or women like 20-year-old Reem, travelling with her 15 year-old cousin to find safety in Europe, who told us last month:
'I never got the chance to sleep in settlements. I was too scared that anyone would touch me. The tents were all mixed and I witnessed violence… the bus [was] the only place I could shut my eyes and sleep'.
It is the reality of these experiences that politicians who gathered today in London at the Support Syria Conference need to keep front and centre as they thrash out new commitments to the humanitarian response. They must commit to an ambitious multi-billion-pound deal for Syrian refugees and the countries hosting them in the region.
'I want a safe place'
And the reality is that escaping violence and abuse for many women and girls is far from straightforward. All these women want is a safe place, yet wherever they are, they are at risk of harassment, violence and exploitation.
In Lebanon, for example, women refugees are finding it impossible to find the money to pay for basic food or accommodation – whether in the form of tents or rooms in buildings.
We know that the UN-led humanitarian response is grossly underfunded. It's a common feature of conflicts that UN calls for assistance for displaced people are woefully under-resourced.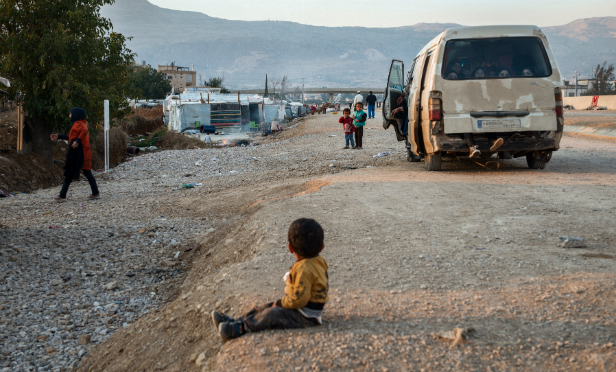 The UN has had to cut the numbers of refugees it can support as well as what it can give to those it does help.
Our new report 'I want a safe place' shows the impact this is having on women. It's full of interviews with refugee women from Syria who have fled to Lebanon.
A quarter of those we interviewed have had their monthly support payment stopped by the UN because of lack of funds. Many live in poverty – the kind of poverty that means they can't buy food for themselves or their children. For those that still get the UN's monthly allowance, the amount is now equivalent to about 50p a day.
Rana* told Amnesty 'I buy bread and a bit of cheese. Every couple of months we would maybe eat meat. The amount is not enough, especially for people with children'.
Many women become reliant on neighbours, relatives, or others to help them with basic needs. And they are at the mercy of their landlords.
Alya* told us:
'We are in debt to the grocery store all month in order to save money for rent because rent is the most important thing. The landlord will hold a weapon in your face and ask you to move out at any time'.
While some refugees reported acts of kindness, dependency on this scale places women at greater risk of harassment and exploitation, working in low-paid insecure jobs where they can find them, with unsafe or unhealthy conditions.
The large numbers of refugees from Syria has put a severe strain on Lebanon's infrastructure. Over 4.5 million people have fled Syria since the start of the crisis in 2011; Lebanon is hosting around a quarter, over one million.
But it's not just about the money
At the same time as the UN faces shortages in funding, the Lebanese authorities have put restrictive policies in place for refugees, including refusing to renew residency permits. Without a residency permit, refugees can't legally work. They are also effectively in breach of Lebanese law, meaning they are at risk of arbitrary arrest, detention and deportation.
The women we spoke to say they are too scared to go out, especially if they have to cross a check point. It also means that if they do suffer violence and harassment, they effectively can't report these crimes to Lebanese authorities, for fear of being arrested.
Women said that in some cases men offered assistance to them in return for sex. Some spoke of men threatening them, including with weapons, all the while feeling that they couldn't report this because they didn't have a valid residency permit.
Hanan* experienced a frightening situation travelling with her daughters on a bus where the driver, who had a gun, sexually harassed her. She managed to escape the situation but when she went to report this to the police they told her, 'Do you know that you're not eligible to present a complaint? You don't have legal status'.
Others told us that they had been harassed and propositioned by police.
The sheer number of people who have had to leave their homes is staggering.  But there is no comprehensive response plan and so millions of people forcibly displaced like Hanan* and Reem are unsupported and unprotected –  whether they are displaced in Syria, have fled to neighbouring countries, or have risked their lives as part of the 10% who have fled to Europe.
The international community must share responsibility
So a lot is riding on those leaders meeting in London today.
Urgent multi-year funding is clearly needed, as is a human rights focused political solution to the crisis, as are immediate and long term solutions to support refugees and provide respite to the most vulnerable.
For women and girls facing violence and abuse, the UK Government has set out to be a champion, so they should put this into action and push for the measures needed to ensure their support and protection and that means leading by example.
Encouraging other governments to significantly increase funding commitments, as the UK has, is important. But so too is it crucial to play a much fuller role in sharing responsibility for receiving and hosting refugees, including women and girls at risk.
The UK Government's commitment to resettle 20,000 Syrians – whilst a step up from the woefully small number of places previously offered – remains inadequate to the scale of the crisis.
More safe and legal routes to the sanctuary people are entitled to must be opened up: expanding opportunities for refugees to join their families in the UK would be a good step.
Email your MP now and ask the UK to do more to help refugees be reunited with their families.
*Not her real name. 
About Amnesty UK Blogs
Our blogs are written by Amnesty International staff, volunteers and other interested individuals, to encourage debate around human rights issues. They do not necessarily represent the views of Amnesty International.
View latest posts