After Saydnaya, we'll rebuild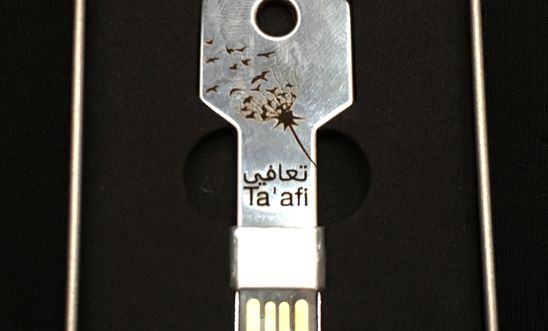 Flash drive given to members of Ta'afi © kristyan benedict
Kristyan Benedict - @KreaseChan
I'm in Beirut and my second workshop with the Syrian human right initiative Ta'afi has just wrapped up.
 
As I'm collecting my papers, Ahmad, the head of Ta'afi, which works to resettle and empower newly-released Syrian political prisoners, is glued to his phone. Afterwards he tells me, in a completely matter-of-fact way, "my friend is being released from Saydnaya".
 
This is not a time of celebration for Syria's human rights community, but these small victories, like a former colleague being released from Assad's human slaughterhouse energises Ahmad as he starts to think about his friends first few minutes, hours and days outside prison.
 
Where will he live? What are his physical and mental health needs? What legal support will he need when he's out of the country? What skills does he need training in to get a job? Does he want to continue his political activism and if so, how can he access the required training to help with this? And importantly, does he want to share his testimony of life inside one of Assad's death camps? Such information could be vital for human rights investigators and those seeking to hold abusers to account?
All of these questions are addressed by Ta'afi, which means "Recovery" in Arabic. Ahmad explains that Ta'afi "work to support and protect survivors of political detention upon their release and help with their settlement at a secure location, so that they may continue to peacefully support human rights change in Syria. The Ta'afi team operates under the philosophy that those who are most affected by these issues should be at the forefront of making the changes. Therefore, Ta'afi is focused on political prisoners and is led by their experiences, voices and ambitions for a human rights-respecting Syria."
 
Amnesty UK is working with Ta'afi and other Syrian human rights defenders to help empower, equip and mobilise them so they can develop an independent civil society, take human rights messages out to a wider audience, and be better enabled to use non-violent means to defend their own and others' rights.
 
Since our first Beirut workshop with Ta'afi last December where we helped them develop their strategy and structure, Ta'afi has expanded their network from 25 members in Syria to 100 and they've secured enough funding for this year to cover costs for their staff, network and operations. Our next programme of work with them will focus on fundraising and financial management.
 
It's vital that groups like Ta'afi are successful and sustainable. People like Ahmad are trying to build a foundation for a future Syria based on truth, justice and accountability. We at Amnesty UK will do all we can to ensure these goals are achieved.
About Amnesty UK Blogs
Our blogs are written by Amnesty International staff, volunteers and other interested individuals, to encourage debate around human rights issues. They do not necessarily represent the views of Amnesty International.
View latest posts