10 human rights stories you may have missed since the beginning of the year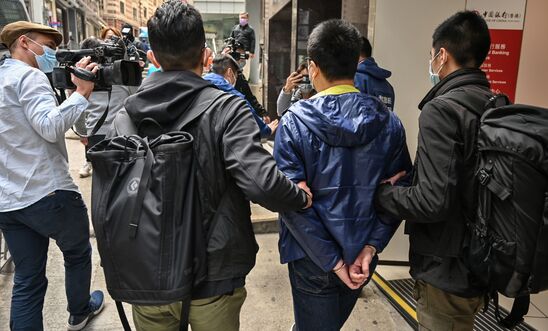 Opposition & pro-democracy activists arrested in Hong Kong on 6 January 2021 © Photo by PETER PARKS/AFP via Getty Images
By Rebecca Nguyen, AIUK Crisis and Tactical campaigner @RebNVT
1. Tunisia: 10 years after the 2011 uprising, the struggle for justice continues amid excessive use of force by the police against protesters  
In mid-January, protests erupted across the country against unemployment and corruption, despite the most recent curfew implemented by the authorities to curb the spread of COVID-19. There have been reports of police attacking peaceful protesters with batons and tear gas. Human rights activist Hamza Nassri Jeridi was arrested. Ten years after Tunisia's Revolution, which sparked a wave of uprisings across the Middle East and North Africa, the country is deep into a severe economic crisis and victims are still struggling to obtain justice and reparations for grave human rights violations committed during the revolution. Since May 2018, at least 10 trials relating to the violent repression of the revolution were initiated before the Specialized Criminal Chambers created by the Transitional Justice law to address crimes of the past – but no verdict has been handed down. Former and current Ministry of Interior officials have refused to respond to court summons to appear.
2. Russia: following the return of Aleksei Navalny, a wave of reprisals is aimed at repressing growing popular dissent in Russia
Activist and opposition leader Aleksei Navalny was immediately arrested upon its return to Russia on 17 January. He had been recovering in Berlin after being poisoned by Novichok nerve agent in Siberia in August. His arrest is further evidence that Russian authorities are seeking to silence him. Aleksei Navalny has been deprived of his liberty for his peaceful political activism and exercising free speech. Amnesty International considers him a prisoner of conscience and we are calling for his immediate and unconditional release. Since his arrest, dozens of his supporters, prominent political and civil activists, have been targeted in Russia's most recent crackdown on dissent. On 27 January, at least 18 raids were carried out, under the pretext of violations of COVID-19 rules.
Russian opposition leader Alexei Navalny walks to take his seat in a Pobeda airlines plane heading to Moscow before take-off from Berlin Airport, on January 17 January 2021
3. USA: record death row executions - the morbid legacy of the Trump Administration
On 13 January, the only woman on federal death row, Lisa Montgomery, was executed. Federal executions in the US resumed last July under President Trump after 17 years of pause, and accelerated further in the last 6 weeks of his presidency. This makes the Trump administration the most prolific in more than a 100 years, with 13 death row inmates rushed to be executed, in sharp contrast with national (state-level) and global trends towards abolition. Before Lisa Montgomery's death, Amnesty had been calling for Trump to grant her and other inmates on death row clemency. The death penalty is the ultimate cruel, inhuman and degrading punishment, and Amnesty opposes the death penalty in all cases without exception - regardless of who is accused, the nature or circumstances of the crime, or the method of execution. 
4. Viet Nam: 3 more journalists sentenced for peaceful human rights work and exercising their right to freedom of expression 
The Vietnamese authorities have continued their relentless assault on human rights defenders and freedom of expression and peaceful assembly. There are currently 170 prisoners of conscience in Viet Nam, the highest number since Amnesty began collecting and publishing this figure in 1996. In early January, the journalists and human rights defenders Le Huu Minh Tuan and Nguven Tuong Thuy were charged with disseminating propaganda against the state and sentenced to 11 years in prison, while a third journalist, Pham Chi Dung, was sentenced to 15 years. Today, Viet Nam is one of the most dangerous countries in the region to be a human rights defender, journalist, blogger or political activist. Last year, Amnesty documented how the use of social media platforms such as Facebook has led Viet Nam's censors and security forces to unleash a major crackdown on online expression. We have called on Facebook, Google and other technology companies to uphold their responsibility to respect all human rights wherever they operate.
5. Lebanon: new Amnesty research exposes the role of French law enforcement equipment in the crackdown against peaceful protesters 
In October 2019, mass protests broke out across Lebanon related to rising prices, high unemployment, dire public services and rampant and systemic corruption, continuing until March 2020, after which the compounded impact of COVID-19 and an unprecedented economic crisis, brought them to a halt, resuming only after the tragic August 2020 Beirut port explosion.  Amnesty's latest report shows that at least 1,000 protesters were injured due to unlawful force by Lebanese security forces, often using French less-lethal weapons including chemical irritants, such as tear gas, and kinetic impact projectiles, such as rubber bullets, and related launchers. French-made armoured vehicles are also used by the Lebanese security forces. Join us in our call to the French president to halt transfer of security equipment to Lebanon. 
French President Emmanuel Macron visits the devastated site of the explosion at the port of Beirut, on 6 August 2020 two days after a massive explosion devastated the Lebanese capital. (Photo by THIBAULT CAMUS/POOL/AFP via Getty Images)
6. Armenia/Azerbaijan: more evidence of indiscriminate and unlawful weapons being used in the conflict, killing close to 150 civilians 
In September 2020, heavy fighting erupted between Azerbaijan and Armenian forces in the Nagorno-Karabakh region. In October, we verified the use of banned cluster bombs by Armenia for the first time in the conflict. Cluster bombs scatter hundreds of bomblets over a wide geographical area. Between 5% and 20% of cluster bomblets fail to explode, and are then left behind, posing a threat to civilians similar to that of anti-personnel mines. Our most recent research, collected by field investigators who visited dozens of strike sites in Armenia and Azerbaijan, shows that both sides made repeated use of indiscriminate weapons, with wide area effects in populated civilian areas, in violation of international law.  In all, at least 146 civilians, including multiple children and older people, died in the 44-day conflict between late September and early November 2020.
Damaged building where Arkadi Lalayal was killed by a rocket fired by Azerbaijani forces on 4 October 2020 into STEPANAKERT, which landed in the garden in front of the building. Credit: Amnesty
7. UK: "tampon tax" finally scratched after years of campaigning by activists 
Until just a month ago, tampons and sanitary towels were taxed at 5%, similarly to non-essential & luxury products. The so-called "tampon tax" was finally abolished by the UK government on 1 January 2021. This is a great victory for women's rights organisations which have been campaigning to end period poverty for years. The "Stop Taxing Period" campaign started in 2014 with a petition that gathered close to 320,000 signatures. Period poverty had drastically increased in 2020 during the beginning of the COVID-19 pandemic - charity Bloody Good Period said that it is now supplying almost six times as many tampons and pads to food banks and community centres than pre-coronavirus. 
8. Hong Kong: 53 pro-democracy figures arrested under new security law 
More than 50 prominent Hong Kong pro-democracy figures were arrested in early January for allegedly violating the country's new national security law. The law, which was passed in June last year is dangerously vague and broad, virtually anything can now be deemed as a threat to "national security" under its provisions. Under this new law "secession", "subversion", "terrorism" and "collusion with foreign forces" incur maximum penalties of life imprisonment. But these offences are so broadly defined they can easily become catch-all offences used in politically motivated prosecutions with potentially heavy penalties. According to  media reports, the 53 arrested in January were charged with "subversion" for organising a primary for last year's elections (later postponed over COVID-19 fears). Activist and human rights defender , who delivered the Amnesty Northern Ireland annual lecture in December, was among those arrested. You can watch and share her talk here.
Ben Chung of a pro-democracy political group is arrested by police in the Central district after as many as 50 Hong Kong opposition figures were arrested in Hong Kong on 6 January 2021 (Photo by PETER PARKS/AFP via Getty Images)
9. DRC: young activists released after a month in detention for peacefully demonstrating 
Earlier this month, eight members of the citizens' movement "Lutte pour le Changement" (Struggle for Change, or Lucha) were acquitted in a local military court. They had been arrested back in December 2020 after staging a protest to denounce what they see as the UN peacekeeping force's failure to protect civilians in the area of Beni where more than 670 civilians have been killed by armed groups and security forces in the past year. These arrests had no ground and amount to persecution. During their arrest and detention, the activists were subjected to beatings by police officers and other inmates, and they simply should not have been arrested in the first place. Amnesty is asking the DRC authorities to stop treating peaceful dissent with content. 
10. Syria: White Helmets awarded more than £900,000 to make PPE
Since 2014, the volunteer rescue workers of the Nobel Prize nominated White Helmets, officially known as Syria Civil Defence, have saved countless civilian lives, providing first aid after airstrikes and shelling, often spending hours digging out survivors from the rubbles. Through first hand monitoring including video footage, they have also exposed human rights violations and war crimes, including the use of illegal chemical weapons by the Syrian government. In January, they were awarded a grant of £920,000 by the Humanitarian Grand Challenge, a not-for-profit organisation funded by the UK, US and Dutch governments to produce Personal Protective Equipment (PPE). Their production centre has already produced 2 million masks, but this extra funding will enable them to scale up their work protecting civilian populations from COVID-19. "The COVID-19 pandemic was the most difficult challenge the White Helmets have faced in 2020. We witnessed the spread of the virus in northwestern Syria among humanitarian workers and medical personnel while the global pandemic made cross-borders logistics almost impossible" said Munir Mustafa, the White Helmets Deputy General Manager for Humanitarian Affairs.
About Amnesty UK Blogs
Our blogs are written by Amnesty International staff, volunteers and other interested individuals, to encourage debate around human rights issues. They do not necessarily represent the views of Amnesty International.
View latest posts