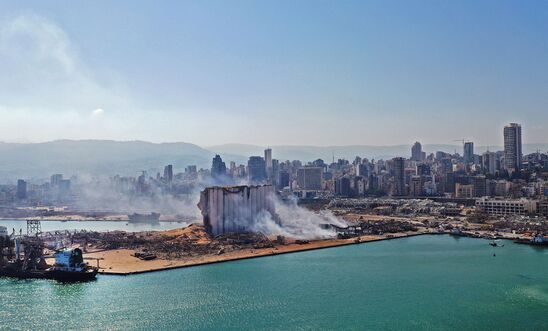 An aerial view of damage done to Beirut port's grain silos and surrounding area around it after explosion on August 5, 2020 © AFP via Getty Images
On 4 August 2020, a large explosion in the port area of Beirut killed at least 180 people and left an estimated 6,000 more injured based on UN figures. 40,000 buildings were damaged and over 70,000 workers lost their jobs as a result of the devastating explosions.
Lebanese authorities said the blast was caused by 2,750 tonnes of ammonium nitrate that had been stored unsafely in a warehouse. Amnesty International has called for an international independent investigation into the incident. To ensure truth, justice and reparations for victims, this process needs to be free from any potential domestic political interference, a challenge in Lebanon where corruption is endemic, but so far Lebanon's President has rejected calls for international inquiry.
Only a few days after the blast, the Lebanese army and security forces shot at unarmed crowds during largely peaceful protests in Beirut. More than 230 people were injured on 8 August, when tear gas, rubber bullets and pump-action pellets were fired indiscriminately in the streets. Videos verified by Amnesty's Crisis Evidence Lab show that there was a punitive shoot-to-harm use of force, indicating the authorities intended to punish protesters and dissuade others from protesting. 
Instead of supporting those impacted by the explosion and the severe economic crisis, the state is attacking its population. All those responsible for this outrageous violent conduct must be thoroughly investigated and held to account for their criminal actions.