Interview with Bambi: Social crusade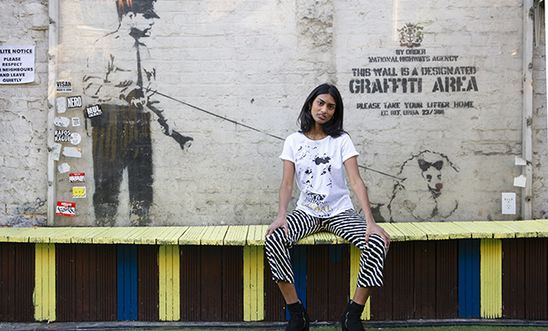 T-shirt design by Bambi for Amnesty © Claudia Roche
When did you first use a spray can?
I was nine years old. My birthday present was an electric guitar and an airbrush spray kit with some air canisters. My parents soon regretted that particular present, especially when I sprayed all of my mum's precious objects such as her Poole Pottery. Dad wasn't impressed either. The smell of the spray paint made him cough.
Your first piece of street art?
A trail of stars using a stencil cut out of dad's Reader's Digest magazine on the bonnet of a shiny Rolls Royce parked just outside my parents' block of flats. It looked lovely – then I realised what I'd done and legged it.
Work you're proudest of?
A piece I sprayed on a wall in Shoreditch called Don't Shoot based on the Ferguson unrest in Missouri during August 2014. The widespread protests and riots were sparked by a police officer shooting an unarmed man, Michael Brown. The wall was actually cordoned off like a crime scene and checked for fingerprints. Luckily, I wear gloves. The best thing is the piece is still up.
Why the name Bambi?
My parents' childhood nickname for me was Bambi – short for Bambino.
Does anonymity give you more freedom?
Being an artist is about creative freedom. Despite being a natural show-off, I need to keep my identity a secret in order to wander the streets of London uninterrupted. I've been in a prison cell and it's not nice. There're too many locks for my liking. I want to save the world, so social commentary is always in my work.
What inspired your Amnesty t-shirt design?
The suffragette Emily Davison is my hero. Davison was a woman of almost unimaginable courage who repeatedly ran the gravest personal risks in pursuit of the campaign for women's votes and tragically lost her life for the cause.
Favourite piece of art?
One is Rembrandt's self-portrait which hangs in Kenwood House in London. His eyes contain so much knowledge and melancholy that I get the eerie feeling Rembrandt is looking back and weighing up my failures. He was a failure when he painted this self-portrait, having been reduced to poverty by his enthusiastic spending.
What makes you hopeful?
My mum would say to me, 'Where there's life there's hope.' Everybody hurts. Everybody loves. Everybody hopes. And, everybody dies. Mainly, art is about our own sense of mortality.
And laugh?
 We all need laughter in our lives. I laugh at myself, if I say something silly or forget something obvious. Life is easier if you don't take yourself too seriously. Also, my little dog, who thinks she's a much bigger dog than she actually is, cracks me up.
Can graffiti make a difference?
Graffiti and street art is controversial but it's also a medium for social change, protest, or expressions of community desire. During the Women's March, the anti-Trump and anti-Brexit marches, people proudly carried their homemade banners. Some of them were mini masterpieces. People probably stayed up really late the night before to make these artworks, knowing they would be on public display.
Bambi and other artists created T-shirt designs for Amnesty's new Rebellion range.www.everpress.com/amnesty-rebellion
This interview is featured in the Amnesty Winter 2018 magazine.
About Amnesty UK Blogs
Our blogs are written by Amnesty International staff, volunteers and other interested individuals, to encourage debate around human rights issues. They do not necessarily represent the views of Amnesty International.
View latest posts