Azza Soliman: Raised on justice and kindness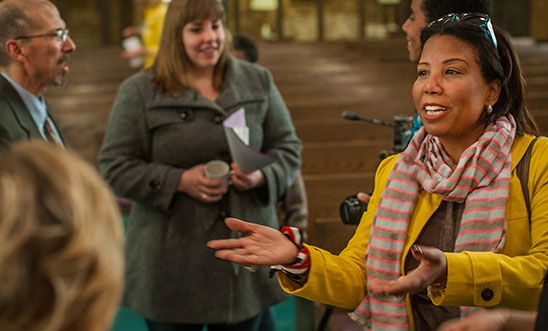 Azza Soliman © Rene Clement
Egyptian lawyer Azza Soliman is lively, intelligent, brave – and funny. She talks about coping with being targeted for defending human rights, the joy of receiving box-loads of solidarity messages – and her father's love of justice.
Azza Soliman defends victims of torture, arbitrary detention, domestic violence, and rape. The authorities label her a 'spy' and a 'threat' to national security. She has been put under surveillance, targeted by smear campaigns, and harassed by security forces and pro-government media outlets. She faces trumped-up charges of tax evasion, operating a civil society organisation without proper registration, and slandering Egypt's image and reputation by claiming Egyptian women are at risk of rape.
Her assets have been frozen and she is banned from travelling. Azza is the founder of the Centre for Egyptian Women's Legal Assistance (CEWLA), which works to prevent violence against women.
A loving father who loved justice
Azza Soliman's father was no lawyer. In fact, she says, he was a 'simple business man with a store downtown, he didn't read and write', he was religious. But he was clearly a remarkable, open-minded man. He believed in justice – which underpinned his respect for women and his belief that they had the right to equality.
'He taught us kindness and justice, and we were taught to be kind to both people and animals.'
It was a happy childhood – she counts herself lucky to have had a father like this. 'When my brother tried to stop my political activity, my father told him: "You can't touch your sister, she has ability, she is like you." And when my father announced that we would all have equal inheritance, he explained it to my brothers very simply: "Shariah means justice and your sisters need money like you." When my brother argued that he would be responsible for his sisters, my father told him: "No, maybe your sisters will be embarrassed in future to ask you about money, or your life becomes busy and you forget about your sisters' needs."'
He never talked about hijab, he talked about trust, kindness, the importance of truth and rejection of lies.
Her brothers were persuaded. By the time their mother died, there was no question, they all had equal inheritance. And all the family respect and support Azza in her work.
Her father always appeared neutral. But, she says, his principles were strong and they were rooted in his religious faith. 'He never talked about hijab, he talked about trust, kindness, the importance of truth and rejection of lies. This is principle, this is religion.'
A good thing happened after the revolution with both Muslim and Christian groups – with positive signs for women's rights. 'After 2011 there was talk about new interpretations of Christianity and Islam, talk about new family law for Christians and a challenge to religious leaders. Also in Shariah, many people now say no, we can read the Quran ourselves. Women can open the Quran and see what it talks about, without being told by a man.'
Controlling freedom
The new law controlling the finances and activities of non-governmental organisations has had a severely damaging effect on CEWLA. 'The law imposes a lot of control over public space, and over all civil society, not human rights, all civil society. But now because of pressure from USA and the EU, the government has frozen the law. But they didn't talk about this clearly, we don't know what we can do with this, and in reality everything has become frozen. Our service is becoming less and less, because our resources become less and less. We have lost 12 of our 32 employees.'
For the people who need CEWLA, this can be devastating. 'A lot of people come to us because they need a legal service. We can submit 3,000 cases a year, now maybe we can submit 300 or 500.'
Violence against women
Most of the cases CEWLA deals with are domestic violence and divorce. 'You need to hire lawyers to go with a woman to the police station, often many times, to make sure they take action on her case, and you need the lawyer to go to the court. The woman may need to go to a shelter – and the government closed our shelters. They need alimony, divorce, a house with the children, because many times the women has custody of the children. Everything needs money...
The global publicity over #Metoo and #Timesup has a big impact in Egypt
'Violence against women is very common in Egypt, especially domestic violence. Here too, something good came from our revolution. It broke a lot of taboos. Many young women now talk about sexual harassment and assault, independence of women. Many talk about incest which is a big taboo everywhere.
'The global publicity over #Metoo and #Timesup has a big impact in Egypt. A lot of young people now talk about their experience – and are encouraging others to do the same – because they are not responsible, they are victims'.
Family and Friends
For Azza and other human rights defenders dealing with the pressure of being publicly targeted and harassed is painful.
'For years the government has used us as examples to scare other people by stigmatising us. The first time I put my case against the policeman (the killing of Shaimaa al-Sabbagh, see right) they published my picture and said "Azza takes money from America, to stigmatise our police".
'Of course, I am human. In 2014 the first time the government newspaper published pictures of human rights defenders, I was the only women among them. The others had the words: "These people work against Egypt. These people take money from outside." Under my picture they put: "This woman works against Shariah, and she invites people to turn against their husbands". So they use language with my picture to invite people in the street to attack me.
This was the first time I was scared. This was in November 2014. And after police arrested me in 2016, I felt I was not secure. I lost my security in my home. The police came, a lot of them, and they came suddenly. They published my pictures every day for 10 or 12 days, and on tv. I didn't see this because it was painful for me. But I was shocked when my brother called me when he saw my picture in the paper and he cried, he said "you do not deserve this".
My son left his dream job in South Africa at a day's notice to come back home and support me. I feel for him, but I am lucky, can you imagine if the police came and I was alone? He told me 'I come tomorrow to be beside you': and 48 hours later the police came. He supported me a lot and told a lot of people what was happening in Arabic, English and Spanish.
The power of a simple message
'In the last two days I received two boxes packed with cards and letters from Amnesty supporters. The last one weighed about 20 kilos. It was lovely, amazing. I am opening everything. Many are from young people in university and high school. Many of them are hand-made cards, just for me. I will put pictures on facebook. It is lovely – every day I can see how lovely they are. And they tell me this: "Azza you are not alone, a lot of people
think about you and stand with you". Here is one from Brenda, "Azza you are not a spy, do not believe your government". Amazing words.
'The solidarity of people like Amnesty supporters in the UK makes a difference. I have seen it many times. When I was witness against the policeman, letters came to the National Council for Human Rights. Every two weeks or so, the head of the council would say, "Azza, I got a lot of letters, I promise I am doing a lot for you".'