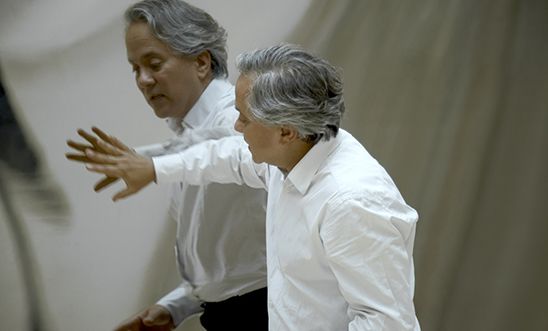 © Phillipe Chancel
Anish Kapoor is one of today's most influential contemporary artists.
Born in India, he lives and works in London. Kapoor is perhaps most famous for public sculptures that are both adventures in form and feats of engineering. Large-scale installations and public commissions include: Marsyas (2002) for the Turbine Hall of London's Tate Modern; Cloud Gate (2004) in Millennium Park, Chicago; Temenos (2010) in Britain's Tees Valley; Leviathan (2011) for the Grand Palais, Paris, Orbit (2012) commissioned for London's 2012 Olympic Games; Ark Nova (2013), the world's first inflatable, mobile concert hall; and in 2015 a series of monumental interventions in the gardens of the Château de Versailles.
In 2017, his works have been shown in cities including New York, Tokyo, London and Buenos Aires. Kapoor represented Great Britain at the 44th Venice Biennale (1990), for which he was awarded the Premio Duemila; he won the Turner Prize in 1991. Knighted in 2013 for services to visual arts, most recently he was announced the 2017 Genesis Prize Laureate.
His work for us includes making a parody of Gangnam Style to spread awareness about the lack of free speech in China.
About Amnesty Ambassadors
Amnesty Ambassadors are made up of profile individuals from a broad range of disciplines. Using their profile and networks our Ambassador's allow us to educate, amplify and inspire more and more people to join the fight for human rights.