Anish Kapoor, Gavin Turk, Jenny Holzer, Cheryl Dunn and Paul Smith among hundreds of new 7" record sleeve designers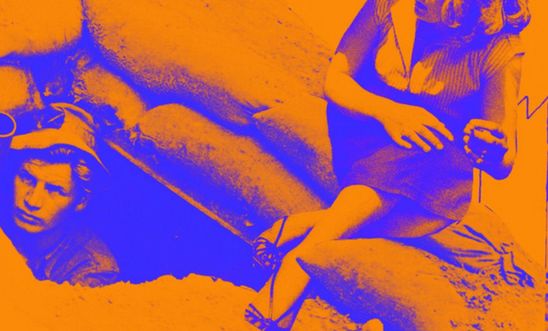 One of the entries in this year's sleeve design project © Private
700 Secret 7" sleeves to go on display in Sonos Gallery on 8 April, with public sale to follow on 2 May 
Artists and designers
Anish Kapoor
,
Gavin Turk
,
Jenny Holzer
,
Cheryl Dunn 
and
Paul Smith
are among hundreds of people who have created a one-of-a-kind record sleeve for this year's
Secret 7"
music project.
The project - which is supported by Universal Music UK and this year has Amnesty International UK as its beneficiary organisation - involves the production of seven classic songs - new and old - which are reissued in a strictly limited-edition 100-copy run. Each of the sleeves are specially designed by a range of visual artists - including some leading figures - and overall there will therefore be 700 singles, each in their unique, individually-designed sleeves. 
The records in this year's project are John Lennon's Imagine, Etta James' At Last, Max Richter's Dream 3, The Jam's Art School, Tame Impala's The Less I Know The Better, Chvrches' Clearest Blue and Jack Garratt's Worry.
Other notable designers to have designed one of the record sleeves include Thierry Noir, Marina Willer, George Hardie, Nathalie Du Pasquier, Bob & Roberta Smith, Modern Toss, Stuart Murdoch, Marina Willer, Tom Dixon, Anthony Burrill, Rob Ryan, Jean Jullien, Abraham Cruzvillegas, Frank Bowling, Juno Calypso and Anthony Lister, as well as hundreds of lesser-known but extremely talented artists.
All 700 singles will be exhibited at the
Sonos Studio
 in Shoreditch in east London from 8 April-1 May. 
On the following day (Bank Holiday Monday 2 May), all the singles will all go on sale to music fans, art connoisseurs and collectors - who are invited to buy the singles for £50 each (limited to four per person). However, the sale is a "secret" one in that buyers will not know which song they are acquiring or the identity of the artist who has designed their sleeve. All profits from the sale will go to support Amnesty's human rights work. 
Amnesty International UK's Campaigns Director Kerry Moscogiuri said:
"It's fantastic to see the range of artwork that's coming in for this year's Secret 7 sleeves.

 

"It's going to be quite amazing to see all 700 sleeves displayed all in one go."
Fifth year of Secret 7"
This is the fifth consecutive year of the Secret 7" project - past musicians have included The Rolling Stones, Massive Attack, Elton John, The Cure and Black Sabbath. Previous sleeve designers have included Sir Peter Blake, Yoko Ono, Ai Weiwei, Gilbert & George, David Shrigley, Jeremy Deller and D*Face. 
Since 2012, the project has produced and sold over 2,700 individually-crafted sleeves, in the process raising over £130,000 for charitable causes. Some 22,000 people visited the exhibition last year, with lengthy queues of people waiting to attend the first-come-first-served sale.
Secret 7" was founded by Kevin King, formerly of Universal Music and the designer Jordan Stokes. All the music involved throughout the project has been drawn from Universal Music's extensive back catalogue.