Stop the executions in Arkansas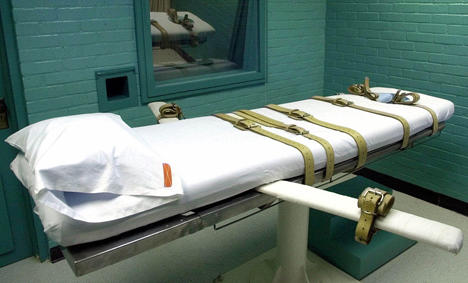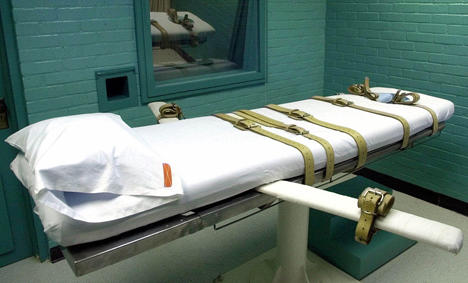 Arkansas is trying to execute eight men this month before the state's supply of lethal injection drugs runs out. Ledell Lee was executed on 20 April - the first execution in the state since 2005. Two more men are due to be executed on Monday. Please keep up the pressure.
Executions in Arkansas have been suspended for the last 12 years due to legal challenges to the state's lethal injection procedures. Now, with its stock of one of the drugs crucial to the execution process due to expire, the state is rushing through eight executions in quick succession. Call on the governor of Arkansas to urgently stop the executions.
Stop the executions in Arkansas
More information
Multiple legal battles continue in Arkansas, as the state continues to try to execute prisoners. Please keep emailing the governor, calling for him to stop the executions altogether.
Arkansas judges issued stays of execution for Bruce Ward and Don Davis, due to be executed on Monday 17 April, on grounds of mental disability. They had already issued a stay of execution for Jason McGehee, due to be executed on 27 April, after an Arkansas Parole Board recommended clemency. A fourth man, Stacey Johnson was granted a stay so that DNA testing could be used to determine his innocence or guilt.
One man, Ledell Lee, has been executed and three men remain at imminent risk of execution, and we encourage you to keep calling on the governor to stop their executions.
Background
Arkansas has exactly eight doses left of a crucial drug used to perform lethal injections, and that drug is set to expire at the end of April. So the governor scheduled eight executions packed into a ten day period — with two executions per day — as if the justice system was a conveyor belt. Four men have had their executions halted — for now — but three still face imminent execution.
Ledell Lee was executed on 20 April; Marcel Williams and Jack Jones are scheduled to be executed on 24 April; and Kenneth Williams on 27 April.
Bruce Ward and Don Davis were scheduled to be executed on 17 April but both received stays of executions on mental disability grounds. Execution warrants for both men have expired and they are no longer under imminent threat of execution.
The state's governor, Asa Hutchison, has said that the executions have been scheduled so closely together because of uncertainties around the availability of one of the three chemicals used in the execution process. Jason McGehee's execution has been stayed on grounds of clemency.
Treating prisoners lives as if they were products with a 'use by' date is abhorrent. Rushing through executions on a conveyor belt simply because of an expiration date damages the dignity of all involved and gives a sickening image of Arkansas' justice system.
Rapid executions increase the risk of human error, and the drug they are rushing to use has already been shown to make prisoners die in agony.
Plans to execute after 12-year hiatus
Arkansas last executed a prisoner in 2005. Executions across the US have declined in recent years. If these executions go ahead, they'll represent a huge setback amid the declining use of the death penalty in the US. Beyond the US, use of the death penalty around the world is decreasing. Executions take place in a minority of countries that still use it.
The human rights case to stop the executions
The death penalty is the ultimate denial of human rights, as it violates the right to life. It is also a cruel and inhumane punishment that may constitute torture.
We always oppose the death penalty in every case because it violates rights. The idea of lethal injection as a 'humane' form of execution is simply a myth. There have been numerous cases of 'botched' executions by lethal injection in the US in recent years, with prisoners failing to die quickly or 'quietly'.
Legal discrepancies
In addition to the fact that we oppose the death penalty on human rights grounds, we have concerns about the legality of executing some of the men.
Two of the men facing execution have severe mental health problems. Executing someone with a mental or intellectual disability violates international law. In two cases, the men have been diagnosed with psychiatric conditions that severely alter perception and understanding.
Bruce Ward, whose execution has now been stayed, but was due to be executed on 17 April, has repeatedly been diagnosed with paranoid schizophrenia over the last decade. His lawyers say that Ward believes the lawyers are part of a conspiracy against him; a doctor who reviewed Ward for a case appeal says that he "does not have a rational understanding of his death sentence". The doctor concluded that Bruce Ward had been suffering from paranoid schizophrenia at his 1990 trial and at the 1997 resentencing, and had that this had deprived him of a rational understanding of the proceedings and the ability to assist effectively in his defence. Ward's execution was stayed on grounds of mental disability.
Jack Jones, whose execution is set for 24 April, is diagnosed with bipolar disorder. He is facing execution for murder in 1995. Jones voluntarily committed himself to hospital a few months before the crime, and during the month of the murder was diagnosed as 'extremely bipolar'. Jones had previously attempted suicide multiple times; after one suicide attempt he was involuntarily committed to a psychiatric facility.
Several of the men do not appear to have been given a fair trial when they were sentenced to death.
Don Davis was denied expert psychiatric assistance he needed at trial because he could not afford it (his execution has now been stayed for the timebeing). The jury at Marcel Williams' trial did not hear any mitigating evidence about his childhood of severe abuse and trauma and the only judge that heard this evidence said that the death sentence should not stand. Likewise, the jury at Jason McGehee's trial did not hear about his experience of physical and emotional abuse throughout his childhood (McGehee has had his execution temporarily stayed after a parole board recommended clemency). The lawyer representing Ledell Lee was drunk during his hearing; Ledell Lee's next two lawyers twice filed petitions in ways that did not meet the court's procedures and were referred for possible disciplinary proceedings as a result. Three Supreme Court judges have said that Stacey Johnson did not get a fair trial when the key witness was unreliable and his defence was denied access to her health records.
It should be noted that each of the men is convicted of murder, and we do not condone their actions in any way. We always fight for human rights, and oppose all executions equally.