Philippines: Stop encouraging murder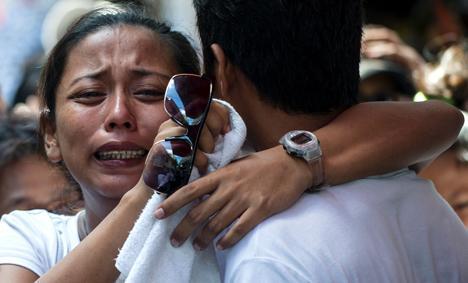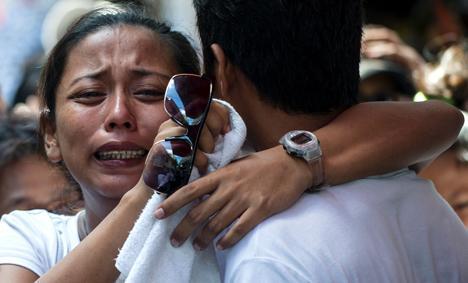 More than 7,000 people have been killed in the Philippines since July, in a brutal 'war on drugs' that is more of a war on the poor. On average 34 people are being killed every day, as law enforcers follow orders from President Rodrigo Duterte to kill anyone believed to be connected to the drugs trade.
Call on authorities in the Philippines to stop sanctioning murder and to protect the right to life for all citizens.
Philippines: Stop encouraging murder
More information
7,025 people were killed by the police or unknown armed attackers for drug-related crimes between 1 July 2016 and 30 January 2017, according to police counts in the Philippines.
The murder of civilians by police and vigilantes has not only been waived as acceptable by the country's government – President Duterte is actively encouraging people to kill anyone connected with the drugs trade.
On 29 January 2017, Duterte reportedly said that he'll continue overseeing the crackdown for as long as he's president.
Duterte has bragged that he himself has killed people, seemingly as means to reduce crime while he was Mayor of the city of Davao, before becoming president.
'In Davao I used to do it personally. Just to show to the guys [police officers] that if I can do it, why can't you. I'd go around in Davao with a motorcycle, with a big bike around, and I would just patrol the streets, looking for trouble also.'
Rodrigo Duterte as quoted by AFP, 14 December
'By boasting about the blood on his own hands, President Duterte will further embolden police and vigilantes to blatantly violate laws and carry out more extrajudicial executions without fear of being held to account.'
Rafendi Djamin, Amnesty Director for South East Asia and the Pacific
'Duties' to kill
Rodrigo Duterte was only sworn in as president of the Philippines on 30 June 2016, but since then he has overseen the deaths of thousands of his civilians.
In an election campaign speech broadcast on national television on 5 June, Duterte encouraged citizens to kill suspected drugs dealers or users as a 'duty', and offered huge bounties to people who turn in drug dealers – 'dead or alive'.
Duterte followed this up with an all-out call-to-arms in his inauguration speech on 30 June, after he was elected as president.
'If you know of any addicts, go ahead and kill them yourself'
President Duterte's inauguration speech on 30 June
During his inauguration speech, the president also promised to 'honour treaties and international obligations' as well as domestic Philippine law. But he is currently doing the opposite by denying his citizens the right to life, the right to fair criminal proceedings – amongst many other basic rights.
The Philippines needs to return to the rule of the law
President Duterte must protect human rights – a pledge he made in his inauguration speech, and one that his government is obliged to meet under the country's constitution and various international treaties it is signatory to.
The Philippines government has a duty to actively protect the rights of its citizens – whether that is from violence from police or government forces or vigilante groups. The government must do all it can to reinstate the right to life and security of person for all citizens in the country.
We are calling on President Duterte and his government to:
Immediately condemn all unlawful killings by police and call on law enforcement officials to abide by international law on the use of force
Conduct a prompt, impartial investigation into every lethal use of force by the police and ensure those responsible are brought to justice, through fair trials
Make sure all police activities are subjected to independent oversight and officers held accountable for their actions