Free Shahidul Alam and protect free speech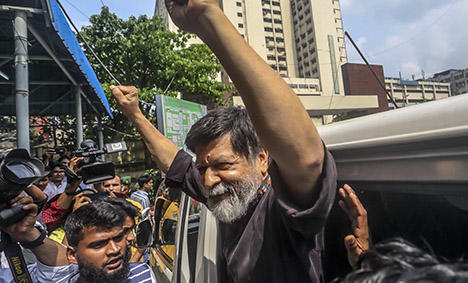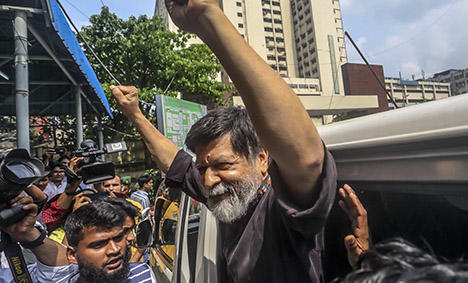 Shahidul Alam faces 14 years behind bars in Bangladesh just for a media interview with Al Jazeera.
In the interview he criticised the Bangladesh government and condemned the treatment of student protesters.

Tell Bangladesh's Minister of Home Affairs to release Shahidul immediately, and to stop this crackdown on free speech.
Free Shahidul Alam and protect free speech
The situation
Photojournalist Shahidul Alam was snatched from his home in Bangladesh by a group of men thought to be plain-clothed police.
They destroyed the CCTV evidence and locked up his security guards.
Now Shahidul faces 14 years in prison. His crime? Simply speaking up for student protesters in an Al Jazeera interview.
Why was Shahidul Alam arrested?
Shahidul was arrested in Dhaka on 5 August 2018. The next day he was charged for violating a draconian law, carrying a maximum 14 years in prison.
Shahidul has been arrested and charged under Section 57 of Bangladesh's Information and Communication Technology Act (ICT) after giving an interview to Al Jazeera on the current wave of student protests in Bangladesh against unsafe roads.
Section 57 is a vague and broadly worded law that may be used to prosecute anyone who publishes digital content that is:
Fake
Obscene
Defamatory
"Tends to deprave and corrupt" its audience
Causes, or may cause, "deterioration in law and order"
Prejudices the image of the state or a person
"Causes or may cause hurt to religious belief"
Crackdown on opposition voices
Section 57 has been used to silence scores of people since it was introduced in 2006. As of April 2018 1,271 charges had been made by the police under this law.
Police do not need arrest warrants or official permission to prosecute. Those accused are mostly denied bail pending their trial and kept locked up for months with no official verdict. Shahidul himself was denied bail on 10 September 2018.
Those arrested are often journalists who've published articles criticising the government. Shahidul is well known for opposing the powers that be using his wide online influence through social media and his website.
But the crackdown has been even broader, to the point of absurdity. One former Bangladeshi army officer was arrested just for criticising the prime minister's clothes.
We must free Shahidul immediately
Not only is his arrest a gross human rights abuse – we are also concerned for his safety.
He was unable to walk by himself when he appeared in court in August, and he told friends that he had been beaten up by the authorities.
Please help free Shahidul and end the crackdown on free speech in Bangladesh by emailing the Minister of Home Affairs now.