Foreign Secretary: help deliver justice for Ukraine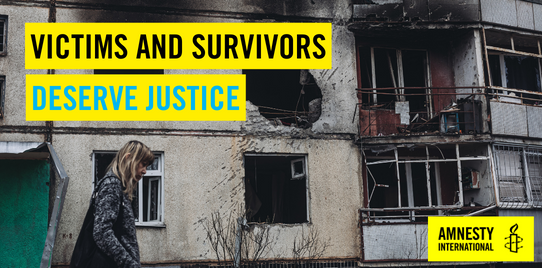 Russia's full-scale war of aggression and war crimes in Ukraine have led to the gravest human rights crisis in Europe since World War II. Call on the Foreign Secretary ​​to help deliver justice for all victims and survivors.
Read more
For a year we have evidenced how Russia's full-scale war of aggression in Ukraine is a human rights catastrophe. Russia's full-scale invasion of Ukraine is an act of aggression and a crime under international law.
The Foreign Secretary can help deliver justice for Ukraine by bolstering international justice mechanisms to hold perpetrators to account.
We investigated Russian war crimes across Ukraine, in Bucha, Borodyanka, Andriivka, Zdvyzhivka, Vorzel, Kharkiv, Mariupol and Serhiivka. Russian forces are on a deliberate killing spree of civilians. More recently, their attacks on Ukraine's energy infrastructure are a blatant violation of international humanitarian law and are endangering the lives of civilians with freezing temperatures setting in. 
Victims of all war crimes deserve justice. We know that international justice is a crucial way to ensure all perpetrators are held to account. It has worked before, and it can work again. Will you help us fight impunity and make justice a reality?
Securing genuine justice is vital for humanity to win, and for the non-repetition of atrocities. Every time we allow international crimes to happen in one place, we allow them to happen anywhere.
All parties to the conflict responsible for crimes under international law, including the crime of aggression, must be brought to justice through independent, impartial, and fair trials.
We welcome UK government efforts to protect civilians in Ukraine and uphold international law, including supporting the International Criminal Court investigation into war crimes and supporting Ukraine's case against The Russian Federation before the International Court of Justice.
Now, we are calling on the UK government to go further and ensure international justice is central to its support for Ukraine, by:
Increasing its support to the International Criminal Court for all situations before the Court, including the Ukraine situation
Increasing its support for a domestic investigation in Ukraine, into all international crimes and all parties to the conflict, while ensuring the rights of victims and survivors of war crimes in the UK are fully realised.
Ensuring the UK government's commitment to international justice is long-term and comprehensive, including providing support to the UN Commission of Inquiry for Ukraine, cooperating with other states' national-level investigations into war crimes in Ukraine, and considering the possible establishment of other international justice mechanisms for Ukraine.
Call on the Foreign Secretary to help deliver justice for Ukraine.