Amnesty in jail: Tell the Turkish Embassy to free our staff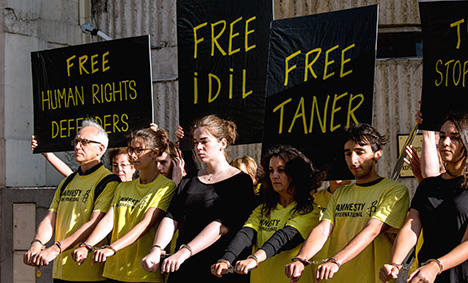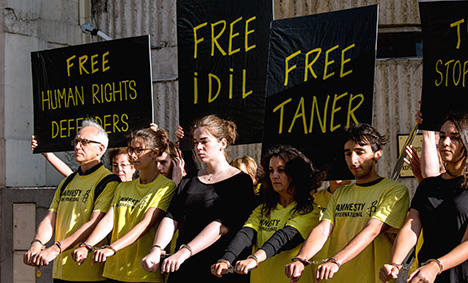 Amnesty staff could face up to 15 years in a Turkish prison. The Chair and Director of Amnesty Turkey have both been falsely accused of involvement with "terrorist organisations". Many other activists face the same fate as part of Turkey's appalling crackdown on human rights.
This cannot continue. Tell the Turkish Embassy in London that our staff must be freed, and that these shocking human rights abuses must end immediately.
Amnesty in jail: Tell the Turkish Embassy to free our staff
The charges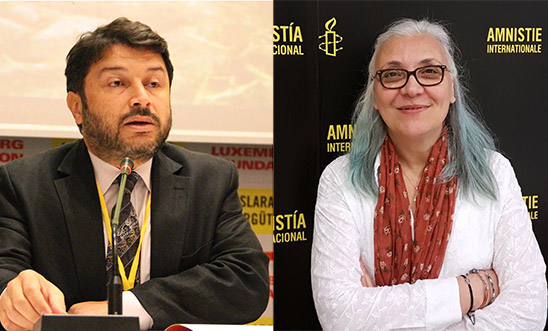 Taner Kılıç, Chair of Amnesty Turkey, was detained in the early hours of 6 June along with 22 other lawyers on suspicion of involvement with Fethullah Gülen's "terrorist organisation".
A month later İdil Eser, Director of Amnesty Turkey, was attending a routine digital security and information management workshop in a hotel in Büyükada, Istanbul when the authorities burst in and arrested her, along with nine other activists, without giving a reason.
Charges have now been officially filed with the Turkish courts, accusing them both of involvement with "terrorist organisations", and they remain in prison awaiting trial.
Shocking lack of evidence
There is a shocking lack of evidence to back up the charges filed against these eleven human rights defenders.
The only claim that supposedly links Taner to the terrorist Gülen movement is that Bylock – a secure mobile messaging application that the authorities say was used by members of the terrorist group – was discovered on his phone in August 2014.
No evidence has been given to back this up and Taner denies ever having downloaded or used Bylock. In fact, he says he'd never even heard of it until its alleged use by the Gülen movement was widely spread in the media.
Meanwhile, Turkey's accusations against İdil are equally astounding. They include attempts to link her with three unrelated and opposing "terrorist organisations" through her work for Amnesty.
The prosecutor's request that she remain in prison awaiting trial references two campaigns by Amnesty, neither of which involved Amnesty Turkey, one of which was conducted before İdil joined the organisation.
Ulterior motives
Let's be clear — this is not a legitimate prosecution. This is political persecution.
İdil, Taner and the other human rights defenders have done nothing wrong. They have simply refused to be silenced in the face of a dangerous crackdown that is worsening every day. That is why they have been targeted. And that is why we must now defend them.
Rounding up human rights defenders was clearly intended to send a message that dissent will not be tolerated. But the courage of Taner, İdil and their colleagues has sent a brighter message: that critical voices cannot be silenced.
Backlash in Turkey
The government backlash since the failed government coup on 15 July 2016 has been astonishingly widespread. The numbers reported by CNN as of April 2017 are as follows:
Detentions: 113,260

Arrests: 47,115

Journalists dismissed: 2,708

Media outlets shut down: 179
Along with the accusations against Taner, İdil and their colleagues, we expect these numbers to have risen even higher since.
Among other draconian measures are a ban on TV dating shows, which the Deputy Prime Minister has called "strange programmes that would scrap the institution of family, take away its nobility and sanctity".
There has also been an attempt at online censorship, including a block on online encyclopedia Wikipedia, and attempted blocks on social media sites such as Facebook and Twitter.
Protecting human rights defenders
These men and women are not criminals. They are heroes.
Every day, they risk their own safety to defend others. They speak out for people's freedom, they challenge injustices and they fight for everyone in Turkey to be treated fairly.
Turkey has locked them up, just when they are needed most: when the independent media has been silenced, speaking out comes at a high cost and people are living in fear.
This recent crackdown on human rights defenders shows how broad the coup has become, going beyond the police and armed forces, penetrating deep into civil society.
Countries and individuals around the world must hold the Turkish authorities to account for violating the rights of so many citizens.