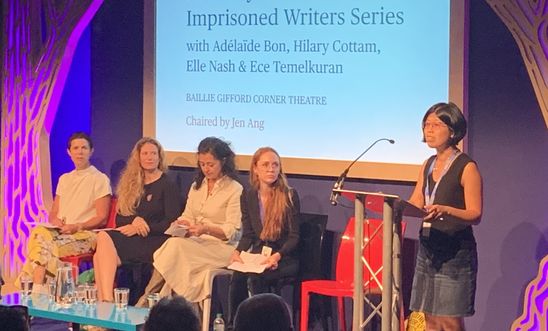 Imprisoned Writers: Women Speaking Up 
The readings today are from women who have experienced or witnessed sexual abuse, women who have spoken out and spoken up in an attempt to re-claim the narrative around violent abuse of women and are campaigning for positive change.
If you would like to talk to someone about the issues raised in today's event, you can call the Rape Crisis Scotland helpline for free on 08088 01 03 02. Visit their website for more information about their work and ways to contact them.
We are also grateful to Edinburgh Rape Crisis for attending the event. 
The writers
In July 2018, a 13-year-old schoolgirl named Nirmala Pant was raped and murdered in Nepal's Kanchanpur District. This brutal crime, and the lack of effective investigation by the authorities, started a wave of protests across Nepal. Meanwhile two women accused the former Kathmandu mayor of sexual harassment, inspiring others to come forward with their stories. These testimonies from Nepalese activists Punjita and Rashmila describe why they feel speaking out about harassment and violence is so important, and what they have done to stand up and speak out for women in Nepal.
Nadia Murad was abducted with other Yazidi women in August 2014 when their home village of Kocho in Sinjar, northern Iraq, was attacked by Isis. Captured alongside her sisters, she lost six brothers and her mother. She was awarded the 2018 Nobel Peace Prize jointly with Congolese gynaecologist Denis Mukwege for their efforts to end the use of sexual violence as a weapon of war and armed conflict. Today we are hearing an extract from her autobiography, The Last Girl: My Story of Captivity and My Fight Against the Islamic State.
Speak Out Survivors was launched in October 2018 by its three co-founders; Suzy, Shirley and Emma. They are all survivors of childhood rape and sexual abuse, and each of them reported the abuse to Police Scotland. The police investigated their complaints but informed the women that it was not possible to prosecute because the evidence available in each case did not meet the legal requirements for corroboration. These limiting requirements make the vast majority of allegations of rape extremely difficult to prove, and as a consequence, most never reach court. The most recent figures, for 2017 - 2018, show that only 11% of reported rapes in Scotland resulted in a prosecution. Less than half of those resulted in a conviction. Speak out Survivors campaigns to change the law in support of survivors of serious sexual offences who have been failed by the Scottish criminal justice system, primarily by asking for the requirement of corroboration to be abolished in sexual assault cases. The testimony we are hearing today from Emma was published in the Scotsman in April this year.
Amnesty International has been calling on the Danish authorities to change the legal definition of rape to one based on sexual autonomy and consent, in line with international human rights standards, and to improve the treatment of victims during all stages of the legal process. As part of this campaign, we published the report Give us respect and justice! Overcoming barriers to justice for women rape survivors in Denmark. One of the many stories included in the report is this testimony from journalist, Kirstine Holst.
UPDATE
We are pleased to update that on 26 June 2019, the Danish Government published an agreement committing itself to introduce consent-based rape legislation. Amnesty International welcomes this long overdue commitment and looks forward to seeing the draft law. Kirstene commented: 
A few weeks ago, an ordinary-looking man in a grey suit came on the television and said something which made me cry.

The man was Danish Prime Minister, Lars Løkke Rasmussen, announcing that his government would introduce new consent-based rape laws.
Take Action
Women's rights activist Amal Fathy has been jailed in Egypt for posting about her experience of sexual harassment on Facebook.
Detained since May, Amal was sentenced to two years in prison on 29 September. An Egyptian court ordered her release on probation on 19 December, but she has yet to be freed.
Call for Amal's urgent freedom now.
You can become a friend of Edinburgh Rape Crisis and help them to provide their services to as many survivors of sexual violence as possible.
Find out more about supporting Rape Crisis Scotland or your local Rape Crisis centre.
The Imprisoned Writers Series at the Edinburgh International Book Festival 
Since 1997, Amnesty International in Scotland has shared the voices of writers whose human rights have been compromised - because they have been imprisoned, exiled or executed for exercising their freedom of expression; because they face challenges in practicing their rights in their daily lives; or because they live in a country where their rights are oppressed.
These events, known as the Imprisoned Writers Series, seek to challenge, move and inspire by sharing writing by those whose freedom of expression is threatened or denied. Each day we are joined by four of the visiting authors who graciously volunteer their time to read the words of writers who cannot be at the Festival.
The Imprisoned Writers Series exists to amplify voices – both voices that cannot be heard because their right to speak has been taken away, and also those voices that we may find uncomfortable to hear. Not all of our authors have experienced detention, but they have all had their rights challenged, and have all fought to claim their rights. 
About Amnesty UK Blogs
Our blogs are written by Amnesty International staff, volunteers and other interested individuals, to encourage debate around human rights issues. They do not necessarily represent the views of Amnesty International.
View latest posts