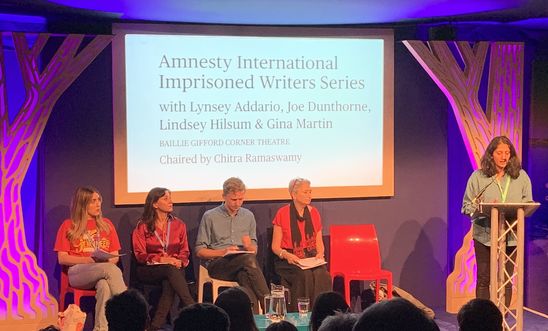 The Imprisoned Writers Series at the Edinburgh International Book Festival 
Since 1997, Amnesty International in Scotland has shared the voices of writers whose human rights have been compromised - because they have been imprisoned, exiled or executed for exercising their freedom of expression; because they face challenges in practicing their rights in their daily lives; or because they live in a country where their rights are oppressed.
These events, known as the Imprisoned Writers Series, seek to challenge, move and inspire by sharing writing by those whose freedom of expression is threatened or denied. Each day we are joined by four of the visiting authors who graciously volunteer their time to read the words of writers who cannot be at the Festival.
The Imprisoned Writers Series exists to amplify voices – both voices that cannot be heard because their right to speak has been taken away, and also those voices that we may find uncomfortable to hear. Not all of our authors have experienced detention, but they have all had their rights challenged, and have all fought to claim their rights. 
Fighting for Press Freedom   
Globally, journalists and media outlets are under increasing attack for their essential work. Despite improvements in some areas and the presence of a robust independent media, the UK remained, at 33 out of 180, one of the worst-ranked Western European countries in the World Press Freedom Index, largely due to a heavy-handed approach towards the press, often in the name of national security.
In Northern Ireland, Trevor Birney and Barry McCaffrey were arrested on 31 August 2018 in connection with an alleged breach of the Official Secrets Act, relating to confidential documents about the police investigation of the murder of six men in a bar in the village of Loughinisland, County Down, in 1994.
In May this year, Amnesty International welcomed the outcome of a judicial review in Belfast that quashed the warrant authorising police raids on the homes and offices of investigative journalists Trevor Birney and Barry McCaffrey and directed police to return their seized materials 'forthwith'.
Today's readings are from journalists who risk persecution daily in countries whose standing in the World Press Freedom Index reflects their heinous attitude to reporting. The UK must protect press freedom.
The readings
On 18 March 2003, Normando Hernández González was arrested in his hometown of Camagüey, Cuba, along with 74 other journalists considered as dissidents by the Cuban government. Normando, at 33-years-old the youngest of the journalists arrested, was sentenced to 25 years' imprisonment for reporting on the state's neglect of services and management of key industries. Released in 2010, he now lives in exile in the United States.
Jamal Khashoggi was a Saudi Arabian journalist who fled the kingdom in 2017 and lived in self-imposed exile. He wrote columns critical of the regime for the Washington Post and was named Time magazine's person of the year in 2018 along with other journalists facing political persecution for their work. On 2 October 2018, Khashoggi entered the Saudi consulate in Istanbul, and didn't come out alive. Today we will hear his final column.
Roxana Saberi is an American freelance journalist. In 2009, she was held prisoner in Iran's Evin Prison for 101 days under accusations of espionage. She subsequently wrote a book about the experience: Between Two Worlds: My Life and Captivity in Iran. She wrote the essay we will hear today in response to a request for information about life after prison in Iran from the relative of a recently released prisoner.
The Turkey correspondent for the German newspaper Die Welt, Deniz Yücel became the first foreign journalist to be remanded in pre-trial detention since the attempted coup in February 2017. He was released on 16 February 2018 after more than a year in prison. This piece was written by his wife Dilek Mayatürk Yücel on the occasion of his 200th day in prison.
Take Action
If today's readings have inspired you, you can take action for Michael Rial: On 15 July 2019, Michael Rial Christopher, a 40-year-old South Sudanese newspaper editor was taken off a flight to Kenya by National Security Service (NSS) agents and arbitrarily arrested in Juba. He remains in detention at the NSS headquarters in Juba, also known as 'Blue house'.
We are asking people to write to the President of the Republic of South Sudan, calling on him to ensure Michael is treated fairly and not subject to torture.
About Amnesty UK Blogs
Our blogs are written by Amnesty International staff, volunteers and other interested individuals, to encourage debate around human rights issues. They do not necessarily represent the views of Amnesty International.
View latest posts