Why Ireland's emigrants are coming home to fight for safe abortion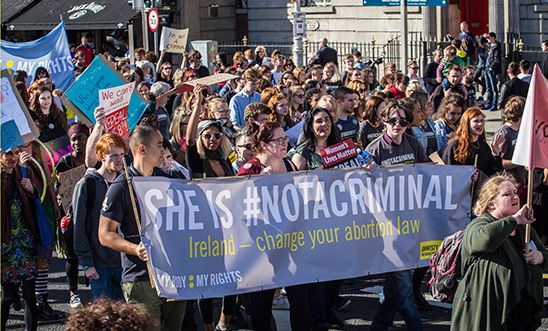 March for choice in Dublin, Ireland, 26 September, 2015. © Amnesty International Ireland
A once-in-a-generation opportunity
Ahead of Ireland's historic referendum on abortion, the #hometovote hashtag has unleashed a wave of solidarity and inspired Irish voters from Nairobi to Toronto to return home and campaign for a woman's right to decide.
 
When the Irish government finally announced there would be a referendum on repealing its near-total constitutional ban on abortion, Ause Abdelhaq, a young Irish expat living in Nairobi, Kenya, was thrilled. 
 
No one under the age of 53 has had the chance to vote to make abortion more accessible in Ireland. The significance of what is being billed as a once-in-a-generation opportunity is clearly not lost on young Irish voters like Ause.   
"I'm pretty sure most of East Africa knows how much it means to me at this point, because I went around yelling at everyone "Look at what my little island is doing it's going to be great!"," says Ause, who, like many Irish graduates of his generation, chose to travel abroad to seek work and life experience.
Show your support for the women of Ireland
 
On 25 May, voters across Ireland will be asked to respond yes or no to repealing article 40.3.3 of the Irish Constitution. Since 1983, this clause – commonly known as the Eighth Amendment – has made abortion illegal in nearly all circumstances, denying women basic bodily autonomy and violating their human rights.
 
"I don't think there can be any debate about bodily autonomy, it's a fundamental human right. Even if I wasn't a feminist, I would believe that," says Ause.
 
However his excitement was tinged with disappointment. Under Irish election laws, citizens living abroad who are still eligible to vote must return to Ireland to cast their ballot.
 
A volunteer with the United Nations, a trip back from Nairobi to his home town of Clonmel, County Tipperary, was financially impossible for Ause. But thanks to support from social media groups set up by Irish diaspora, he was able to raise the money needed through an online crowdfunding campaign.
I'm flying home for not even 24 hours to vote for this. Anyone I've said this to hasn't called me a muppet. Or insane. They're thanking me. This is the most important referendum we may ever face. Of course I was coming home. #hometovote #RepealTheEighth #Repeal

— Aoife ?? (@PrettyPPD) 22 May 2018
Show your support for the women of Ireland
Home to vote
"For voters, casting a 'yes' vote to repeal the Eighth Amendment is making a statement about the people we are and the society we aspire to be—one where all who become pregnant are treated with dignity, compassion, respect and equality," says Sorcha Tunney who coordinates the It's Time Vote Yes campaign for Amnesty International Ireland.
 
But for the estimated 40,000 Irish citizens living abroad who are thought to be eligible, getting home to vote won't be straightforward. Like Ause, each of them will need to find the time and money to travel back, as well as check that they are already registered to ensure they have a chance to take part in this historic referendum.
 
It's these challenges that motivated the London-Irish Abortion Rights Campaign (ARC), a grassroots campaign group formed of Irish expats, to set up the "Home to Vote" website and revive the #hometovote hashtag. Last used in the marriage equality referendum in 2015, Irish expats are being encouraged to use the hashtag to share their stories of coming home to vote.
 
"There is a lot of confusion about who can vote. We wanted to make sure that the 40,000 eligible voters are aware of their voting rights and urge them to come back. If this referendum fails, it's likely we won't have another vote on this issue for 20-30 years. That means limited reproductive rights for another generation of Irish women," says Hannah Little, a fundraising and marketing officer at women's rights charity Womankind Worldwide and one of the founding campaigners of the group.  
 
"Judging by the numbers online, we expect even more people will return home to vote than in the equal marriage referendum."
 
The London-Irish ARC is made up of young professionals, many of whom would never have described themselves as activists before. "The idea of what an activist looks like has been totally thrown out of the window at this stage. It's up to everyone to fight for what they believe in." says Hannah.
 
While she is not eligible to vote, Orlaith Delargy, a Dubliner who now works for an environmental NGO in London, credits groups like the London-Irish ARC for making it easy to support the campaign and for "providing a lifeline for people like me who are frustrated, but can't participate directly."
 
She still plans to return home to Dublin ahead of the referendum to help with final canvassing efforts. The symbolism of making the journey from the UK to Ireland to campaign for abortion rights is not lost on her, given that every year an estimated 3,500 pregnant people are forced to travel from Ireland to access safe abortion services in England and the Netherlands.
 
"I grew up in Dublin, and now that I live in London I make that trip back frequently. I think about being on that plane for different reasons and how awful that would be," says Orlaith.
Did you know that, last year, a 12-year-old rape victim had to travel from Ireland to the UK for an abortion. Imagine how abandoned you'd feel if your country deemed the mental, physical and sexual health, of a child, less important than a piece of legislation #RepealTheEighth

— Jenny Kirkham (@PJ_Kirkham) 16 May 2018
Show your support for the women of Ireland
We have to protect women and girls
But travelling for an abortion is not an option available to everyone. The estimated average cost of travelling to the UK for a first trimester abortion is at least €1,000, including clinic fees, flights and accommodation.
 
"The cost of my travel home from Toronto to vote for a woman's right to choose is less than what I paid when I was forced to travel to the UK to access an abortion," says Emma Jayne Geraghty, a digital activism coordinator with Amnesty International Canada, who is originally from the town of Celbridge. 
 
She says the referendum is an opportunity for Ireland to acknowledge that the current law is harmful to women and girls, and that it can have particularly dangerous consequences for those without the resources or means to seek the healthcare they need abroad.
 
"It's really atrocious that in this day and age, women in Ireland are being forced to travel to access safe abortion services. And those who can't travel are having to deal with it in unsafe ways," warns Emma. "We have to protect women and girls and provide them with access to safe and compassionate reproductive healthcare."
 
Like Emma, Tessa Morgenroth, a young professional from Galway now working in Hamburg, Germany, says it's important for her to come home to vote yes to ensure all women and girls in Ireland have their rights.
 
"I could easily say I don't live there anymore, it doesn't affect me. But there are people I love who are affected by it," says Tessa.  
 
Tessa was able to fund her trip back to Galway thanks to the generosity of other Irish expats who supported her GoFundMe campaign.
 
"Irish people living abroad are still so emotionally invested in this issue. They are willing to do anything to get people home to vote, because they understand that abortion is not a 'want', it is a need and a right that Irish women deserve to have."
 
With just days to go until the referendum, the outcome is far from certain. Ause says he is not taking any chances.
 
"It's the fear of losing, that's what motivated me to go back. I'm not just going home because I want to be part of the campaign – the reason I am going is because my vote will actually matter. We will have a significant impact."
 
I don't know what the future holds for my daughters but I do beleave they should have the right to choose#RepealTheEighth

— J o n a t h a n (@JonathanJoly) 22 May 2018
You can choose to drink alcohol. You can choose to smoke a cigarette. To enter a club. To be an organ donor...we live in a world of choosing our fate... except when it comes to the bodies of the women in Ireland. And it's time they were allowed to choose too #RepealTheEighth

— Lady Writes (@LadyWrites_Blog) 21 May 2018
Please show your support
Show solidarity with women in Ireland who will be fighting for the right to choose on 25 May. Share the graphics below with messages of support on Facebook, Twitter and Instagram using the hashtags #RepealTheEighth and #ItsTime.
Suggested social posts:
- Change is possible. I/We stand with women in Ireland. #ItsTime #repealthe8th
- I/We stand in solidarity with girls and women in Ireland for their right to choose #ItsTime #repealthe8th
- Women's bodies, women's rights #Ireland #ItsTime #repealthe8th
For Facebook:
For Twitter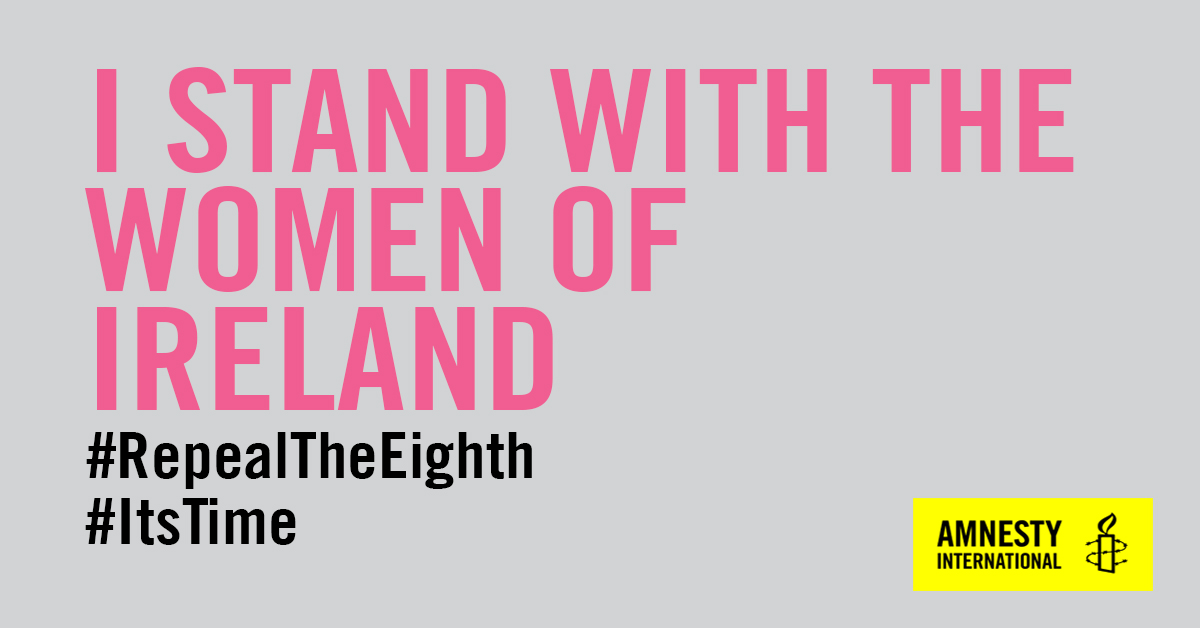 For Instagram