Applications are now closed for 2021-2022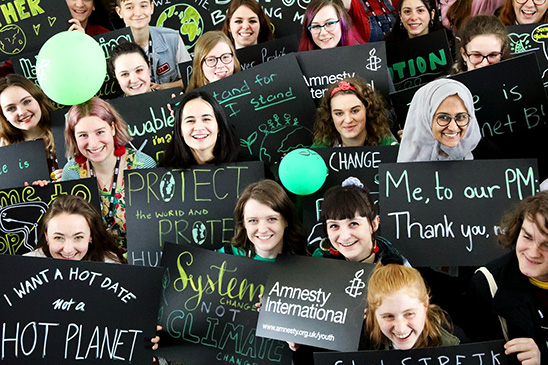 Who are the Amnesty International Youth Steering Group? 
In 2020 Amnesty UK committed itself an ambitious 5 year plan to achieve a simple vision – that all young people in the UK should have genuine power to create Human Rights change. 
The plan was created by the Amnesty International Youth Steering Group - 8 youth activists from across the UK with a range backgrounds, skills and lived experiences. Together they spoke to over 400 young people from across the UK and came up with our plan's four goals:
Goal 1: Young people are supported to create Human Rights change and lead effective campaigns. 

Goal 2: Increase engagement with under-represented groups to build a more inclusive and powerful Human Rights movement. 
Goal 3: Strengthened Human Rights movement through more and different youth partnerships. 

Goal 4: Young people are enabled to play a leading role within Amnesty's decision making structures. 
Now, we are starting to implement this ambitious plan. We're recruiting 10 new youth activists to join our steering group, who will lead on making these 4 goals a reality. 
 
Who are we looking for? 
We're looking for people who have a vision of how young people can lead change. 
Whether you've organised a demonstration or taken action online, if you think you understand what would get more young people interested in human rights, we want to hear from you. 
We don't expect you to have been involved in something like this before, but we are looking for people with big ideas, who aren't afraid to challenge and speak up. 
We will prioritise applications from people of colour, non-binary people, LGBTQI folk, people living with disabilities, young parents, refugees and migrants, survivors and those not in education, employment or training and those from the traveller community.  
We're also particularly looking for young people who haven't been to and aren't planning to attend university, and those who have never been involved with Amnesty International before. 
What will you do? 
In September we'll bring together the steering group for a residential weekend to get know each other, understand our 5 year plan in detail, and design projects for the year ahead. 
You'll then meet regularly online with other members of the steering group, other Amnesty activists and staff, to work on your projects and bring our collective plans and vision to life. 
Throughout the year you'll receive 121 support from Amnesty International staff, training on a range of issues, and the opportunity to meet likeminded young people from all walks of life.  
Does this opportunity sound right for you?  
We are committed to making the Amnesty International Youth Steering Group as accessible as possible, but you must fulfil the following requirements. 
You are aged 14-24  

You are committed to attending the residential weekend (13-14 November) and staying in touch regularly for at least 12 months (until September 2022), including monthly video-calls. 

You are passionate about getting more young people involved in campaigning for human rights and social justice.
Applications are now closed for 2021-2022
Application timeline
26 September – application deadline
4 October – week of interviews
13-14 November – weekend residential at Amnesty International's office in London
---
Application