We're looking for eight young people aged 16-24 to lead the creation of our next National Youth Strategy.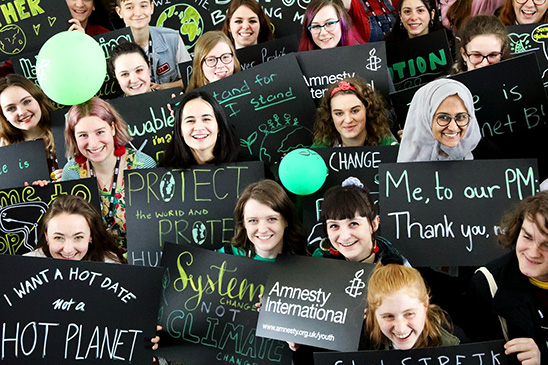 Who are we?
Amnesty International is the world's largest grass-roots human rights organisation with over seven million supporters across more than 150 countries and territories. Our vision is of a world in which every person enjoys all of the human rights enshrined in the Universal Declaration of Human Rights and other international human rights instruments by investigating  and exposing abuses, educating, empowering and and mobilising the public to  help transform societies to create a safer, more just world.  
Amnesty International in the UK  has more than 600,000 supporters. Collectively, we are independent of any government, political ideology, economic interest or religion. 
What do we want to achieve? 
We are about to start the process of creating our next National Youth Strategy. Amnesty International already has an incredible network of youth and student activists, campaigning for human rights across the UK. We engage thousands of young people on and offline, on the street, at festivals and gigs, and on social media. However, we know we can do more.
We want young people to actively participate and lead on our campaign planning and strategy. We want more young people to have leadership roles in our governance. We want a more diverse range of young people to know and claim their rights
To achieve all this, we need an ambitious National Youth Strategy, which will clearly set out our vision and how we will achieve it.
How can you help?
We're looking for eight young people to lead the creation of our next National Youth Strategy. 
You will form our National Youth Strategy steering group, who will work with staff over a 6 month period to create the new strategy. You will be involved in coming up with the big questions we need to answer, informing our research and consultation of thousands of activists, organisations and stakeholders.
You'll then take the findings of our research and work with us come up with the core components of the strategy. Ultimately, you'll shape and agree our next National Youth Strategy. 
Is this for me?
We're looking for people who have a vision of how young people can lead social change and have more power in organisations such as Amnesty International.
We don't expect you to have experience of creating a strategy, or to have ever been involved process like this. We are looking for people with big ideas, who aren't afraid to challenge and speak up.
We're looking for four young people who have previously been engaged in Amnesty International, and four who have not. So, whether you have previous experience with us or not, please do apply.
We strongly encourage applications from people of colour, non-binary people, LGBTQI folk, people living with disabilities, young parents, refugees and migrants, survivors and those not in education, employment or training and those from the traveller community. This is by no means an exhaustive list.
When?
You will need to attend two weekends in London on the 12 & 13th October and the 22nd & 23rd February. You will also need to be available for check in calls up until April 2020. There will be at least 1 check in call a month, although there may be more frequent at key times.
All travel expenses, food, accommodation, childcare, and caring costs will be covered. 
Where?
The course will take place at the Human Rights Action Centre, our HQ in London.
How to apply
The application is an online form here. You will be asked to fill in some personal details and then to submit answers to the following questions:
What experience do you have of campaigning for human rights?
How do you think organisations like Amnesty could better engage young people?
What does youth leadership look like to you?
Is there anything else you'd like to tell us about yourself?
You can put your answers in writing, or in a video. Please note, answers should not exceed 150 words per question, or 4 minutes total for video submissions.
The deadline for applications is Monday 2nd September 2019
You will also be asked to provide contact details for a supporting recommendation, this can be from a range of people who know you, but they must not be a family member, nor be under 18 years old. 
Examples could be a teacher, youth club worker, volunteer manager, sports club representative or personal advisor. Please make sure you have their permission before sharing their contact details.
Does this opportunity sound right for you?
We are committed to making this opportunity as accessible as possible, however, you must fulfil the below requirements:
You are aged 16-24*
You are committed to attending the two weekends London in October and February and we cannot cover international travel 
You are passionate about social change and human rights and aren't afraid to share your ideas.
You are committed to being involved in the steering group until April 2020 when the strategy will be signed off.
*This age range has been set in line with Amnesty International's global definition of youth.