Youth groups give it up for human rights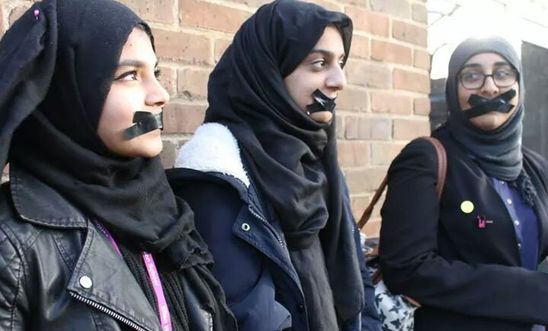 Students from Ellen Wilkinson School for Girls in London
Give it up is a great way to learn about human rights and fundraise at the same time. The concept is simple: get sponsored to 'give up' one of the your rights for the day in solidarity with others who have no choice.
What right will you give up?
The idea for Give it Up for Human Rights came from Ashford School Amnesty group who won the Most Creative Fundraising Event category in our 2014 Youth Awards.
Students chose articles from the Universal Declaration of Human Rights and took a creative action to show their importance. Students gave up their phones for the day, wore masks throughout the day, took part in sponsored silences - and one student even took part in a sponsored headshave.
Ashford students also put on other events during their fundraising day, including a bake sale and an awareness-raising assembly on what human rights are and why they matter. Through their efforts Ashford students raised over £1000 for Amnesty and ensure that everyone in the school knew about the Universal Declaration of Human Rights. 
Give up your right to free speech
Students at Ellen Wilkinson School for Girls in London gave up their right to free expression by holding a sponsored silence. To attract attention to what they were doing they spent much of the day with their mouths taped shut!
Lots of other groups including the Knox Academy youth group in East Lothian and the Eastlea Community School in London have also given up their right to free speech for a limited time - and raised hundreds of pounds in the process.
Give up multiple human rights
Broughton High School in Edinburgh went all out and organised a Give it up week, giving up a different right each day. 
Monday: Wear masks to hide their own right to identity
Tuesday: A day without food to highlight the right to life
Wednesday: Sponsored silence to mark their right to free speech
Thursday: Giving up technology to highlight the right to property
Friday: This one's a surprise – we can't wait to see what it is!
Organise your own Give it up event
To organise a Give it up for human rights day at your school, first order a free Give it up fundraising pack. We will send you everything you need to make your day a success.
See our downloadable resources at the bottom of the page. 
Get in touch
If you would like any help, advice or extra materials, get in touch with our Community Groups Fundraiser.
Email: fundraise@amnesty.org.uk
Phone: 020 7033 1650/ 07827 694 313