The year in human rights – why the UK is setting a dangerous precedent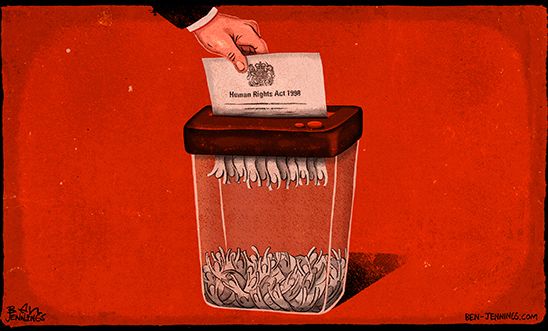 © Ben Jennings
In 2015, governments around the world brazenly broke international law and deliberately undermined the laws and systems put in place to protect people's rights.
Meanwhile, the UK government began its own assault on human rights.
In May, the Conservative Party won the general election and formed a majority government. The new government swiftly confirmed its plans to repeal the Human Rights Act – a vital and powerful protection for the most vulnerable people in the UK.
From women fleeing domestic violence to disabled people seeking proper support, the Human Rights Act helps ordinary people to fight injustice and hold those in power to account. It places public authorities in the UK – including hospitals and social services – under an obligation to treat everyone with fairness, equality and dignity.
'A gift to dictators' 
The UK has a proud history of pushing forwards with human rights and calling for other countries to do the same. But what happens when the government chips away at the systems and laws that protect us here in the UK?
How can we lobby other countries to treat their citizens better – to protect freedom, privacy, and justice – when we're not doing it ourselves?
If UK politicians turn human rights into a privilege for the 'worthy' few, we can only expect other governments, with even less respect for rights, to continue to do the same.
'There's no doubt that the downgrading of human rights by this government is a gift to dictators the world over and fatally undermines our ability to call on other countries to uphold rights and laws.'

Kate Allen, Amnesty International UK Director
Our 2015/16 annual report on the state of the world's human rights, identifies the UK's plans to scrap the Act as setting a dangerous precedent to the rest of the world.
The UN High Commissioner for Human Rights, among others, have also raised serious concerns that repealing the Human Rights Act could lead to the weakening of human rights protections in the UK.
Hard won, easily lost
It took ordinary people a long time to fight for the rights we enjoy in the UK today – rights and freedoms that people are still fighting for around the world.
We can't take a tough stance against the world's dictators, torturers and tyrants if we turn our backs on human rights at home.
We must not let politicians take away these universal rights at the stroke of a pen.