USA: How the Trump administration violated children's rights
US Border Patrol agents take into custody a father and son from Honduras near the US-Mexico border, 12 June 2018 © 2018 Getty Images
In June and July 2018, thousands of children were cruelly separated from their parents and held in cages at the US border on the order of President Trump's administration.
These children were being held in tent cities and massive warehouses, in tight quarters - in extreme heat by day and extreme cold at night - all after fleeing persecution and violence in their home countries.
Meanwhile, their family members faced being deported back to countries where their lives may be at risk - not knowing if they will see their children again.
Seeking asylum is not a crime. By tearing children away from their parents, the Trump administration brazenly violated the human rights of these families. 
Separated toddlers were even having to represent themselves in court at their own immigration hearings.
Nothing short of torture
JUST IN: Amnesty International rips Trump's family separation policy: "This is nothing short of torture" https://t.co/QbvSMHm6MH pic.twitter.com/JE5dx8OYko

— The Hill (@thehill) June 18, 2018
The trauma caused by splitting up families amounts to torture. The original policy of separating parents from their children was designed to impose severe mental suffering on these families, in order to deter others from trying to seek safety in the USA.
Causing intentional suffering meets the definitions of torture under both US and international law.
Trump says that without borders, you don't have a country. But without human rights, you don't have humanity.
'President Trump is effectively rigging the system against children who have already endured a dangerous journey to the United States only to be ripped out of their parents' arms. These families should never have been split apart in the first place.'
Ashley Houghton, Tactical Campaigns Manager at Amnesty International USA
From separation to detention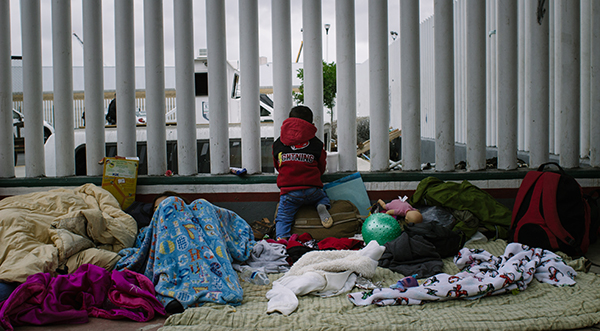 After days of international outrage denouncing the cruel separation of more than 2,000 babies and children from their parents, President Trump signed an executive on 20 June that he claimed would end family separation.
However, the new order does nothing to reunite the thousands of children who were forcibly separated from their parents and doesn't stop the policy of prosecuting and detaining entire families seeking safety.
This is not the answer. It's another human rights violation that cruelly punishes families who are seeking safety and security.
Court-ordered deadline
The US authorities were ordered by the courts to reunite more than 2,500 children forcibly separated from their parents by 26 July 2018.
The administration claims to have met this but it's based on an exclusion of parents who have been deported or can't be located, as well as on its unchecked decision of who is 'eligible' to be reunited or not.
More than 900 children are expected to remain separated from their families. While the administration drags its heels and misses its deadlines – children are suffering and hundreds of families remain unjustly jailed.
Don't let hate win
Join Trump watch and we'll keep you up-to-date with all the work we're doing to fight back, including ways you can take action.