Somalia: Free Journalist Jailed For Investigative Report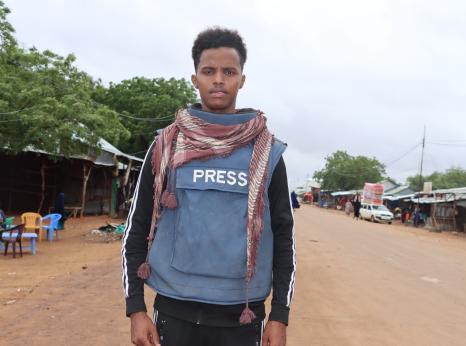 0
days left to take action
Mohamed Ibrahim Osman Bulbul operates in Somalia, a country that has been in conflict for over 30 years. Military operations by Somali government and foreign troops- including the African Transition Mission in Somalia (ATMIS) and the US military against Al-Shabaab, continue to take a toll on civilians. All parties to the conflict continue to violate international human rights and humanitarian law. Civilians have been indiscriminately killed by Somali and its allied forces during clashes with Al-Shabaab, as well as in the crossfire of interclan violence which continue to occur in some pockets of the country.
Ove the years, the right to freedom of expression has been severely suppressed in Somalia. Journalists and other media workers were beaten, harassed, intimidated, threatened, and subjected to arbitrary detention, including by the police, military and other government officials. Authorities continue to restrict access to information and to suppress media freedom. Authorities also raid and temporarily close media outlets to prevent or discourage coverage of news events and as retaliation for their critical reporting. In the past five years, more than 12 journalists have been killed. There is often no accountability for these violations.
The current government continues to curtail media freedom. For instance, in December 2022, it issued a directive to local news outlets to submit all content for approval before airing. On 8 October 2022, Somalia's Ministry of Information issued a directive prohibiting "dissemination of extremism ideology messages both from traditional media broadcasts and social media".