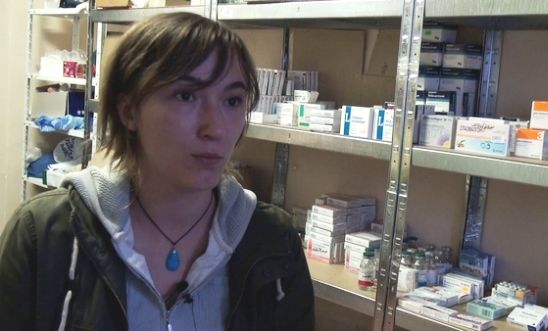 Hanna, a survivor of torture in Ukraine. © Amnesty International
He said 'Pray now, I'm going to kill you' and then he slit my neck with the knife.
This was part of a terrifying six-day ordeal for Hanna, a pro-Ukrainian activist, who had provided first aid to protesters at demonstrations.
On 27 May, seven armed men wearing balaclavas barged into her flat in the eastern Ukrainian city of Donetsk. They said they were from the Donetsk People's Republic (DNR), the pro-Russian separatist group which had recently seized power in the city.
Hanna was taken to the Department for Crime. After half an hour of questioning, her interrogator turned to violence.
'He said: write with your blood on the wall 'I love Donbass', and if you can't do this, if you run out of blood, I will shoot you.'
Hanna, a pro-Ukrainian activist, made to write a pro-Russian slogan on the wall in her own blood.
After six days of violent beating, torture and humiliation, she was released as part of a prisoner exchange.
Mounting evidence of torture
Hanna's torturous ordeal is not unique. We have gathered graphic and compelling evidence of savage beatings and other torture in eastern Ukraine.
Our report, Abductions and Torture in Eastern Ukraine, documents allegations of abduction and torture by separatist armed groups and pro-Kyiv forces over the last three months.
With pro-Kiev forces re-establishing control over parts of eastern Ukraine, new captives are being released almost daily with an increasing number of disturbing cases emerging. We were provided with a list of more than 100 civilians who have been held captive. Allegations of torture have been made in the majority of cases.
Nearly 500 abduction cases have been reported by The Ukrainian Ministry of Interior between April and June 2014. The UN Human Rights Monitoring Mission for Ukraine has recorded 222 cases of abduction in the last three months.
Those targeted include not only police, the military and local officials, but also journalists, politicians, activists, members of electoral commissions and businesspeople.
Abductions for ransom
While most cases appear to have a "political" motivation, there is clear evidence of armed groups abducting people from local communities for ransom.
Sasha, a 19-year-old pro-Ukrainian activist, fled to Kiev after he was abducted by separatists at gunpoint in Luhansk. He said he was beaten repeatedly for 24 hours.
'They beat me with their fists, a chair, anything they could find. They stubbed out cigarettes on my leg and electrocuted me. It went on for so long, I couldn't feel anything anymore, I just passed out.'
Sasha, a 19-year-old pro-Ukrainian activist.
He was finally released after his father paid a US$60,000 ransom.
Watch Hanna and Sasha tell their stories:
Abuses by both sides
The vast majority of torture allegations point at separatist pro-Russian groups, however pro-Kiev forces are also implicated.
One local government official in Mariupol, who wished to remain anonymous, told us how they heard a captive separatist fighter wailing in pain at the hands of pro-Kiev forces who were seemingly trying to extract information about the separatists.
In a separate case, 16-year-old Vladislav Aleksandrovich was abducted after posting a video of law enforcement operations in Mariupol. In a video published after his release, Vladislav can be seen sitting behind a masked man in a camouflaged uniform. The man has a hand on Vladislav's head and is threatening him and 'all others' who put Ukraine's unity in danger.
What we want to see
We're calling on the Ukrainian government to create and maintain a register of reported abductions. They must thoroughly and impartially investigate every allegation of abusive use of violence, ill-treatment and torture.
We want all those engaged in the conflict to:
Abide by the standards of international humanitarian law.
Ensure nobody else is tortured, abducted, held hostage or ill-treated.