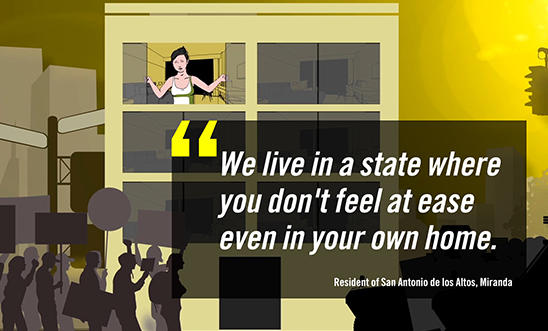 The Venezuelan authorities are involved in an illegal campaign of intimidation against their people, as they carry out a terrifying clampdown on any form of civilian protest. 
The South American country is currently gripped by a severe political crisis, with the population deeply divided between supporters of the government headed by President Nicolás Maduro, and his opponents. 
In a new report out today, we can reveal how security forces are cracking down on civilian dissent by smashing their way into people's homes, threatening rape, looting and firing gas canisters. 
Killings, injuries, arrests
Anti-government protests have been raging for months as a result of the turbulent political situation in Venezuela. During April to July alone 47 illegal raids were carried out, over 120 people were killed, 2,000 were injured and there were more than 5,000 arrests.
Victims explained how security forces and armed men, believed to be members of Maduro's government-sponsored armed groups, entered and destroyed their homes without judicial orders or any explanation – sometimes spending the whole night there.
Given the serious economic crisis that Venezuela is currently experiencing, much of the material damage will be difficult to repair and some people have not even been able to replace their doors. 
"Screaming and crying"
One man from Lara, in the north of the country, said that security forces came into his home shouting, "Come down now fucking bandits…we are going to rape you all." 
Another resident from Caracas described the horrors they experienced: "When I saw them start shooting, I started screaming and crying, because I had my eight-year-old son next to me and my daughter on the other side."
Victims told us they're terrified that their homes will be targeted again and that they struggle to sleep. Someone from the state of Miranda said: "I had bruises from being beaten and bashed about. Of course, you can't count the psychological wounds, but you live with them all the time, the suffering doesn't stop."
Stop the repression of Venezuela's people
It seems that no place is safe from the twisted power of the security forces – not even at home. It's time for the Maduro administration and its security forces to stop violently repressing its people. 
Erika Guevara-Rosas, our Americas Director said:
"The Venezuelan authorities have found a new and disturbing way of stamping out dissent as part of a seemingly endless quest to instill fear into the population. They have taken street repression into people's living rooms… These home raids are absolutely illegal under international law and Venezuela's own constitution."
This cannot continue. Victims must have justice to ensure this policy of government-sponsored violence comes to an end.
By continuing these atrocious acts, instead of investigating and punishing those responsible for them, the authorities are sending a frightening message: anyone can be a target at any moment and in any place, no matter their political beliefs.
Read the full report, Nights of terror: Attacks and illegal raids on homes in Venezuela, now.