Syria: Ten-year-old Ghina safely evacuated to hospital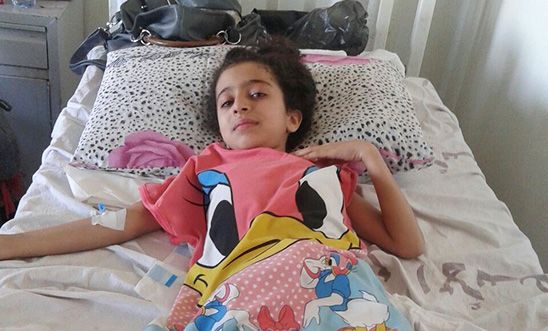 Ghina Ahmad Wadi in hospital after being shot by sniper fire in Madaya, Syria © Private
Ten-year-old Ghina Ahmad Wadi was on her way to buy medicine for her mum on 2 August in the besieged town of Madaya, Syria, when she was hit by a sniper at a government checkpoint.
The shot shattered her leg, leaving her in almost constant, excruciating pain. Trapped in Madaya by Syrian government forces, Ghina was unable to get the complex surgery she desperately needed.
We launched an appeal for Ghina to be immediately evacuated to a hospital in Damascus or Lebanon. 
Within 48 hours, 34,000 of you had added your voice, calling for her to get the specialist treament she needs.
Thank you to every single one of you who took action for Ghina.
Evacuated to hospital
Following huge international pressure, Ghina was finally evacuated by the Syrian Arab Red Crescent on 13 August 2016, along with her eight-year-old sister Nagem and their mother.
They arrived safely at the Al-Mouwasat University Hospital in Damascus. Ghina was made comfortable with pain killers right away and on 15 August Ghina underwent a three-hour operation.
She had rods placed in her leg where the bone was too shattered to heal. Her family have told us that the operation went well and Ghina will now need lots of rest and time to heal.
Nagem was also checked over and will need an operation to remove shrapnel from her arm.
#Ghina (10 years) was evacuated by @SYRedCrescent from #Madaya to a hospital in #Damascus yesterday pic.twitter.com/ybgLzHVqzz

— Syrian Red Crescent (@SYRedCrescent) August 14, 2016
A message from Ghina's aunt
Ghina's aunt, Fadah Jassem, is based in the UK and campaigned hard for Ghina to be evacuated. She sent this message to everyone who took action for her niece:
'We are so relieved and thankful for Ghina's evacuation. It's unbearable to think about the pain she'd still have to endure if she was not evacuated and given proper care.

'Today Ghina was given the operation she desperately needed. We are told that the operation went well and Ghina will now need lots of rest and time to heal. She will of course still need intensive physio and regular checkup in the next couple of months to make sure her leg heals well.

'Ghina is in good spirits now that she knows she should be able to walk again on both legs. This is thanks to everyone involved in getting her message out. Me and my family want to send our deepest gratitude and thanks to everyone at Amnesty and it's supporters, especially every single person who signed the petition to #SaveGhina.

'Helping to mount pressure on the government forces to have Ghina evacuated worked this time in Ghina's case but there are many more children in Madaya and elsewhere in besieged towns across Syria who need urgent medical care. We hope to now help get more children evacuated so they too can receive the proper medical care they need. Children have no part in war and shining a light on these children is the least we can do.'
Fadah Jassem, 15 August 2016
Background on Madaya
The town of Madaya is besieged by Syrian government forces in alliance with Hezbollah fighters, and Ghina's family appealed to the Syrian authorities to allow her to be evacuated to a hospital in Damascus or in Lebanon – a request which had been denied for almost two weeks.
A doctor working at a field hospital in Madaya told us that Ghina urgently needed surgery that is not available in Madaya, which has been under a tight government siege since July last year.
Instead, Ghina had only been provided with sedatives – including morphine – which eased her extreme pain for only ten to 15 minutes at a time.
We're calling for all parties to the Syrian armed conflict to protect civilians and ensure humanitarian aid, including critical medical supplies, are allowed into Madaya and other besieged areas as a priority. They must allow and facilitate the evacuation of civilians who wish to leave.