Syria: The siege of Eastern Ghouta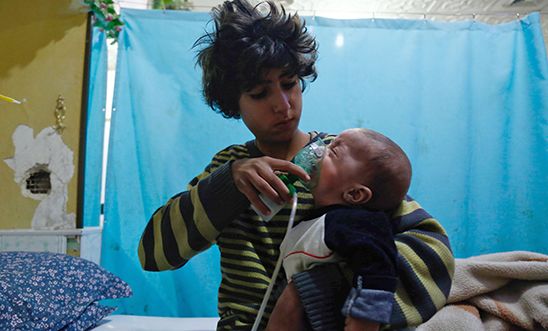 A Syrian boy holds an oxygen mask over the face of an infant at a make-shift hospital following a reported gas attack on the rebel-held besieged town of Douma in the eastern Ghouta region, 22 January 2018. © HASAN MOHAMED/AFP/Getty Images
Early in 2017, the Syrian government captured areas bordering the Harasta neighbourhood of Eastern Ghouta. They closed all smuggling tunnels that for years had guaranteed a small flow of food, water, and medical supplies.
By the October, Assad's forces had further tightened the siege by closing the last remaining entry point to nearby Douma, blocking access to medical and humanitarian aid, and stopping people from coming or going.
War crimes on an epic scale
In February 2018, the Syrian government and its ally Russia began a seven-week bombing offensive, including a chemical attack, on the people of Eastern Ghouta - home to 400,000 civilians.
The attacks left scores dead and hundreds injured. It came after six years of a cruel siege where Syrians have been trapped in a daily barrage of attacks to deliberately kill and maim them.
Hundreds of trapped people needed treatment for serious injuries or medical conditions such as heart disease, kidney failure, cancer and more. Doctors and medical workers were unable to provide adequate care to those that need it due to a lack of surgical supplies, equipment and medicine.
#EasternGhouta looks like #Aleppo. Photographs of fractured silhouettes of bombed-out buildings blend together. This leveling is Mr. Assad's triumph. #Syria Eastern Ghouta, left, and Eastern Aleppo, right. https://t.co/Ks03fWuehV pic.twitter.com/tWPjJeAmTQ

— Donatella Rovera (@DRovera) March 3, 2018
Pressure to evacuate the sick
More than 35,000 people called for these patients to be urgently evacuated to nearby Damascus to get the treatment they desperately needed.
On 13 March, an agreement was reached to allow a small number of wounded civilians to be evacuated, but hundreds more remained imprisoned in a war zone.
According to the UN, 1,286 injured and critically ill patients have been referred to Damascus hospitals. Thousands more people remain in Eastern Ghouta and even more are living in overcrowded, temporary camps.