Superjews - Sunday 8 June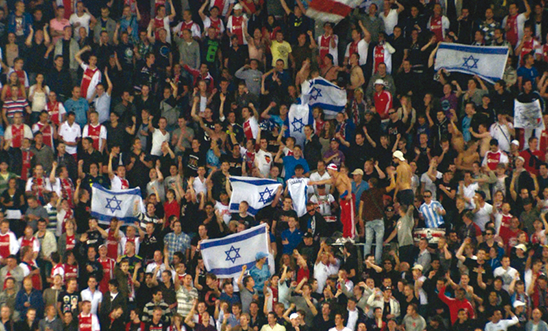 Sunday 8 June 1:00pm
UK Premiere
Location: Hackney Picture House, 270 Mare Street, London, E8 1HE
Running time: 66 minutes
Director: Nirit Peled
Shortly after moving to Amsterdam from Tel Aviv, director Nirit Peled encountered a tram full of boisterous non-Jewish Ajax fans carrying Israeli flags, sporting Star of David tattoos and chanting the traditional Hebrew song 'Hava Nagila'.
Initially troubled by these 'Superjews', the director sets out to investigate this curious phenomenon. Through intimate and illuminating interviews with supporters, Holocaust survivors, Ajax archivists, and former club president Uri Colonel, the film gives a fascinatingly nuanced perspective on the eponymous collective, and the director is forced to ask some searching questions.
Q&A
Followed by a Q&A with director Nirit Peled.
See the other films and events that are part of our Sidelines film festival