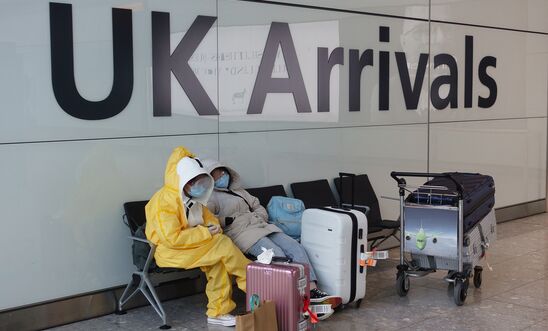 © Getty
Immigration, asylum and human rights
Amnesty International stands for the full and equal respect of everyone's human rights. That includes respect for the rights of:
people who are not British citizens,
those who were not born in this country,
and people who need and wish to come to this country.
Human rights respecting nationality, immigration and asylum systems are necessary for this to happen. And they are only possible if there is sufficient will to establish and maintain them. Without that, not only are the rights of many women, men and children overlooked or abused - the systems themselves also continue to work poorly.
There are many ways by which these systems work poorly and do real harm to people. From time to time, Amnesty works to address some of these specific ways. However, we start from a broader analysis of what is wrong. Here we set out six key themes that ought to run through these systems to safeguard against many of the harms these systems currently do, and to ensure equality and justice.
1. Humane and humanising
A starting point must be to ensure that sight is never lost of the women, men and children affected by these systems. It is ultimately the people that matter not the systems.
Fundamental to these systems, the people responsible for them and to society more widely, is that these systems, how they are operated and how they are discussed must be humane and humanising.
2. Health and welfare
An immediate consequence of that is the need to ensure that the human dignity of all people affected by these systems is respected – including making available the means necessary for people to maintain their health and welfare.
3. Family Life 
Family life and family unity are important aspects of this. These systems must recognise and respect the importance of family life.
4. Clear and accessible
A less tangible – but no less important – aspect of these considerations is that these systems must be sufficiently clear and accessible for people to understand them and meet any legitimate requirements of them. Everyone needs a degree of certainty to plan and manage their lives. These systems must deliver that certainty for the people over whom the systems maintain and exercise considerable power.
5. Effective constraints of power
These systems' considerable powers – including to detain people and expel them from the country – must only ever be used where that is both necessary and lawful. There must be effective constraint on the use of such powers including by independent oversight and through accessible legal processes that protect individuals from excessive or illegitimate use of power.
6. International responsibilities
Finally, these systems must all respect the UK's domestic and international responsibilities. That includes equalities duties and human rights standards, including duties owed to children. Where responsibilities are shared – such as to provide asylum – the UK must play a full and equal part in that.