Urgent Action Update: Refugees and asylum seekers must be released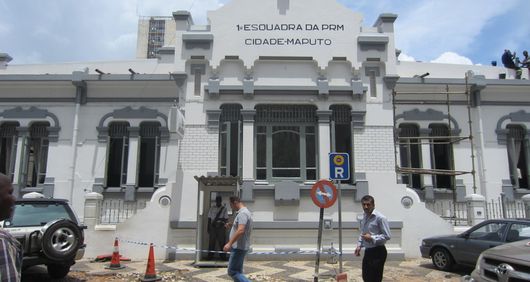 The first police station in Maputo City, Mozambique. © Amnesty International
Sixteen refugees and asylum seekers – fourteen men and one woman from the Democratic Republic of Congo (DRC), and one man from Ethiopia – have been arbitrarily detained in Pemba, northeast Mozambique, for more than ten months in appalling conditions. They still have not been notified of the reason for their detention or of any criminal charges against them. They are being continuously harassed to sign repatriation requests.
They were arbitrarily arrested by the Police of the Republic of Mozambique (PRM) and immigration officers on 17 January 2019 in Maratane Camp, in Nampula province, northern Mozambique. The police and immigration officers arrived at the Maratane Camp in the evening and beat, hand-cuffed and arrested the 16 refugees and asylum seekers without a warrant. On 19 January, they were transferred to the Third Police Station in Pemba, Cabo Delgado province.
On 23 January 2019, the government of Mozambique deported seven men from the group of 16 refugees and asylum seekers, who were originally from the DRC. They were not notified of a deportation order, nor were they permitted to challenge their deportation. According to testimony from the seven men, the immigration officers forced them to board a flight to Kinshasa, DRC. When they arrived at the Kinshasa airport, immigration officers denied them entry and ordered their return to Mozambique.
In August 2019, the Cabo Delgado Provincial Director of the National Immigration Service (SENAMI) visited the 16 detainees, without notifying lawyers, and tried to convince them to sign voluntary repatriation forms, arguing they would not be safe in Maratane Camp.
Everyone – including irregular migrants, regular migrants, asylum-seekers and refugees – has the right to due process and judicial guarantees, to adequate detention conditions, including access to food, water and adequate health care, and to not be subjected to arbitrary detention, ill-treatment, collective expulsion or refoulement (the forced return of refugees or asylum seeks to a country where they will experience persecution). The international human rights principle of non-refoulement forbids states from transferring anyone to a place where they would be at real risk of serious human rights violations.
PLEASE TAKE ACTION until 19 December 2019
Please write using your own words or the template letter provided in the attached documents, in Portuguese, English or your own language, to the listed address as soon as possible: 
Minister Jaime Basílio Monteiro
Minister of Interior
Av. Olof Palme 46/48
Maputo, Mozambique
Email: departamentocomunicacao2016@gmail.com
or adimoamb@yahoo.com.br
Downloads